I talk and write so much about what it is like going through cancer. How it totally consumes your life and the life of your immediate family. The treatment along with the ups and downs. My fears and hopes. I hope that I give inspiration to others like I receive from the community along with an understanding of who I am. The raw truth.
I wish with all my heart that this journey was not mine. It is and I will carry this burden to what ever end is in store for me with the best of my abilities.
The path I was on has changed. I did work with @pifc, @payitforward. I beleive in the concept of it. I have had to pull back and others have stepped up to cover my shortcomings. I am greatful to them for this. I have stepped up a little over the past couple weeks giving support to the @pifc discord. Mostly the #post-promotion room. I can make a difference (as long as VP holds up) without making a commitment
There is nothing worse then making a commitment and then falling short. I prefer not to make the commitment and be a smuk then falling short on something I committed to. Until I get a handle on this current problem all I can do is feel bad to you and keep my commitment to my family first.
I would call you a coward and stand with you while you correct your attitude because you are my freind. Been there done it. Be true to your word. Your word can not be taken from you, you have to give it away. Be true to your word/commitments
When that man fell out during his chemo I was reminded how serious this is. And that it could hit anyone of us at any time. To include our friends in remission. I have a hero list. It consist of the people here on Steemit that have/had cancer or a family member does. Also kids who are fighting an illness/disease. I am a sucker for children, the old and the weak.
@brittandjossie asked me about a port instead of using a vein in the arm. For blood withdraws or IV's. I have a port in my chest. This is the best option. If it is recommended accept the recommendation.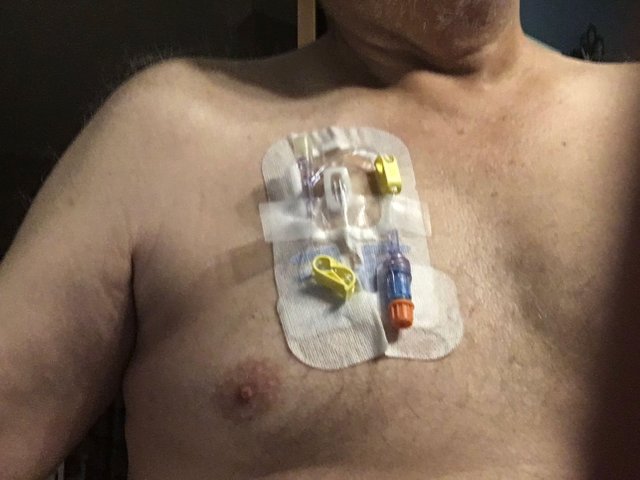 Today was my first treatment and I have two more over the next two days so I leave it all hooked up. So on my next appointment they just screw the treatment into the blue/orange tube port. As you can see from the image below the needle will stay until chemo is done. It is recommended not to leave it hooked up more then 7 days due to infections. After chemo when they remove the needle I will show you what it looks like .
Again, this is the best option and highly recommended over the use of vein in the arm or hand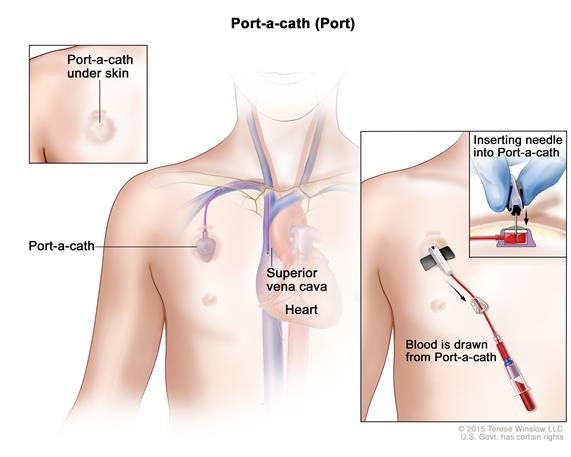 A port is a small disc made of plastic or metal about the size of a quarter that sits just under the skin. A soft thin tube called a catheter connects the port to a large vein. Your chemotherapy medicines are given through a special needle that fits right into the port. You also can have blood drawn through the port.
Source https://www.cancer.net/navigating-cancer-care/how-cancer-treated/chemotherapy/catheters-and-ports-cancer-treatment
In a couple of hours I will be doing my second treatment for cycle 5 . I have been feeling the effects of it. I have lost 90% of the strength in my legs. It takes everything I have not to hit the ground. I find it humorous how they follow me around so I don't fall. I am still 6'2'' tall and 220 lbs. that is a large mass to stop from falling. LOL besides I will not fall. I will hit the ground on MY terms. That's an old Paratrooper thing. I may wobble like a webbel but I will not fall 😂. Besides they put me in my wheelchair.
The other thing is keeping and following a thought. That could be a good thing. I can use it when I say something really stupid.
" what-what I'd say, when, what, who said that". ROFL 🤣
The other issue is pain. Muscle and bone pain. Back on the pain pills for at least a week or two. Then I will ween off of them again. We have been through this 4 times already. We know what to expect so we have the advantage.
I feel like I have not powered up in months, but in reality its only been weeks. I will try on next Wednesday. I hate waiting. You never know what the market will do. If it goes up between now and then I will be upset. But if I brought it now and it goes down thats ok. Go figure. Makes no sense. I have watch and brought all the way down from $7 to 0.26 cents and very happy 😊 . If , woulda, coulda, I will not play this game. It is what it is and I did it. Every time I buy at 0.28 cents it lowers my average price across the amount of Steem I have. So that is a good thing. I don't have a good number of the amount I have spent on steem. I could figure it out, but why. The only amount I care about is how much Steem I have. I need more and I have an expense I never figured on.
The more Steem that I have the more support to others is available for me to give. It's a simple thing that I beleive in and will continue to do. Add in using fiat to power up and I should grow modestly.
Wolfhart