Has this ever happened to you? You come across a post on steemit that is amazing and you want to upvote it, BUT it is older than 7 days and thus your upvote is only cosmetic?
We at steem-bounty decided to do something against this and create a service that will allow you to upvote any post any time.
Our Mission
The mission of steem-bounty is to increase usability for user and value for investors.
Most of the time the two are connected as users are always stakeholders and stakeholders are also users. We created steem-bounty to allow rewards irrespective of steem power and to create a new knoweledge economy as an additional layer on steem.
We also created a way to make your SteemPower work more effectively for you without needing to delegate it to bid bots. This allows users to get max reward and be able to curate at the same time. Something I find much better than users giving their power away to bid bots.
With steem-forever we allow content creators to get rewards forever for their content. We hope that this will reward users that create great content more and focus on making better content, as it now will live longer and can be rewarded better.
What is Steem-Forever
Please check out our landing page to learn how it works in detail: https://steem-bounty.com/services/forever.
It is quite simple, you can upvote any post at www.steem-bounty.com at any point in time and the rewards will go to the author. Of course a vote within the 7 day is just a regular vote. When you vote after that time we create a comment under the post, whose rewards will be shared with the original author.
This may look something like this: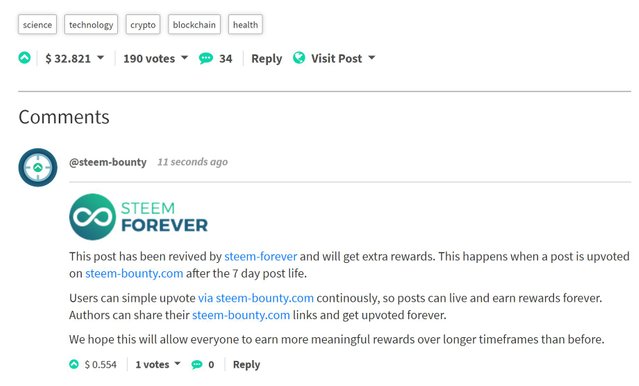 We hope this will help authors and content consumer give rewards to high-quality content better.
To use this as an author simply share your post via the steem-bounty link and hope the readers will click the upvote button.
As an end user simply replace any "steemit" part of any steemit post with "steem-bounty" and you can upvote the post.
Its that simple.
How to get there
You can just get to the landing pager here or you can go to steem-bounty.com and click on the lightning icon: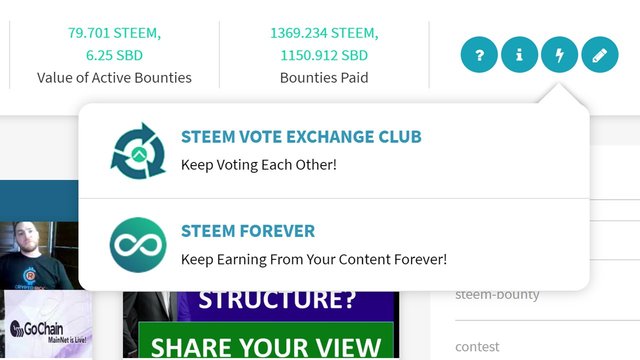 From here you will find all of our services including the voting club or and now steem-forever.
Update: Fees
There are no fees, but we do keep some of the rewards. We share at least 85% with the author of the post. You find these details on our FAQ page, which can be reached by clicken the "?" icon.
Here is the direct link: https://steem-bounty.com/FAQ
Here is the extract for the forever service regarding the fees: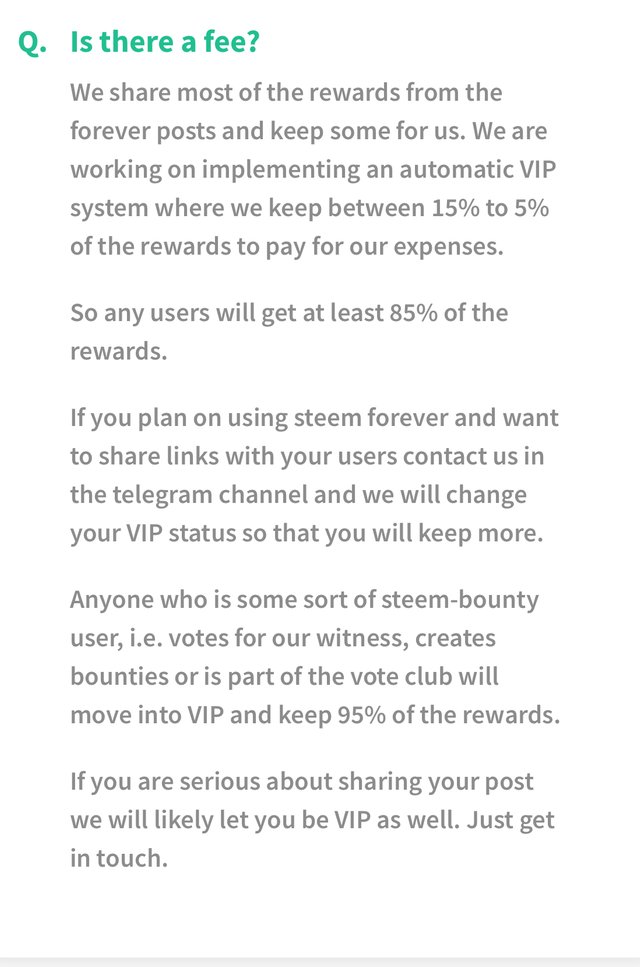 Join the Club!
We have built a new service that will help you get upvotes using your own SteemPower.

Or you can sign up here: https://steem-bounty.com/services/vote-club
Please vote for our Witness
Thank you very much for your attention and we hope you will vote for us as witness!
In order to do so you can go to:
https://steemit.com/~witnesses

And enter the "steem-bounty" account into the text field and click vote.
Or use steem-connect to vote directly for us as Steem witness!