Collectable Rocks Are Coming To Steem: Bid For The First Collectable Rock "Genesis"
Do you like rocks? I like rocks. They don't need to be fed, they're always happy to see you and they don't take up as much space as a child or real pet do. This is why I am happy to report that you can now own your own collectable rocks on the Steem blockchain.
Collectable Rocks?
Have you lost your marbles, Beggars? Haha, no, but I have lost my rocks.
Baddum tss
Each rock will be unique, featuring its own unique design and attributes. No two rocks will be the same. This is your chance to own your own digital tokenised rock. How many other people can say they own an NFT rock? Forget Bitcoin, it's a shitcoin in comparison to Collectable Rocks.
How It All Works
Collectable rocks will be issued as one of a kind type item as Steem Engine NFT's. You will eventually be able to buy and trade them on the SE market as well as through the website https://collectablerocks.com - right now, the finishing touches are being put on the marketplace to buy rocks.
Where things are different like a game such as Splinterlands, is this is not a game. They are collectables. You can only buy a rock once, like a piece of art. Once a rock is purchased, it is no longer available. However, future plans could include some kind of rock game, I have no idea what that would look like, but rock battling could be fun.
Although image assets will live in file storage that is not decentralised, you will be given the option to download a high-resolution image of your collectable rock so you own the actual image file should anything happen to the storage version (doubtful given it's Amazon S3).
While the website and platform are completed, you will be manually transferred the Genesis rock from my beggars account. The website has been purchased and will live at this domain (so bookmark it): https://collectablerocks.com
The First Collectable Rock: Genesis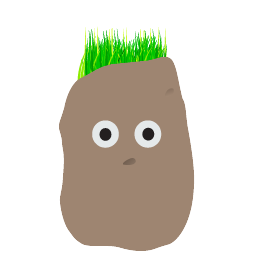 Hello, there little guy. This is Steemit, Steemit this is Genesis.
The first collectable rock in existence. The dawn of a new era, the beginning of the rock lineage. The biggest of all rocks, no other rock will ever be this big.
Genesis is part of a pre-launch collection of rocks. Only a handful of pre-launch rocks will be available before the launch collection takes its place with a suite of new rocks.
How Do I Bid?
Leave a comment below with how much you want to pay. Accepted currencies for bidding are either STEEM or ENG tokens. Because ENG tokens are the equivalent of Steem on the Steem Engine platform it makes sense.
Leave a bid below in the following way:
Bid 100 ENG
Bid 100 STEEM
The auction will run for a week from the 21/01/2020 (start now) to 28/01/2020 (Australian time). The winner will receive their NFT after payment has been sent and confirmed after the winning bid. If the winner does not pay, the second-highest bid (and so on) will be chosen.
Pro-tip for bidders: ENG tokens are currently on the market for around 50% of STEEM. So, if you bid with ENG tokens you can get them off the market quite cheap here.
Resteems are also very welcome and highly appreciated <3