Today marks a milestone in the Let's Eat Journey.
We have begun tweaks to the Android App. You can expect more regular updates adding the features that you have been requesting and improving the experience.
---
The Journey
It has been quite a year so far getting Let's Eat ready and launching the beta. The initial release was an MVP which helped me introduce my vision to the community and get working on some core features. I have felt this beta has been a great success, with some really positive feedback and encouragement.
Upgrades to the App
Today marks the first evolution of the front end of the Android App since launch.
The key improvement is that you can now explore any place on the map and find nearby locations. Travel the culinary world with Let's Eat!
This enhancement will help you find places to visit, and help you get started writing the review for places you have been.

We also have improvements to the List View, Bug Fixes and faster Loading of new places.
Upgrade Today!
London Demo
The following video demonstrates using the app to look around central London for places to eat.

The yellow markers show eateries that have not yet had a review. So many places to Explore!
The Maroon show places that have already been reviewed on Let's Eat. I am looking forward to my next visit to London!
---
Join the Let's Eat Community Today
Get Steem for posting about where you are Eating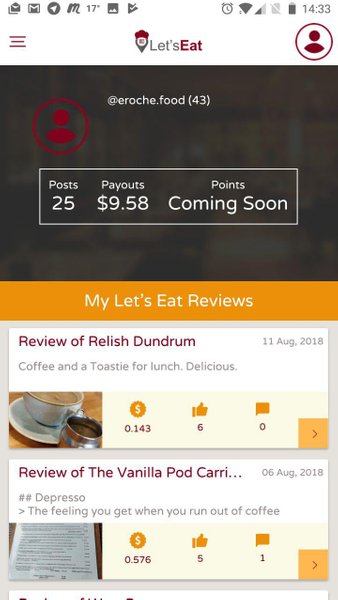 It really couldn't be easier to start earning Steem. And look out for Let's Eat Tokens which are on the way.
Add your City to the Map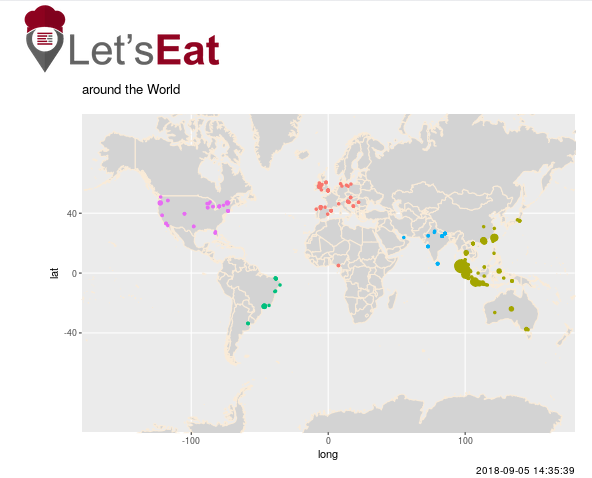 What we are looking for …
Rewarding Quality Contributions
We will upvote content according to two criteria
Original Content
If you copy a photo from a website, or generic undescriptive text, you are not adding much value to our platform or to the Steem Blockchain so you will not get an upvote. We want to see real experiences, crowdsourced information from real people. Snap a photo, give a short description of the atmosphere or the food.
This is all helpful value adding content. Other people can use it to decide on where to eat.
Quality of the Content
We are not looking necessarily for professional photographs or prose, but we are looking for quality. Quality is subjective but generally speaking if you make an effort at sharing your experience you will get rewarded. It is ok to post multiple reviews for a place, we see this as keeping the reviews up to date for a location, however having a coffee every day at a place will get less votes, than when you discover a hidden gem that you didn't know was there. That is the vision at least!
Share real experiences with us
Are you Eating out this week?
Give Let's Eat a try and let us know what you think.


Download from the Play Store

---
Thank you for reading this. I write on Steemit about Blockchain, Cryptocurrency and Travel.