www.steem-bounty.com is live
It has been a while in the making and we are finally at a stage where we are ready to launch the first beta version of the steem-bounty website. Go ahead and check it out by visiting this URL:
This link will take you to the overview of the current active bounties.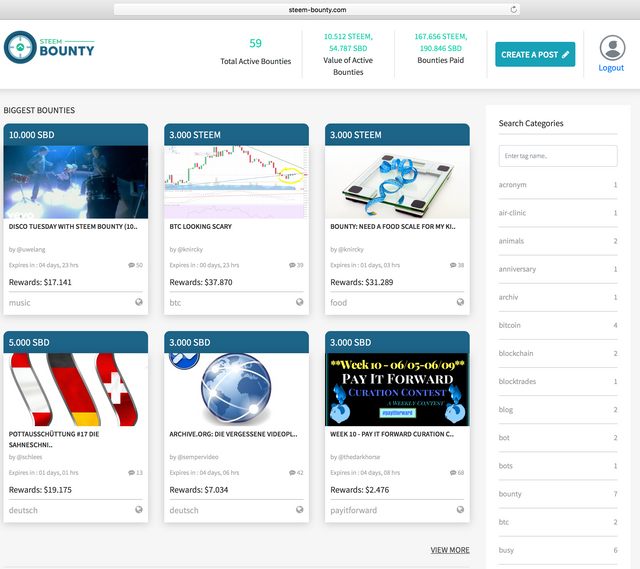 The main purpose of this interface is to allow bounty hunters to quickly find posts with bounties, and for bounty creators to get exposure.
We have currently three categories that are used to structure the bounties you see on the main page:
Biggest bounties. Those will be the biggest active bounties.
Expiring soon: For those that do not want to miss out on bounties that are about to be paid out
Latest bounties: Here you will see the newest bounties that have just been created
Focus on basic but Key Functionalities
We are trying to allow you to stay on the site and do everything to read, post and vote for comments. Pretty much everything you need to do to earn bounty rewards, find them and also create and manage your bounties.
We are using steem-connect so you can use your existing steem accounts at steem-bounty.com.
We have many ideas for more advanced features, but wanted to release with minimal functionality as fast as we could.

You can reply to posts, comments and vote (also downvote). This way you should be able to navigate to different bounty posts without having to jump back to steemit or busy and find to look for your content.
We are still working on adding some additional functions such as editing and providing more advanced uses in the editor itself (i.e. picture uploads) as well as adding some tweaks in the current version. However we feel it has come along enough for people to use it.
Two ways to create bounties
The old way of creating a bounty by sending the amount to the @steem-bounty account, with the URL of your post in the memo still works as everyone is used to. This will remain an easy way to add bounties to existing posts or add to the bounties of others.
Additionally you can create a bounty directly from our site: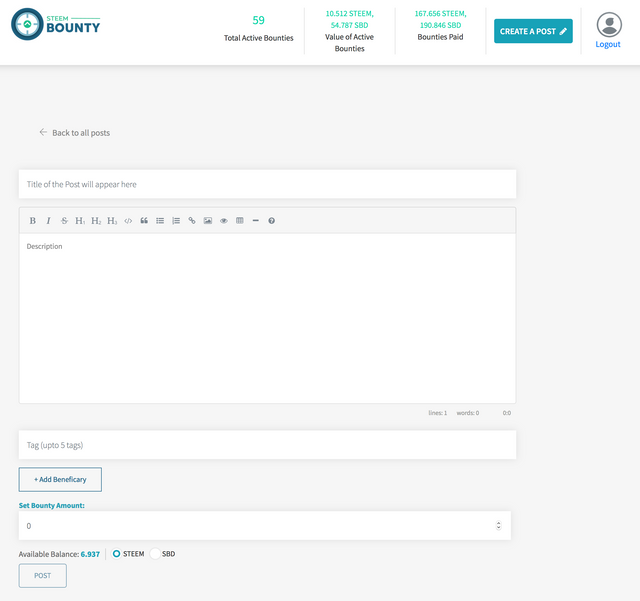 The editor is very basic and does not yet allow previews or uploading of pictures. Look for these features in future versions.
Works on your Phone
If you are like me, you may use steem a lot on the go and on your phone. This is why we made sure the site works just as well on the phone and tablets just as well as on bigger screens.
Below is an example how the overview and single post looks on your phone.
Let us know what you think
We created steem-bounty to make the experience of using the steem ecosystem more valuable for investors and useful for users.
We hope the new site allows you to find new bounties more simply and conveniently. Hopefully you can earn some extra rewards by answering to bounties. Or generate more interaction and answers to your questions when you decide to be a bounty creator.
We also are open for feedback as we are planning for the future versions.
Thanks for using our service and for supporting our project.
Support our witness
Thank you very much for your attention and we hope you will vote for us as witness!
In order to do so you can go to:
https://steemit.com/~witnesses
And enter the "steem-bounty" account into the text field and click vote.
Or use steem-connect to vote directly for us as Steem witness!