Daily report on curator GOLOS.IO: 30.03.2017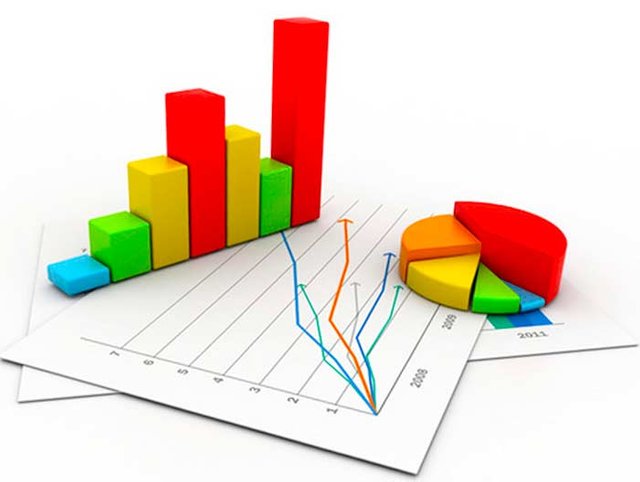 In total, on 30 March, 346 users received curatorial payments. This day is marked by stability. Whales have gone into detachment from killer whales and the increased interest in sea horses continues. All.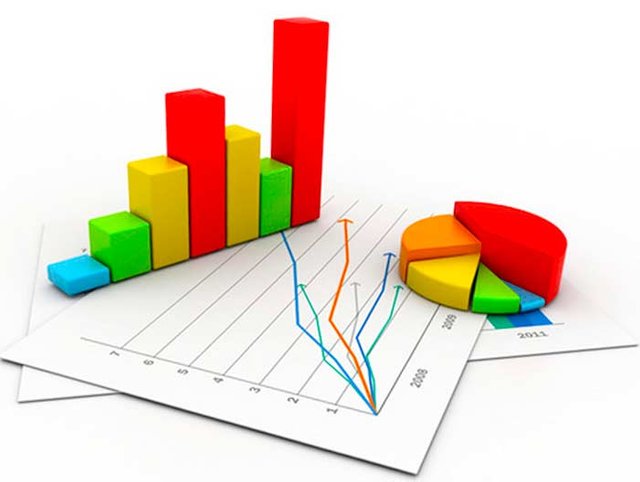 Всего 30 марта кураторские выплаты получили 346 пользователей. Этот день отмечен стабильностью. Киты пошли в отрыв от касаток и продолжается повышенный интерес к морским конькам. Все.
1. Активность кураторов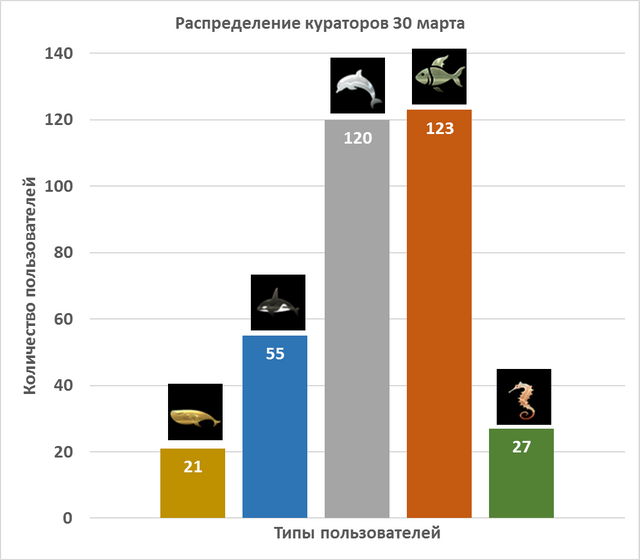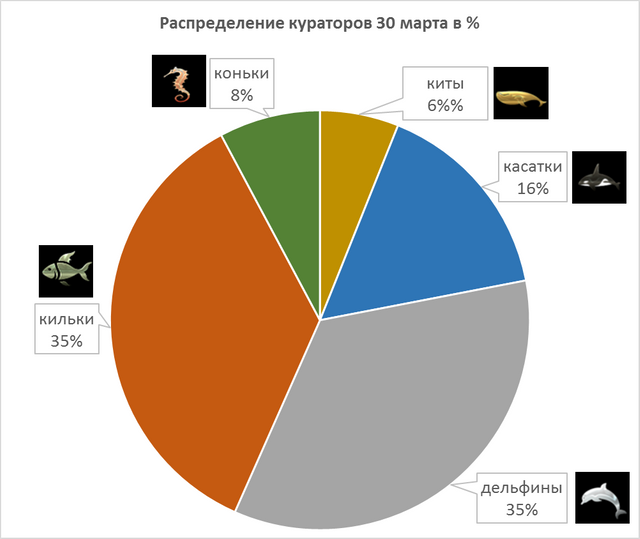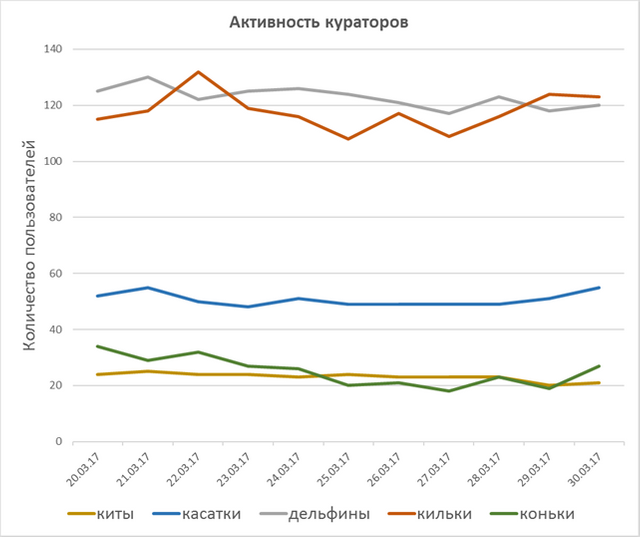 2. Распределение пула наград в Силе Голоса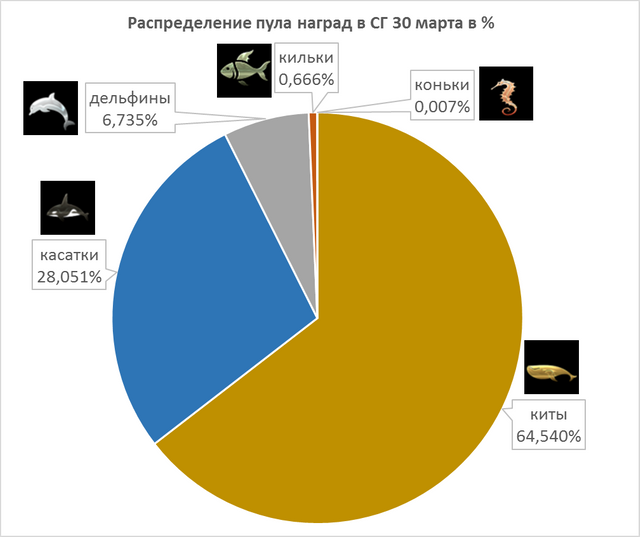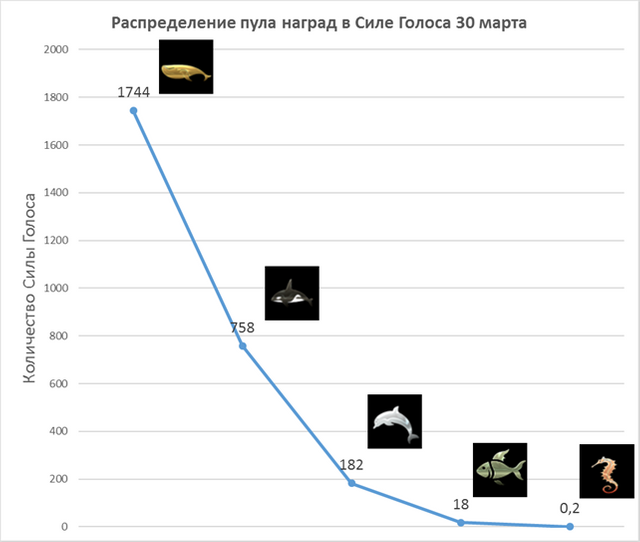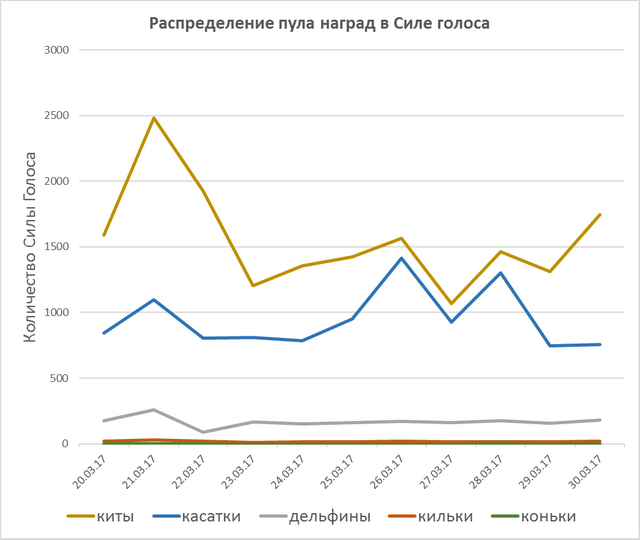 3. За кого голосуют разные группы пользователей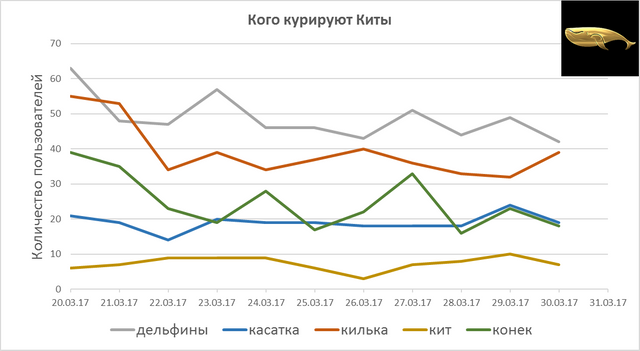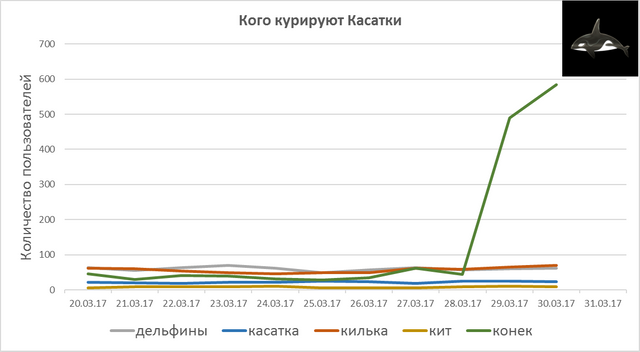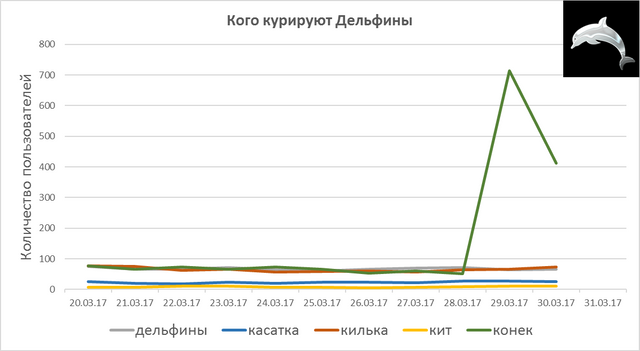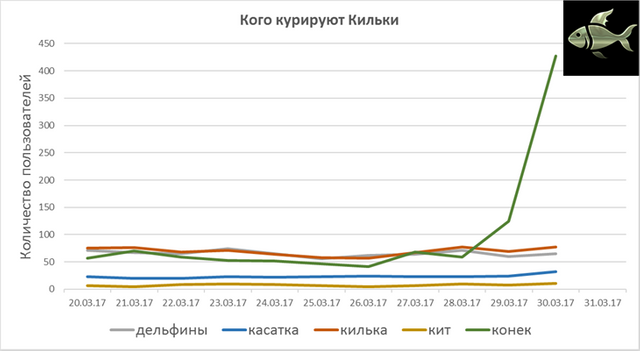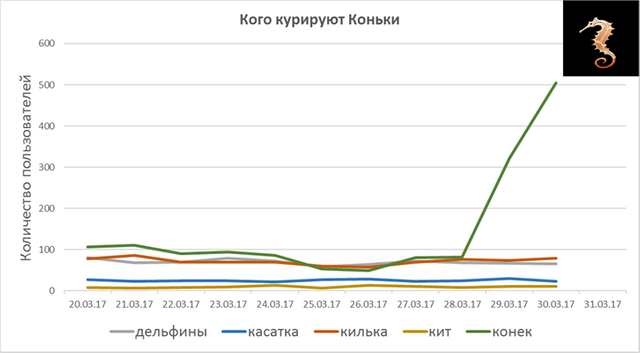 ТОП кураторов
| | | Куратор | Клики | Заработано СГ | Годовой доход,% |
| --- | --- | --- | --- | --- | --- |
| 1 | | @vas | 42 | 52,3 | 63,1856 |
| 2 | | @silence | 39 | 20 | 40,8437 |
| 3 | | @alcotester | 20 | 27,5 | 36,5425 |
| 4 | | @seablue | 204 | 5,5 | 31,3308 |
| 5 | | @smi | 50 | 9,3 | 30,5328 |
| 6 | | @unlonely-soul | 59 | 5,4 | 30,058 |
| 7 | | @strecoza | 73 | 8,8 | 25,6388 |
| 8 | | @cyros | 30 | 10,6 | 24,7554 |
| 9 | | @tinochka | 40 | 0,7 | 21,7443 |
| 10 | | @dikaniovs | 47 | 0,3 | 21,5517 |
| 11 | | @vasa | 33 | 52,2 | 21,2972 |
| 12 | | @eduard | 42 | 2,2 | 20,6976 |
| 13 | | @bigler | 35 | 0,2 | 20,5783 |
| 14 | | @aleks | 50 | 330,2 | 20,4922 |
| 15 | | @bfg9000 | 46 | 0,4 | 18,8045 |
| 16 | | @beep | 48 | 0,6 | 18,3586 |
| 17 | | @dinamo | 48 | 1 | 18,1692 |
| 18 | | @bitcoinfo | 48 | 3,7 | 17,9614 |
| 19 | | @naminutku | 40 | 1,2 | 17,3928 |
| 20 | | @myrussia | 48 | 4,4 | 17,1068 |
| 21 | | @alien | 48 | 0,9 | 16,9327 |
| 22 | | @elviento | 59 | 2,5 | 16,5802 |
| 23 | | @dayush | 61 | 56,2 | 16,4167 |
| 24 | | @elenas | 116 | 4,9 | 14,955 |
| 25 | | @assasin | 48 | 1,7 | 14,9316 |
| 26 | | @molarity | 26 | 0,4 | 14,7263 |
| 27 | | @nitrogen | 33 | 0,9 | 14,6509 |
| 28 | | @serejandmyself | 54 | 503,4 | 14,3795 |
| 29 | | @popkop | 43 | 4,3 | 14,3683 |
| 30 | | @varwar | 41 | 4,1 | 14,3168 |
| 31 | | @big.brother | 39 | 0,2 | 14,2449 |
| 32 | | @lena89 | 21 | 0,8 | 14,1772 |
| 33 | | @dmilash | 53 | 155,9 | 13,7591 |
| 34 | | @anela | 50 | 52,5 | 13,6546 |
| 35 | | @dr-boo | 22 | 0,6 | 13,0497 |
| 36 | | @romapush | 22 | 0,4 | 13,0376 |
| 37 | | @haster100 | 11 | 17,9 | 12,8385 |
| 38 | | @mrgreen | 22 | 0,5 | 12,6286 |
| 39 | | @lira | 7 | 0,1 | 12,6053 |
| 40 | | @drac59 | 47 | 1,8 | 12,4511 |
| 41 | | @singa | 73 | 1,4 | 12,3983 |
| 42 | | @zaguzin | 51 | 1,4 | 12,2335 |
| 43 | | @dreamer | 45 | 15,7 | 12,2157 |
| 44 | | @antonkostroma | 60 | 10,1 | 12,0139 |
| 45 | | @marfa | 28 | 1,4 | 11,9723 |
| 46 | | @primus | 21 | 229,3 | 11,7836 |
| 47 | | @harhor | 33 | 0,3 | 11,7725 |
| 48 | | @archibald116 | 50 | 4,3 | 11,6021 |
| 49 | | @gildar | 35 | 12,6 | 11,2704 |
| 50 | | @stranger27 | 39 | 16,6 | 10,3923 |
| 51 | | @andreyprosto | 26 | 0,3 | 10,2926 |
| 52 | | @katrin | 34 | 10,6 | 10,2734 |
| 53 | | @tarimta | 29 | 12,3 | 10,093 |
| 54 | | @anri | 24 | 0,8 | 10,0805 |
| 55 | | @olegst | 32 | 2,9 | 10,0511 |
| 56 | | @alex2016 | 12 | 3,2 | 9,9897 |
| 57 | | @lisazarova | 24 | 1,2 | 9,9452 |
| 58 | | @nikalaich | 22 | 0,6 | 9,94 |
| 59 | | @boddhisattva | 35 | 10,6 | 9,9214 |
| 60 | | @siberianshamen | 22 | 5 | 9,7855 |
| 61 | | @olviya | 26 | 0,3 | 9,5968 |
| 62 | | @sept | 13 | 60,1 | 9,4767 |
| 63 | | @natka2 | 21 | 1,2 | 9,4312 |
| 64 | | @natasmr | 43 | 0,6 | 9,396 |
| 65 | | @erikkartmen | 35 | 5,9 | 9,3077 |
| 66 | | @sunshine | 51 | 8,7 | 9,2133 |
| 67 | | @dicov | 32 | 0,5 | 9,1837 |
| 68 | | @domino | 12 | 2,2 | 9,0036 |
| 69 | | @gavvet | 35 | 2 | 8,9908 |
| 70 | | @evgenij-byvshev | 34 | 1,3 | 8,9022 |
| 71 | | @xtar | 27 | 94,4 | 8,8604 |
| 72 | | @dostoyevsky | 42 | 17,4 | 8,8406 |
| 73 | | @xanoxt | 21 | 8,3 | 8,8096 |
| 74 | | @avlion | 19 | 1 | 8,7477 |
| 75 | | @phoenix | 36 | 7,9 | 8,6466 |
| 76 | | @whiskardi | 42 | 2,7 | 8,6197 |
| 77 | | @t3ran13 | 25 | 17,4 | 8,3865 |
| 78 | | @good-karma | 22 | 16,5 | 8,28 |
| 79 | | @babsboard | 31 | 0,7 | 8,2676 |
| 80 | | @tumma | 36 | 1 | 8,2132 |
| 81 | | @svamiva | 18 | 5,1 | 8,1135 |
| 82 | | @narin | 50 | 1,3 | 8,1097 |
| 83 | | @frocush | 52 | 0,7 | 8,0213 |
| 84 | | @bebrave | 7 | 0,2 | 7,9639 |
| 85 | | @jang | 41 | 0,2 | 7,8931 |
| 86 | | @yellowsubmarine | 15 | 0,9 | 7,7322 |
| 87 | | @med | 32 | 0,2 | 7,6395 |
| 88 | | @fiona777 | 30 | 5,4 | 7,4545 |
| 89 | | @barbro | 31 | 0,8 | 7,3387 |
| 90 | | @bambr | 34 | 0,8 | 7,2817 |
| 91 | | @zambez | 34 | 0,2 | 7,1733 |
| 92 | | @jurgan | 47 | 0,5 | 7,0605 |
| 93 | | @pioner777888 | 16 | 0,2 | 6,9784 |
| 94 | | @kenny-crane | 6 | 0,1 | 6,8281 |
| 95 | | @nezaigor | 49 | 0,2 | 6,8278 |
| 96 | | @nekromarinist | 37 | 1,7 | 6,6499 |
| 97 | | @smotritelmayaka | 34 | 27,6 | 6,6392 |
| 98 | | @urii | 12 | 0,5 | 6,6094 |
| 99 | | @markvial | 10 | 0,2 | 6,5411 |
| 100 | | @anonymous.author | 9 | 0,2 | 6,1476 |
| 101 | | @tom123 | 11 | 0,1 | 5,9446 |
| 102 | | @aksial | 12 | 0,3 | 5,9117 |
| 103 | | @dajana | 20 | 0,3 | 5,7993 |
| 104 | | @evildeathcore | 32 | 0,6 | 5,7974 |
| 105 | | @ontofractal | 15 | 18,4 | 5,7883 |
| 106 | | @richman | 35 | 19,8 | 5,6928 |
| 107 | | @gans91 | 32 | 0,1 | 5,6396 |
| 108 | | @lumia | 53 | 3,1 | 5,5911 |
| 109 | | @fyrstikken | 401 | 22,7 | 5,5759 |
| 110 | | @filinpaul | 8 | 0,3 | 5,5528 |
| 111 | | @ropox | 21 | 0,7 | 5,3878 |
| 112 | | @smailer | 17 | 72,6 | 5,2398 |
| 113 | | @ramta | 31 | 29,1 | 5,2046 |
| 114 | | @vik | 31 | 4 | 5,1308 |
| 115 | | @vasyl73 | 23 | 0,2 | 5,1188 |
| 116 | | @litrbooh | 21 | 15 | 4,9723 |
| 117 | | @mishka | 14 | 0,9 | 4,9343 |
| 118 | | @redhat | 22 | 4,2 | 4,7155 |
| 119 | | @villainblack | 14 | 1,5 | 4,7153 |
| 120 | | @steem-id | 56 | 0,7 | 4,702 |
| 121 | | @roelandp | 65 | 43,5 | 4,6574 |
| 122 | | @igor1966 | 22 | 0,3 | 4,5345 |
| 123 | | @oleg257 | 41 | 1,2 | 4,4999 |
| 124 | | @singularity | 33 | 1,6 | 4,3577 |
| 125 | | @creatorgalaxy | 33 | 1,6 | 4,3438 |
| 126 | | @ladyzarulem | 41 | 0,1 | 4,3145 |
| 127 | | @aleco | 23 | 19 | 4,2115 |
| 128 | | @genyakuc | 30 | 0,7 | 4,0819 |
| 129 | | @maksina | 21 | 0,6 | 4,073 |
| 130 | | @natalyt | 33 | 1,5 | 4,0695 |
| 131 | | @zaxar | 19 | 0,3 | 4,0619 |
| 132 | | @ratel | 21 | 0,9 | 4,0129 |
| 133 | | @investigator | 13 | 0,4 | 3,9481 |
| 134 | | @loaf | 9 | 0,1 | 3,9188 |
| 135 | | @berkah | 68 | 0,2 | 3,8614 |
| 136 | | @greek1313 | 5 | 1 | 3,7637 |
| 137 | | @lehard | 36 | 52,4 | 3,7593 |
| 138 | | @anyx | 39 | 25,1 | 3,6473 |
| 139 | | @on0tole | 19 | 62,5 | 3,6136 |
| 140 | | @jesta | 35 | 12,1 | 3,5083 |
| 141 | | @dhrms | 15 | 2,2 | 3,4949 |
| 142 | | @chetlanin | 12 | 0,2 | 3,4747 |
| 143 | | @dikanevroman | 10 | 1,1 | 3,4332 |
| 144 | | @elenakorotkova | 8 | 16,3 | 3,381 |
| 145 | | @radogost | 8 | 0,9 | 3,378 |
| 146 | | @arcange | 48 | 38,6 | 3,2965 |
| 147 | | @smolalit | 13 | 1,5 | 3,2488 |
| 148 | | @psychologist | 24 | 16,8 | 3,2235 |
| 149 | | @b0y2k | 35 | 0,1 | 3,2081 |
| 150 | | @ukrainian | 12 | 1,3 | 3,1681 |
| 151 | | @rodham | 10 | 0,1 | 2,9168 |
| 152 | | @leylar | 13 | 1,8 | 2,9098 |
| 153 | | @allag | 6 | 0,1 | 2,9066 |
| 154 | | @mai1100 | 9 | 0,6 | 2,8706 |
| 155 | | @andrvik | 9 | 0,1 | 2,8501 |
| 156 | | @steemychicken1 | 35 | 1,8 | 2,8204 |
| 157 | | @aizensou | 35 | 0,8 | 2,8139 |
| 158 | | @complexring | 35 | 2,8 | 2,7682 |
| 159 | | @sancho.malyutin | 5 | 0,9 | 2,6503 |
| 160 | | @maks | 15 | 0,1 | 2,6116 |
| 161 | | @la-bella-vita | 6 | 0,1 | 2,5571 |
| 162 | | @inertia | 211 | 14,9 | 2,556 |
| 163 | | @dr2073 | 32 | 50,3 | 2,5487 |
| 164 | | @losos | 16 | 0,3 | 2,5246 |
| 165 | | @rbrown | 17 | 1,4 | 2,4977 |
| 166 | | @alexux | 9 | 0,1 | 2,4793 |
| 167 | | @tandemus | 8 | 0,1 | 2,4115 |
| 168 | | @radomir | 16 | 0,3 | 2,1734 |
| 169 | | @anasya | 9 | 2,1 | 2,1551 |
| 170 | | @sharker | 14 | 15,8 | 2,0684 |
| 171 | | @zaria | 7 | 0,1 | 1,9843 |
| 172 | | @nightsingle | 12 | 0,5 | 1,9559 |
| 173 | | @park.bom | 9 | 1,2 | 1,8932 |
| 174 | | @sergen | 18 | 1,7 | 1,8912 |
| 175 | | @kyiv | 33 | 0,1 | 1,8809 |
| 176 | | @blockchained | 8 | 0,6 | 1,8427 |
| 177 | | @xroni | 13 | 0,5 | 1,8253 |
| 178 | | @sebastianjago | 4 | 0,2 | 1,7055 |
| 179 | | @piranya | 37 | 0,2 | 1,6187 |
| 180 | | @sergiy | 5 | 0,3 | 1,5505 |
| 181 | | @jupiter.zeus | 10 | 0,9 | 1,5338 |
| 182 | | @gidlark | 25 | 0,1 | 1,5139 |
| 183 | | @italia-elena | 11 | 0,4 | 1,2509 |
| 184 | | @brovaryleaks | 15 | 0,1 | 1,2158 |
| 185 | | @dark.sun | 20 | 9,1 | 1,1925 |
| 186 | | @aleksandraz | 7 | 11,2 | 1,1732 |
| 187 | | @sheriff | 6 | 0,5 | 1,1574 |
| 188 | | @neo | 4 | 0,2 | 1,121 |
| 189 | | @maryfromsochi | 10 | 0,3 | 1,1002 |
| 190 | | @qqc | 13 | 3,6 | 1,1001 |
| 191 | | @antino | 8 | 1,3 | 1,0375 |
| 192 | | @lev.nikolaevich | 7 | 0,1 | 0,9933 |
| 193 | | @golos-zoo-fund | 1 | 0,3 | 0,9301 |
| 194 | | @mapala | 12 | 1,3 | 0,9148 |
| 195 | | @amikphoto | 3 | 0,1 | 0,8967 |
| 196 | | @econmag | 4 | 2,7 | 0,8768 |
| 197 | | @rusteemitblog | 3 | 2,1 | 0,8111 |
| 198 | | @darkvasyak | 1 | 0,4 | 0,7732 |
| 199 | | @hipster | 6 | 28,1 | 0,743 |
| 200 | | @studentka | 13 | 0,4 | 0,6875 |
| 201 | | @vlad | 12 | 0,8 | 0,6412 |
| 202 | | @kibela | 4 | 2,2 | 0,6225 |
| 203 | | @oxygendependant | 6 | 0,8 | 0,6067 |
| 204 | | @ovchinnikov | 7 | 1,3 | 0,5769 |
| 205 | | @sxiii | 2 | 0,3 | 0,4988 |
| 206 | | @milaoz | 1 | 0,2 | 0,4871 |
| 207 | | @lizik | 3 | 0,8 | 0,4585 |
| 208 | | @alexna | 4 | 35,4 | 0,364 |
| 209 | | @cehik | 6 | 0,2 | 0,3274 |
| 210 | | @anech512 | 2 | 0,1 | 0,3064 |
| 211 | | @golosmedia | 1 | 0,1 | 0,2703 |
| 212 | | @anasta | 1 | 0,3 | 0,2507 |
| 213 | | @kapustin | 1 | 0,3 | 0,2343 |
| 214 | | @created | 5 | 0,3 | 0,2255 |
| 215 | | @natasha | 3 | 0,6 | 0,2001 |
| 216 | | @slamm | 2 | 0,1 | 0,1701 |
| 217 | | @vitaly-lvov | 7 | 5,5 | 0,1482 |
| 218 | | @phenom | 1 | 2 | 0,1381 |
| 219 | | @chiliec | 2 | 0,4 | 0,1305 |
| 220 | | @testz | 3 | 4,8 | 0,079 |
| 221 | | @magum | 2 | 0,1 | 0,0774 |
| 222 | | @kriptograf | 1 | 0,2 | 0,0568 |
| 223 | | @dmytroscript | 1 | 0,8 | 0,0565 |
| 224 | | @litvintech | 1 | 1,6 | 0,0447 |
| 225 | | @koscheyka | 1 | 0 | 0 |
| 226 | | @myhouse | 1 | 0 | 0 |
| 227 | | @dexterous | 5 | 0 | 0 |
| 228 | | @romanskv | 1 | 0 | 0 |
| 229 | | @lyudmila | 4 | 0 | 0 |
| 230 | | @quasimax | 1 | 0 | 0 |
| 231 | | @ruslan | 1 | 0 | 0 |
| 232 | | @yanboretskyi | 11 | 0 | 0 |
| 233 | | @tali72 | 5 | 0 | 0 |
| 234 | | @milochka | 1 | 0 | 0 |
| 235 | | @rizhaya.vorona | 1 | 0 | 0 |
| 236 | | @sompitonov | 9 | 0 | 0 |
| 237 | | @smoke | 4 | 0 | 0 |
| 238 | | @kot | 2 | 0 | 0 |
| 239 | | @lex | 1 | 0 | 0 |
| 240 | | @cleptoman | 1 | 0 | 0 |
| 241 | | @mig641 | 5 | 0 | 0 |
| 242 | | @alex-zi | 5 | 0 | 0 |
| 243 | | @ispanskaya | 1 | 0 | 0 |
| 244 | | @ohlamoon | 4 | 0 | 0 |
| 245 | | @vladimir.antonov | 2 | 0 | 0 |
| 246 | | @ludmila777 | 4 | 0 | 0 |
| 247 | | @akela | 9 | 0 | 0 |
| 248 | | @ac1d | 4 | 0 | 0 |
| 249 | | @dlina-v-metrah | 2 | 0 | 0 |
| 250 | | @celeste | 2 | 0 | 0 |