COMPOUND PROTOCOL:THE BEST OF ALL BLOCKCHAIN MONEY MARKET

Image source: Compound website
INTRODUCTION
There are lots of issues disturbing the world and finance is at the foundation of it. Interest rates charged by finance houses are getting too much and sometimes discourages people from going to them for help. Blockchain bank came into existence to solve some of this problem especially the ones relating to high interest by providing different platforms for people to earn and loan. This will lead me to the latest dapp I just came across called compound protocol.
WHY COMPOUND Protocol
Most times we put our trust in exchanges with the hope that our tokens are safe from hackers and loss.It is sometimes worth the hassle and sometimes it is not.Also Peer to Peer lending requires a lot of work due to how volatile and unpredictable the market is. These processes above reduces liquidity and causes unavailability of funds.
This is what Robert Leshner thought of and reasons why he built Compound protocol.
ALL ABOUT COMPOUND
Compound was built as an open source decentralised platform on the Ethereum blockchain.It was created as a means for users to earn interest on Ether and other various tokens. Also for people to loan these said tokens in other to invest or use it as a financial aid. Compound also encourages people to take your money off exchanges which is open to scam and hackers into a place where you can control it by earning more under investment or keep safe till you want to sell off. It is ranking number 6 on stateofthedppas finance list.
WHY COMPOUND IS IMPORTANT
Establishing a proper functional money market is quiet difficult for some dapps.So this platform was created to make it easy for people to invest, borrow and earn in the blockchain asset without any middle man.
Blockchain asset is borrowable in the sense that investors will share a large economic pie.
Compound addresses the flaws of other existing dapps. Here users are given the opportunity to supply assets to a shared liquidity pool. These assets can be withdrawn whenever you so desire.
HOW TO GET STARTED WITH COMPOUND
First you need to add the metamask extension to your device so as to be able to access the dapp App page.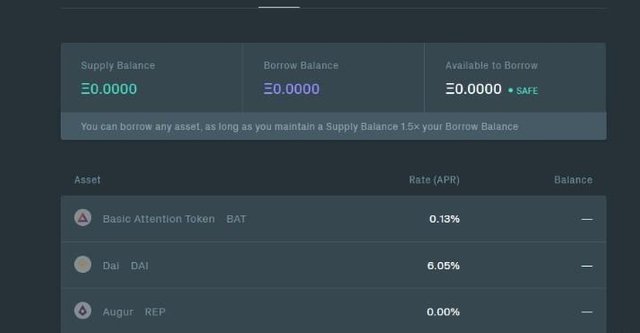 The account overview displayed above shows the value of your account from the supply, to borrowed balance to available to borrow.
In other to continue using the compound platform, there is a need to enable the asset listed so as to navigate the asset page as seen below.This will enable you o borrow or supply any of this asset but the duo cannot be done at once.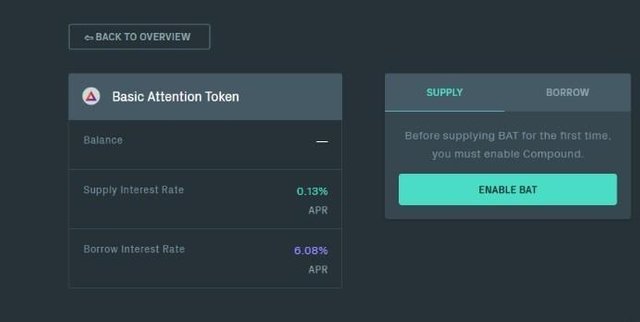 From this stage you can supply and start earning immediately after submitting the transaction.All interest will be seen on your supply balance as time goes on.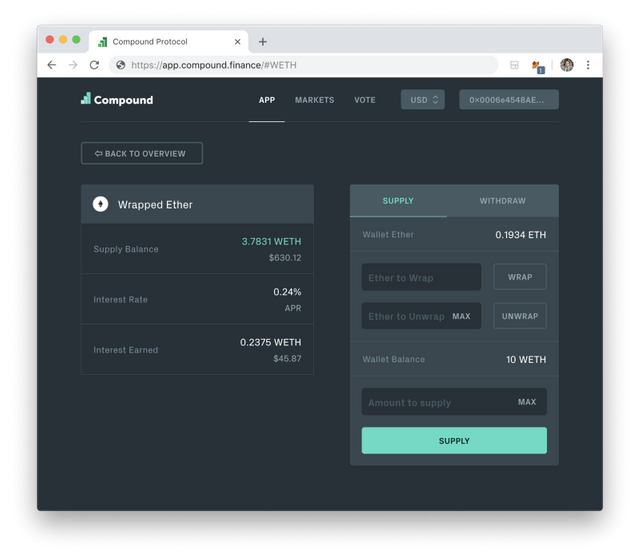 Image source
For you to borrow from compound you must have submitted the amount you intend to borrow overtime. This will enable you to have a chance at borrowing from the compound protocol.
For example, if you've supplied $150 of REP, this supports borrowing of up to $100 of any assets on Compound.Your Account Overview can be used to monitor the value of your Supply and Borrow positions. If the value of your Supply Balance declines, or the value of your Borrow Balance increases, such that you no longer have 1.5x collateral, your account will be partially liquidated, to return you to a 1.5x ratio.
source
MY CONCLUSON
I love the fact that interest are set based on the supplies and demands within the money market by the protocol.Integrating Metamask into the website will secure funds against hackers and loss.
I do not like the fact that it doesn't support Ethereum directly unless we wrapp it into WRETH and unwrapp it again at the point of withdrawal to ETHER.
I will rate the dapp 4/5