Hunting or discovering a new product hasn't been easy. Time, effort, attention, focus and dedication all needs to be put in place for this to be achieved. I have seen some persons did this just for fun but not everybody will be ready to do such when they know there is no reward available.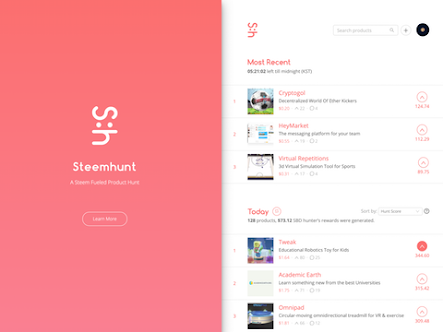 It is with this hunting desire and reward that a platform called steemhunt was given birth to.
What is Steemhunt
SteemHunt is a decentralized application (DApp) that uses the Steem blockchain. It's really similar to Product Hunt, where user can hunt product and at same time get their product curated if it meets the requirement. If you want your post to be curated/upvoted on steemhunt, you have to make sure it meets the following criteria
i. Unique I.T hardware or services
ii. Only English
iii. Product link must lead to an official website of the product been hunted
iv. No plagiarism
V. New and cool product
Vi. Games
N:B: The team behind this project are @tabris (for development) and @project7 (for design).
Steemhunt plans
They are planning to have 3 categories which are Steemhunt, Reviewhunt and Ideahunt. They are also planning to list their hunt token which they have been airdropping right from start.
How to log in or sign up/post on steemhunt
If you are new to the steem blockchain, you have to sign up afresh through steemit. After doing that and you got your keys, make sure you save your keys. Now head to steemhunt.com, click sign in, put in your keys and username, that is all. Welcome on board.
How Steemhunt Works
Now after you must have signed up, these are some of the things to note:
Moderators: After posting, these are some set of persons that the steemhunt team approves to make sure that all post is been checked properly before been approved for upvote. If it fails to met up with the requirement, the mod will delist it and state the reason why it was delisted and if it meets it with requirement, an approval comment will be dropped also.

Influencer: The steemhunt team set this people up so that they can get undervalued hunt upvoted. Their upvote worth is always bigger than the regular hunters.

Time of posting: Steemhunt uses stand Kst time so you can post as from 00.00KST. Remember that you post has to be ranked for it to be approved. What this state is that if your post is not on top 100, it wont be voted by the steemhunt bot. You will surely get an upvote from steemhunt if your user score is 1 or above 1. Make sure you hunt cool post to get a chance of been rewarded.

User score: Maintaining a high user score increases your upvote value from steemhunt. You have user score ranging from 0 -10. Upvoting same users daily, not posting and having less hunt token always drops your user score.
Screenshot of User score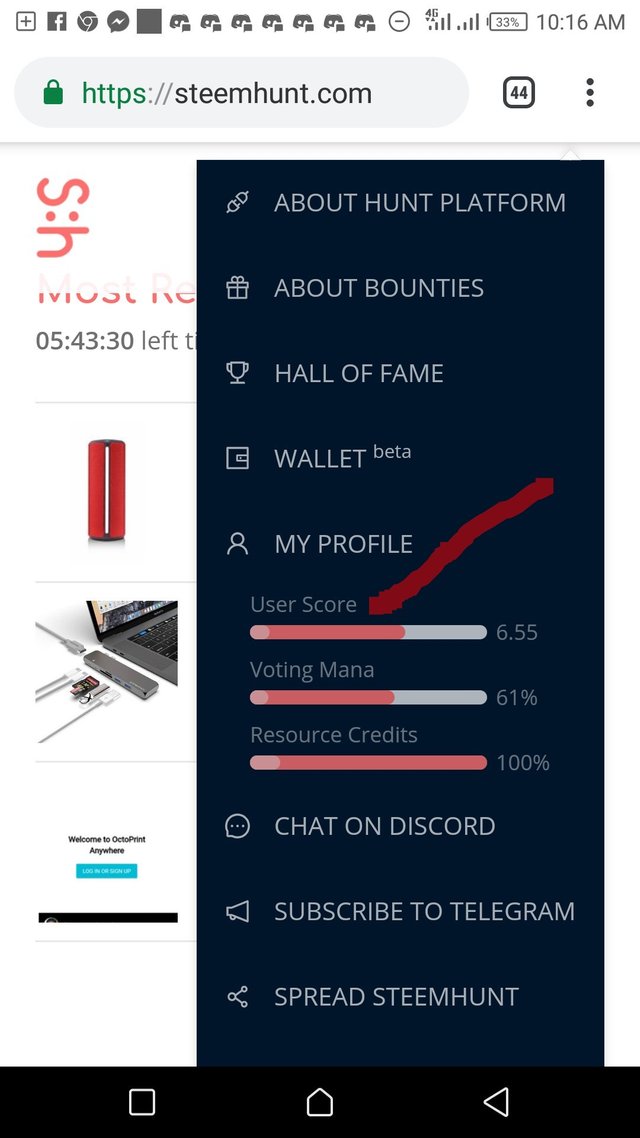 Hunt token: Steemhunt is the first dapp on steem blockchain that introduces what we called token. They currently had their token and this has been the engine room driving the system. They have airdropped a lot of token as additional earnings to their hunters. They roll up different strategy to make sure that the hunt token is been distributed to hunters.
We have airdropped token for voting contribution
We have airdropped token for social shares
And lots more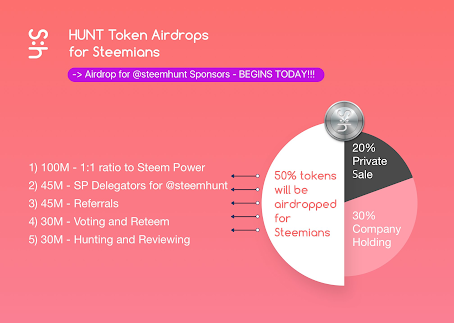 What i like about Steemhunt
The way they set up their team is so lovely, seeing a project running for first time with almost everything thing looking perfect is so cool. The other part that i love about steemhunt is the hunt token they are airdropping daily to it hunters. This has opened the way to token on the steem blockchain. Finally, i love how the team engage with it hunters and also they haven't failed on all their promises.
Dislike
The rate at which user score drops is too much, i might see a cool hunt by same user i have voted before which i think is cool, voting it again might contributed to the reduce of my point. That a lone will allow me not to do justice to the hunted post which i think is cool. The essence of the platform is to reward cool product even when is coming from same users but with such issue, i might never want to touch same post from same user.
Screenshot of user score and voting


Verdict
Without been told, steemhunt is a success and since it introduction into the steem blockchain, the story has been different. Unfailingly, April hunt token will be trading in some exchange and this a lone will drive more traffic to the steem blockchain.
Disclaimer: The content of this article is not meant to serve as financial advice, please do your own research.
Images are properties of Dopameme and are used for the sole purpose of reviews