Since the advent of the #blockchain, one major #hurdle some people have been passing through is how to trade their cryptocurrency with ease. As a fresher to the #crypto world, when you visit those top trading crypto site like #bittrex #binance, #Huobi and co, for the very first time, you will definitely get confused.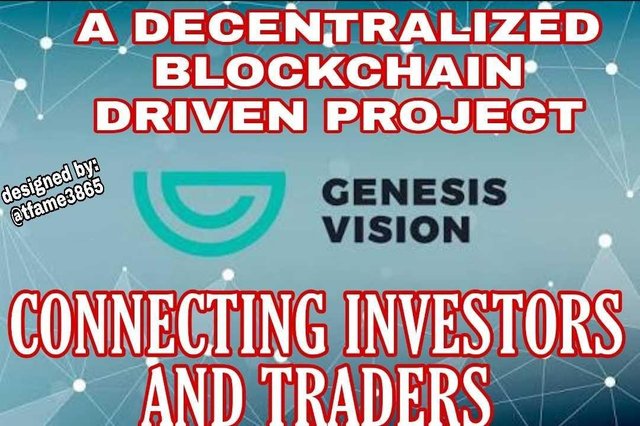 The interface is kind of difficult to understand by a crypto fresher. Like me, I know of crypto for long but I just recently venture into trading. Am still learning trading and I must confess, if you are not careful enough, you will make huge lost.
Because of the various risk involved in trading back then, what I do is that I will send my #crypto to those trusted sellers who will now help me trade it and send me my fund. Sometimes, instead of stressing them with the trade, I will sell it to them directly, then they will get me paid. People might think such system is no more, or they might be looking for such platform or medium. Right now, search no more, I got a trusted powered blockchain project called Genesis vision which can get your trading need met.
WHAT IS GENESIS VISION
Genesis Vision is a decentralized platform built on top of the Ethereum blockchain. As the name implies, it vision/mission is to ensure that asset is been managed properly. It went further by ensuring that it acts as the #middle man or #escrow between those who knows how to trade and who don't know how to trade.
Genesis Vision is a decentralized asset management platform built on blockchain technology. It's designed to connect people who want to trade (or access the investment landscape) with individuals who actually know how to trade. Genesis Vision investors trust their funds to Genesis Vision managers, who trade using the pool of attracted funds, subsequently sharing the resulting profit with all of their investors at the end of a set period (set individually by the manager).
Ever since it was added to #stateofthedapps list on the 16th of November 2018, the transaction activities has risen spontaneously. It currently occupies number 58th on the stateofthedapps list. You can check the ranking here


credit
HOW GENESIS VISION WORKS
Remember that the aim/goal of Genesis vision is to ensure that the asset of those who don't know how to trade are traded.
So, this is how #Genesis vision works:
There is #Investor and #Managers channel
Just as the name implies, as an #Investor, you are to deposit your asset been it Eth, btc etc. After it has been deposited, Genesis vision will take it from there by ensuring that they match it with a #manager who will in turn trade it and get you paid. The #Investors has sole right over their asset, and they can determine how they want it to be trade and with which token to be paid with.
I already mentioned the #Manager role above. They are the brain behind the project. They ensure all trades are carried out with trust. It is never easy managing peoples fund, #Genesis #Vision ensures that all criteria are been met before making one a manager.
HOW TO ACCESS GENESIS VISION
Accessing Genesis vision is so easy and stress free. First of all, you have to have a working gmail and a password. That is the first procedure.
#Secondly, while registering, there are two options available. One is to be an #Investor and the other is to be a #Manager. I selected #Investor for the purpose of this review. As an #investor, am to allow the #managers trade my token for me.
Now click the Sign up button, fill in your gmail/email address, fill in your password, then submit.
Now go to your gmail/email and get your account verified.
Screenshots attached below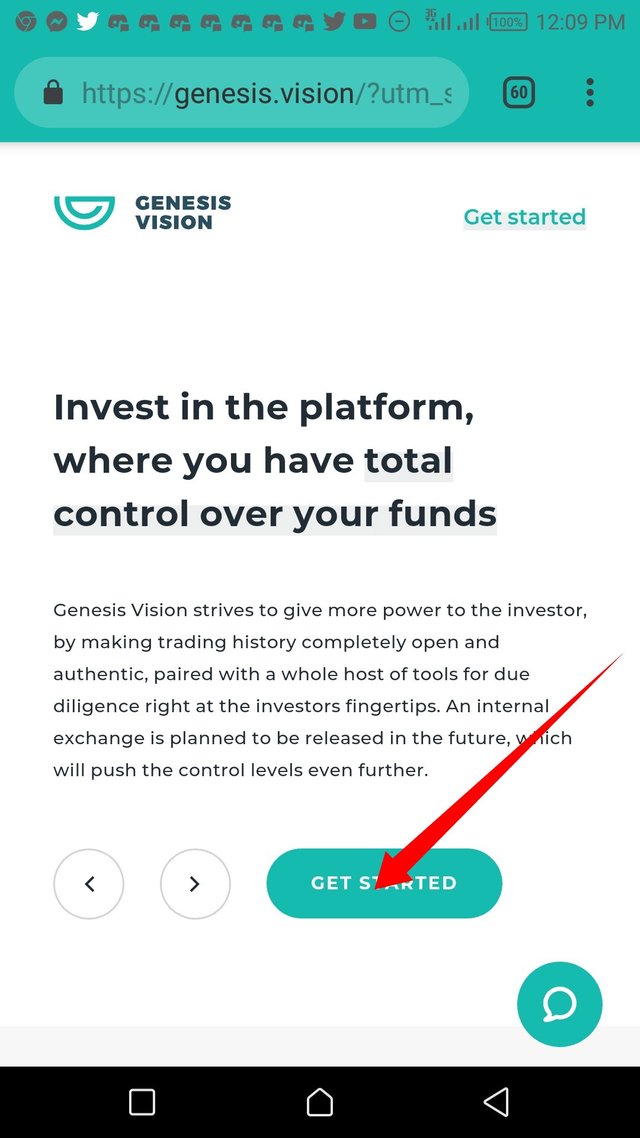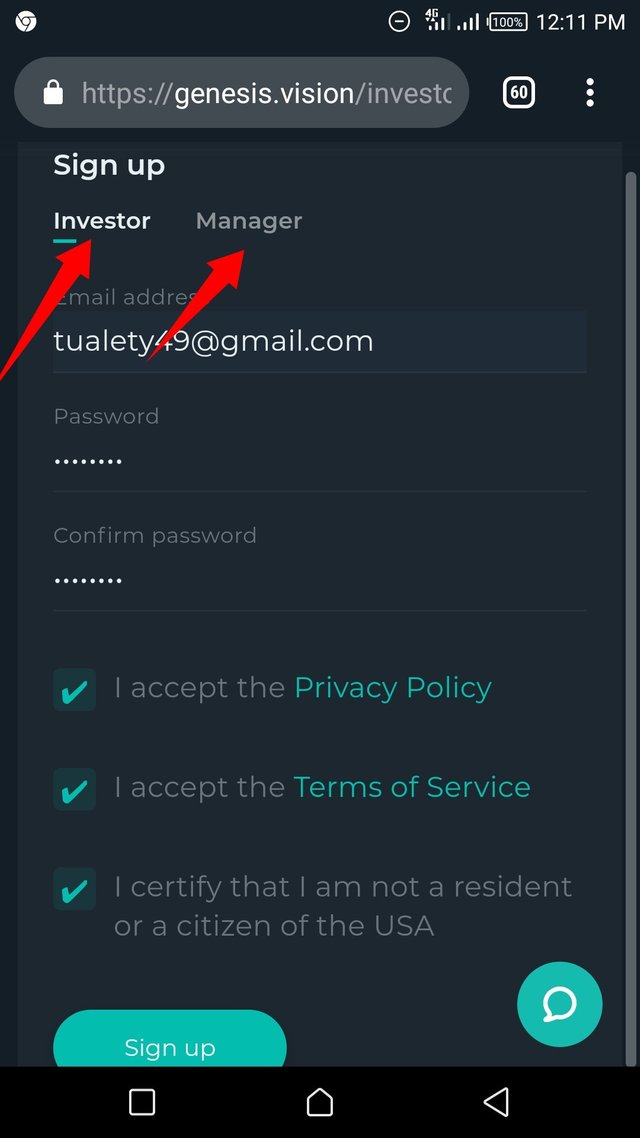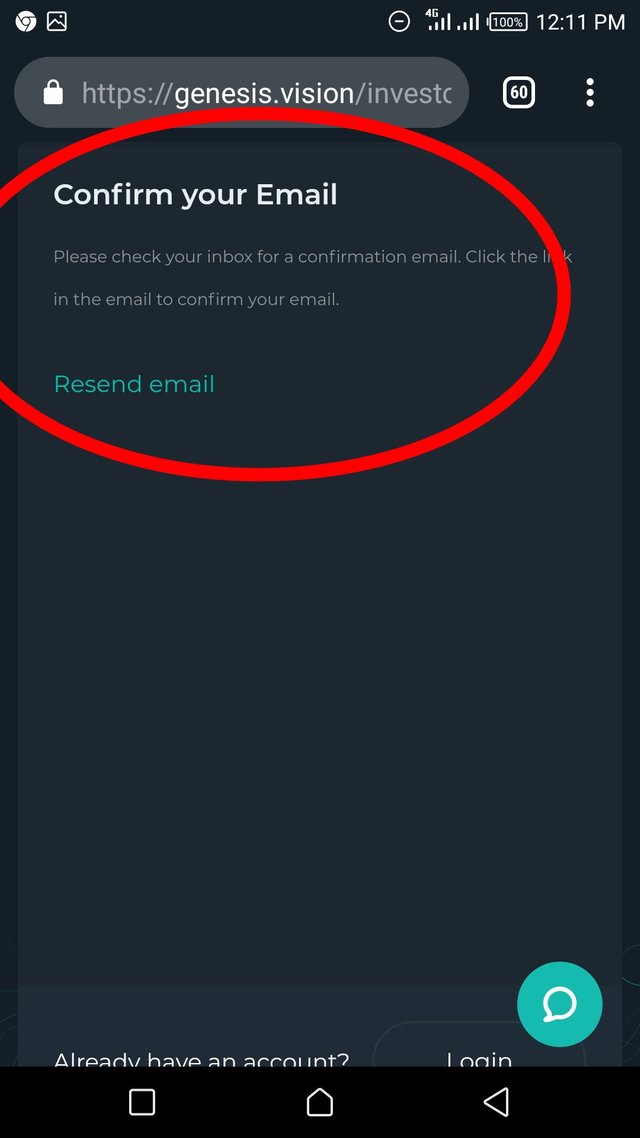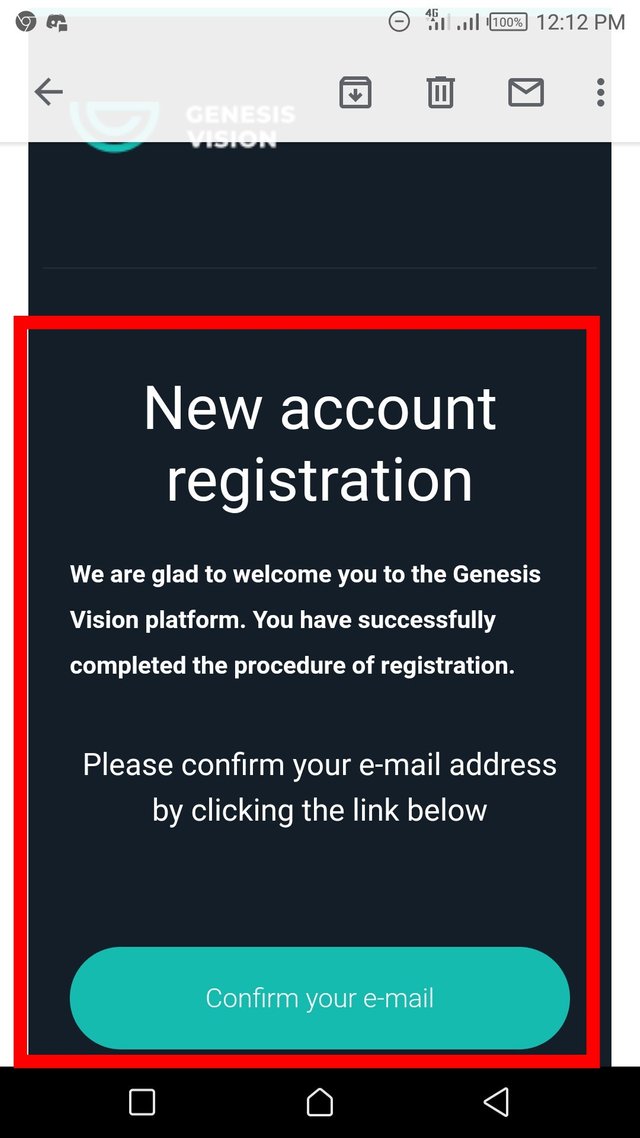 GENESIS VISION INTERFACE/FEATURES
When you complete all process and you are logged in into #Genesis Vision platform, you will come across some cool features, they include as follows:
i. Notification icon
ii. Search icon
iii. Asset tab
iv. Dashboard
V. Wallet
vi. Settings
Vii. Programs
Viii. Funds
Ix. Personal details
X. Log out
Each of the various tab has their different use case. I will explain some of it.
Screenshot attached below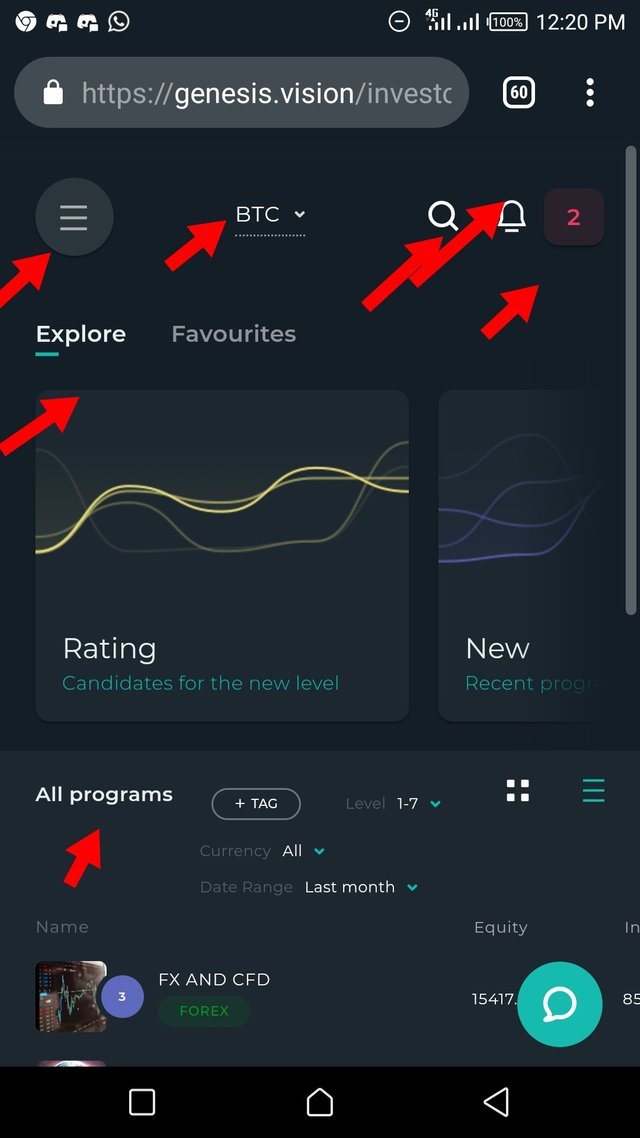 HOW TO DEPOSIT FUND/DASHBOARD FEATURES
I said I will explain some of its features, right now, am starting with the #Dashboard feature. With the #Dashboard feature, you can easily deposit your fund. Now follow me as I show you how.
Click on the #check mark, it will bring out some pull down menu, select #dashboard. Click it, it will bring out deposition option. Now click it, select the coin/asset you want to deposit.
Scroll down to My wallet, look for the coin you want to deposit, click on the wallet mark, it will bring the address you will send the asset to.
Make sure you are observant here, sending asset to wrong wallet will lead to lost of fund.
I click on Ethereum, you can see my deposit address there.
Screenshots attached below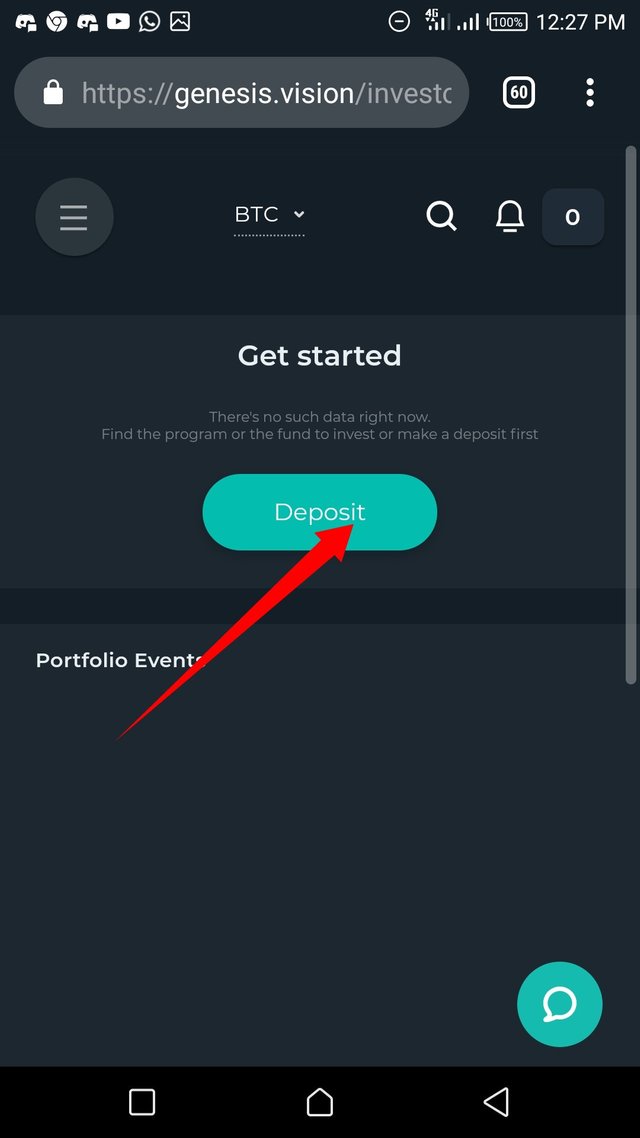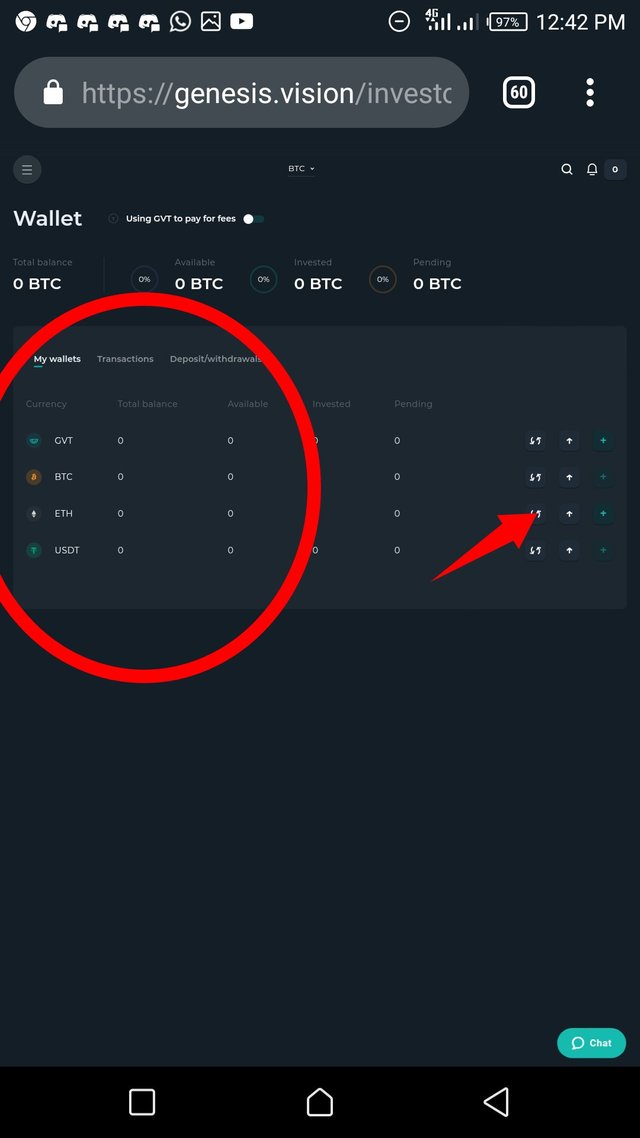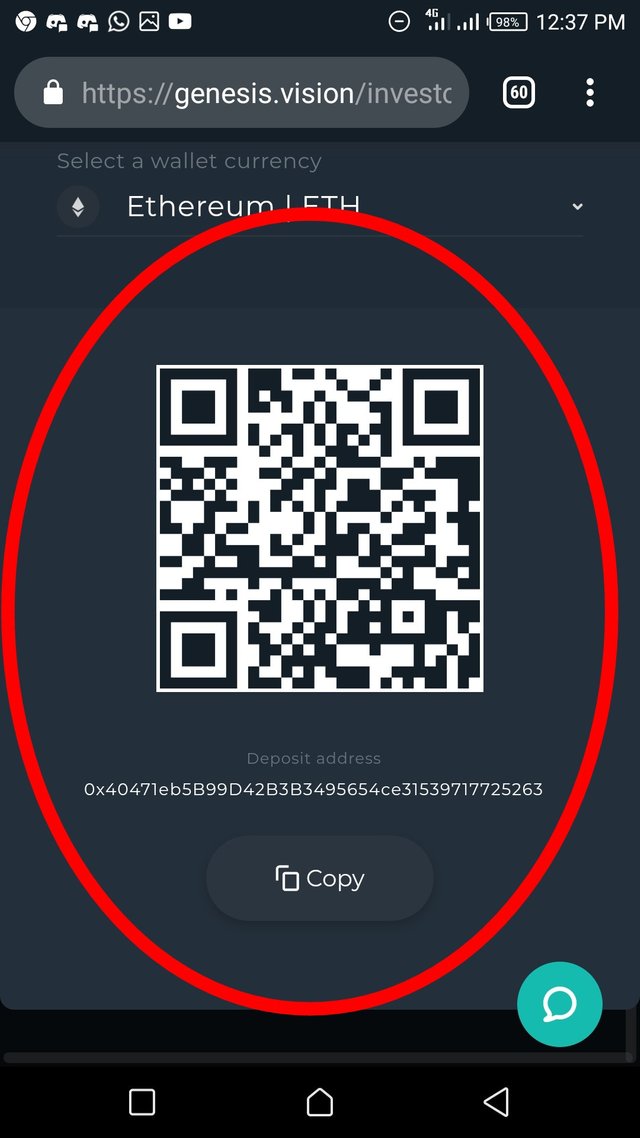 ii. Program: This is to get us updated on the latest transaction currently happening in the platform. You can also use the tag on it to check directly on your favourite asset instead of viewing all the present asset trading.
Screenshot attached below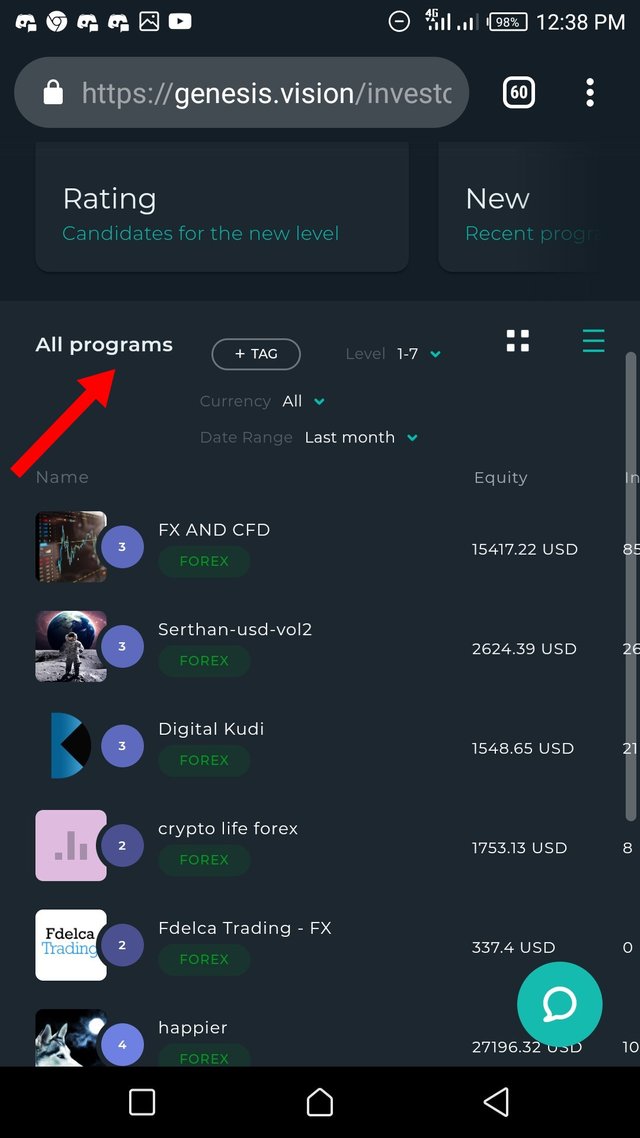 iii. Fund: This is used to view all the asset deposited by various #investors into in the system.
Screenshot attached below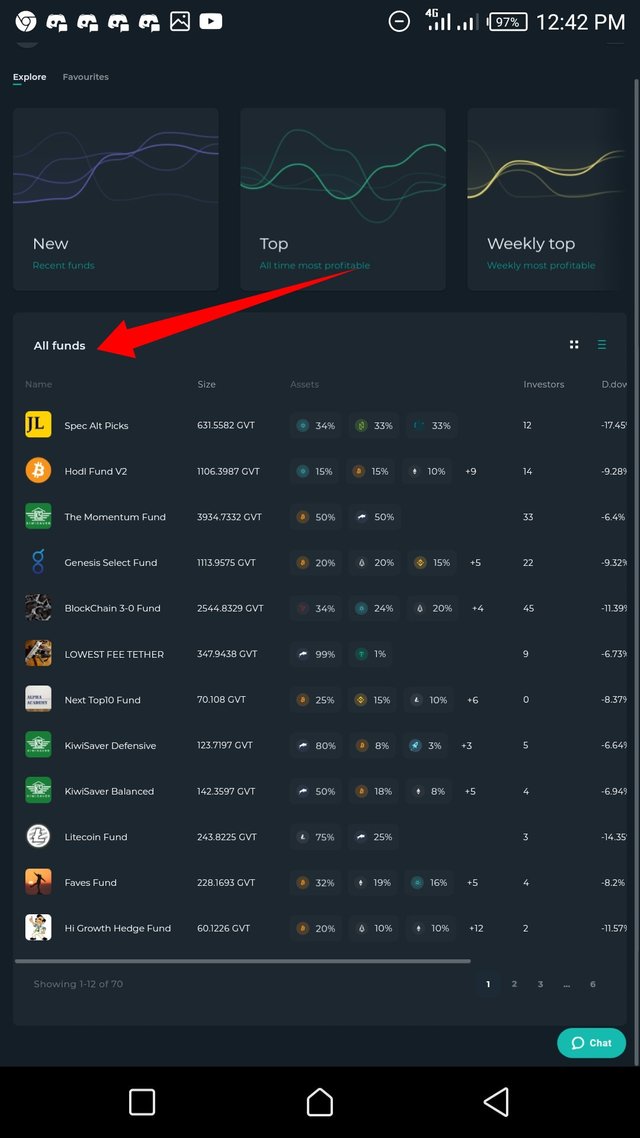 iv. Wallet: This is where all your asset and it value are been displayed. Any asset you deposited will display here.
screenshot attached below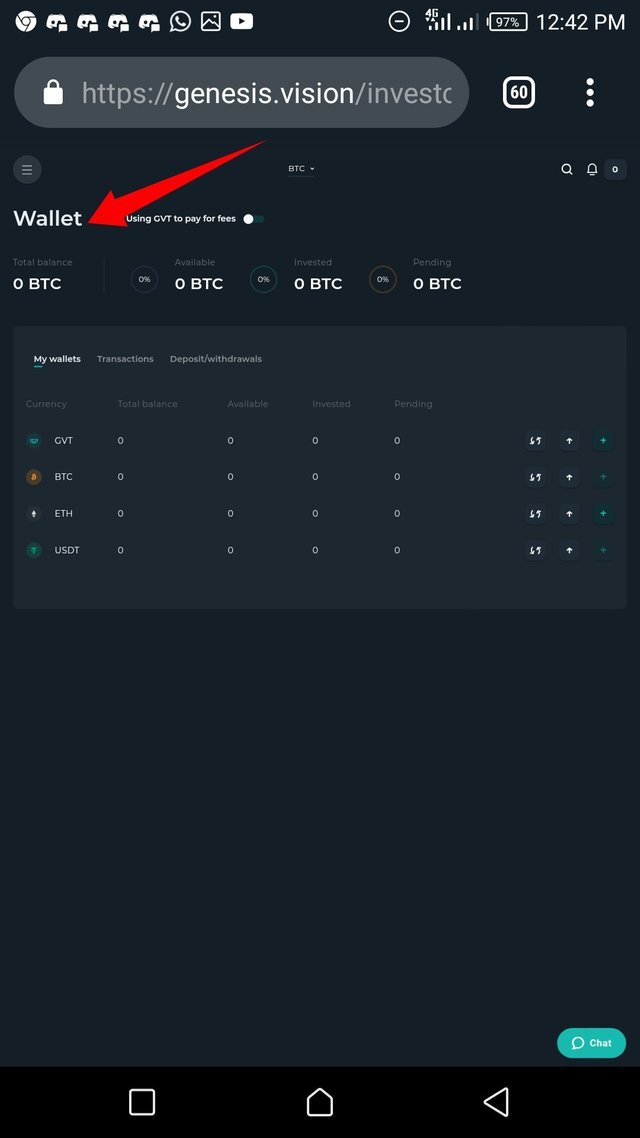 v. Settings: This menu is for you to get your account verified and if at all, add profile picture to it and do the 2FA verification.
Screenshot attached below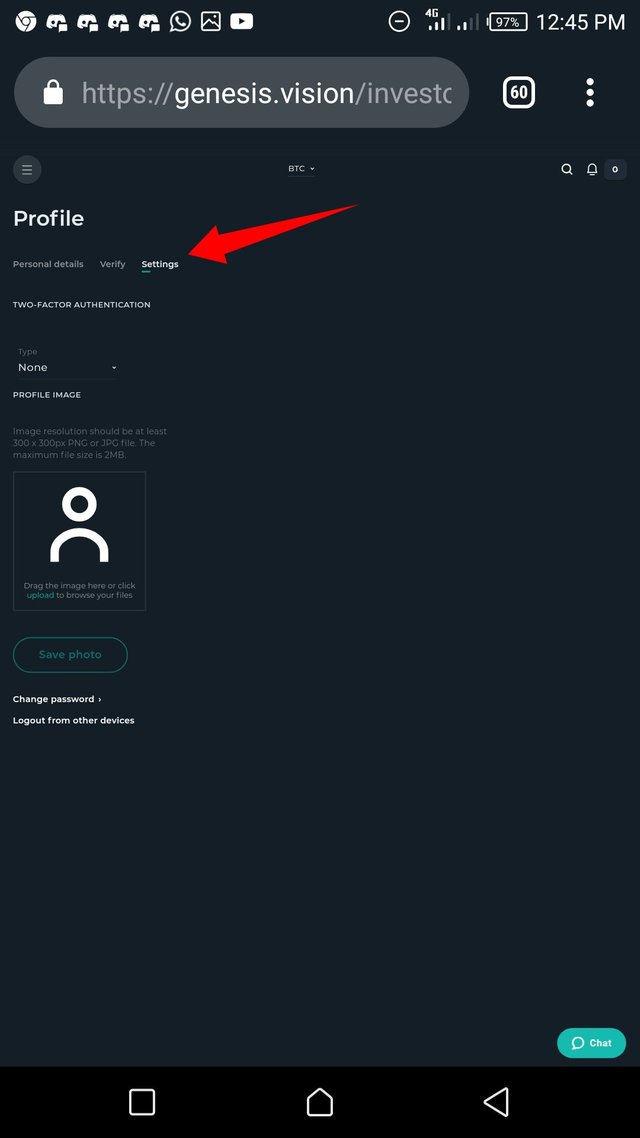 vi. Notification: when ever you log in or out of #Genesis vision or perform transactions, you will get notified through this menu. With it, you can't missed out on any latest information.
Screenshot attached below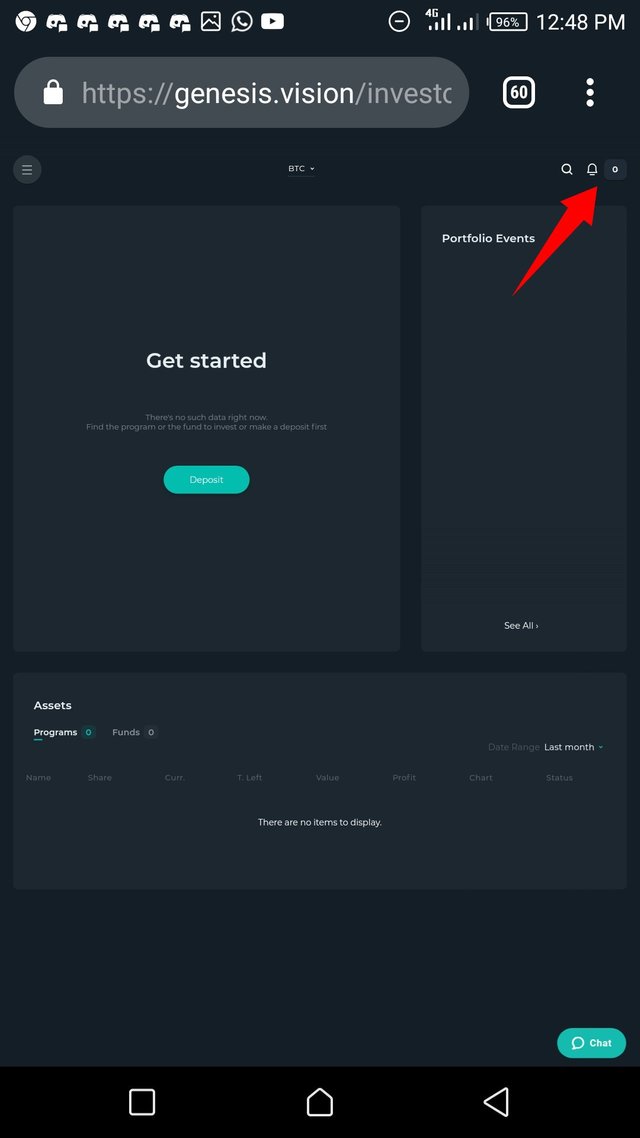 HOW TO WITHDRAW YOUR ASSET
Genesis Vision ensures that depositing and withdrawing is done with ease. There is no stress at all. Now to withdraw your fund, click on #Dashboard Or click on Wallet.
Click on withdraw. In the other menu, scroll down, locate the asset you want to withdraw, click the plus sign and the #withdraw button will pop up.
For the benefit of this review, I selected Eth and the fee was 0.01eth.
Now fill the address you withdrawing to, fill the amount and hit send.
Simple as that
Screenshots attached below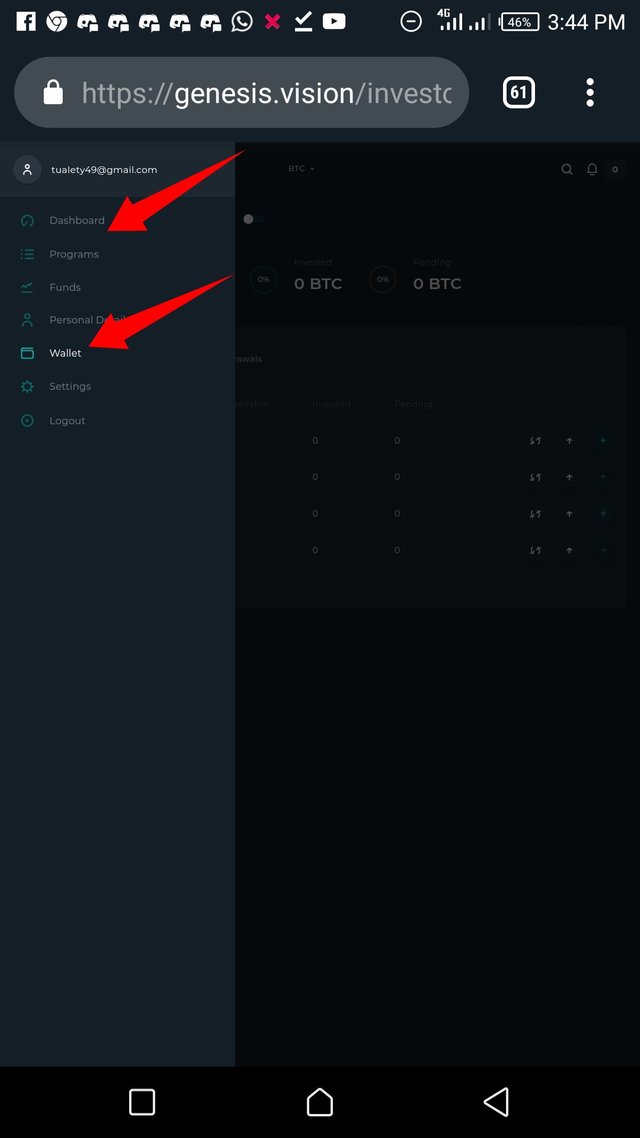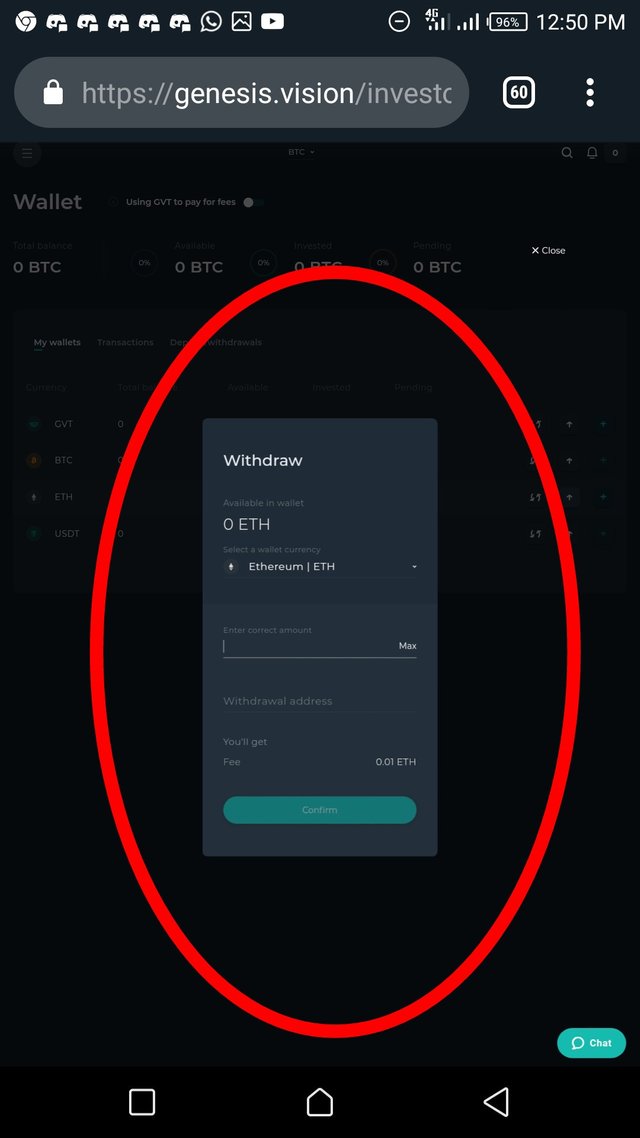 Likes
Setting managers in charge of managing trade or asset really got me happy. These people are ranked based on their high level of trade. And this has really helped to see the platform waxing stronger.
Secondly, they have helped to build trust between them and their various investors. This is something that normally don't happen. Genesis Vision has helped to build that bridge that sees the level of trust waxing stronger.
Lastly, support chat box is currently displaying on your field, if you have issues, you can hit them up and got it sorted out. They have good support service.
Dislike
I tried depositing Btc fund and even Usdt, I noticed it doesn't display deposit address, but If you click on Eth and any other crypto/asset, it will display your deposit address. I will kindly suggest they remove it, since we can't make BTC and other Crypto deposit. Am really concerned about this, a lot of investors has Btc, but since they can't make BTC deposit, they are not pleased with it. This might reduce trading activities.
Screenshot Attached below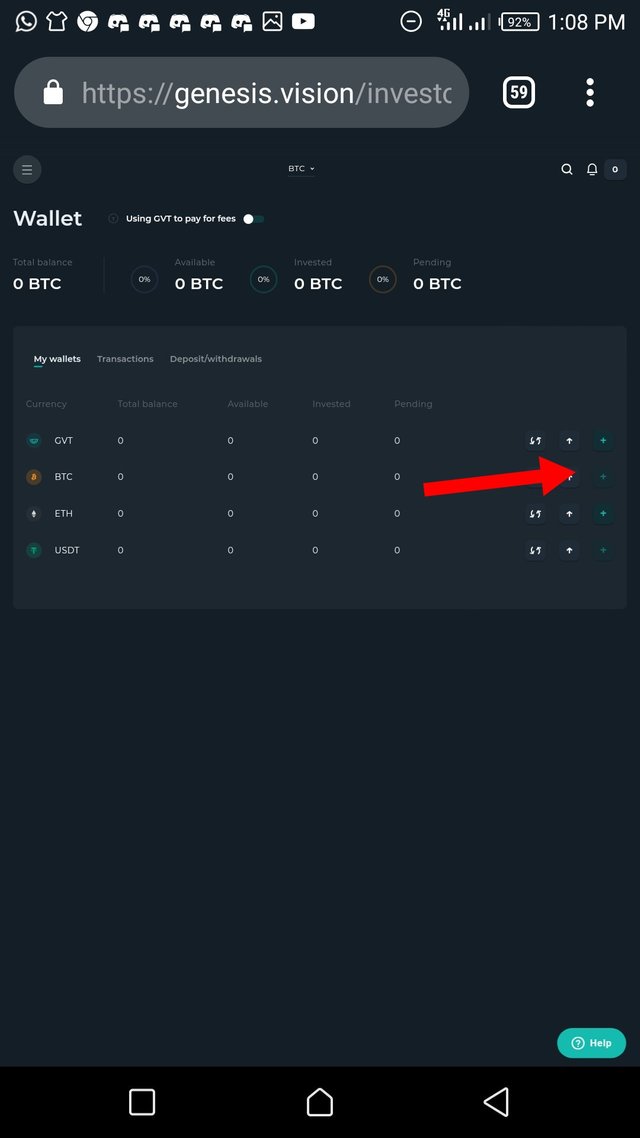 Final Verdict
Genesis Vision has helped to solve a great issue here. Many people ask this question when you ask them to invest in crypto. 'HOW DO I TRADE/CASH OUT? With #Genesis Vision, that issue is now covered. All you have to do is to deposit your asset and the managers will do justice to it by trading it for you and at the end helps you with the cashing out process. This trading process has helped to see the #Ethereum and #Genesis Vision growing spontaneously. With this in place, I am rating them 4.5/5.
For more info on #Genesis Vision, visit stateofthedapps here
Disclaimer: Images are properties of #Genesis #vision and are used for the sole purpose of this review