Many people struggle to survive in different decentralized rewarding platform, not because they don't post quality post, not because they don't interact, not because they don't associate. What might be the issue? A question I will address because of what 1Ramp offers.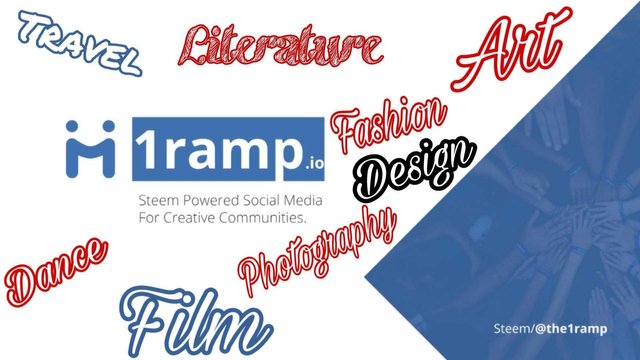 item
There is something about life and success, if I am a footballer and you find me in the musical field because of the money involved, I will struggle to keep impressing, because am not in a field of my interest.
Did you notice the smile and happiness always in the face of #Cristiano #Ronald when he is doing anything related to soccer?. This shows that he is in the right field of his. We can see some great men in other notable field.
What I am saying is that if you are in your field of interest, anything you do is related, but if it is not your field, you will keep trying to impress by learning more and more. A Mechanical Engr will understand what they call a Piston compared to an Business Admin student trying to impress in such a field. It is with this that the interest of #1ramp was built.
What is 1Ramp
This is the first time I am coming across a decentralized platform that offers this kind of service.
#1Ramp is a decentralized social media platform that is built on top of the steem blockchain. It is a home to eight (8) communities, they include as follows: Art, Design, Dance, Film, Literature, Music, Photography, and Travel. One good features about the 1Ramp is that it is a social media platform for #creativity. The reward from this platform is the steem currency, #steem and #steem dollar. This dapps is currently occupying number 110 in #thestateofthedapps list.
N.B: In 1Ramp you don't upvote or vote post, you rate post. It is similar to how you rate post on Playstore and co.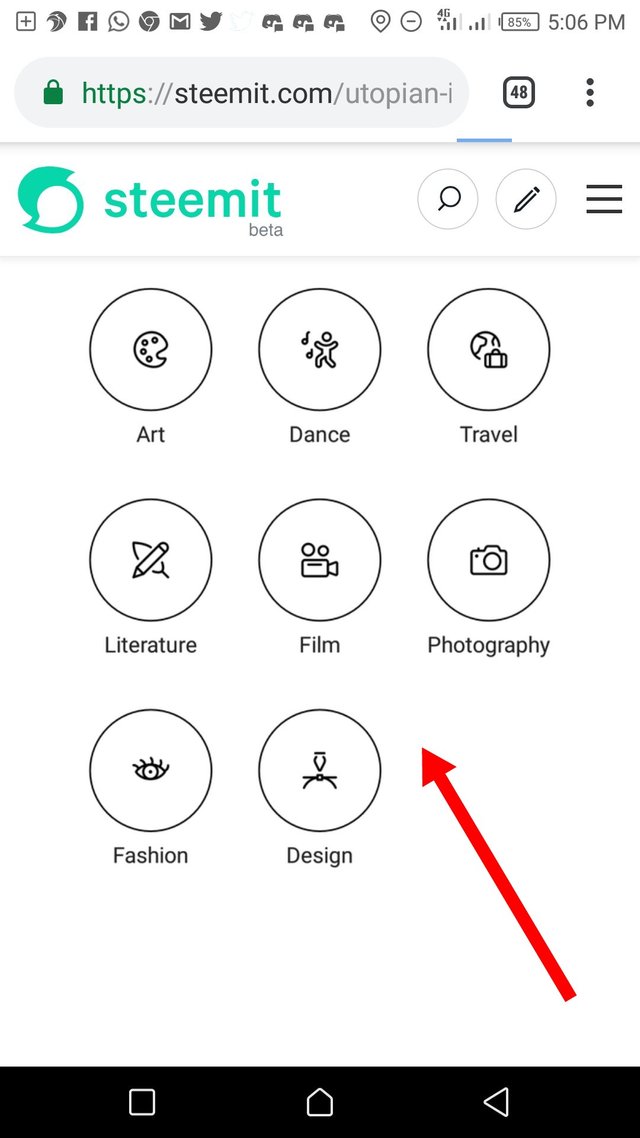 What gives 1Ramp that cutting edge over other dapps
1Ramp offers and brings a lot of value and creativity to the #steem blockchain. With 1Ramp, people in a such field, can start making use of their field and this will expose them to similar people of same interest. 1Ramp makes sure they are different from all other decentralized platform out there as they roll up the following selling point platform. They include:
i. Dance
ii. Art
iii. Travel
iv. Literature
v. Film
vi. Photography
vii. Fashion
And
viii. Design
What is the usefulness of some of above listed platform
Knowing well that there is a community that I can share what I am in love with and get voted is, something that is really encouraging.
With what was listed above, we can purely see that 1Ramp is trying to bring more engagement to the #steem blockchain by ensuring that we all are in our respectful field. Now permit me to explain how some of those platform operate.
i. Dance: If you have any pictures or recording where you make some dancing step, you can easily share it with the community and get rated.
Dance is the ability to move rhythmically to music, typically following a set sequence of steps.
ii. Travel: You move from one place to the other, feel free to share it with the community as you get reward from been rated. I have seen a lot of ladies enjoying this field, they love sharing pictures of their trip, this is a win scenario for them.
Travel is the movement of people between distant geographical locations. Travel can be done by foot, bicycle, automobile, train, boat, bus, airplane, ship or other means, with or without luggage, and can be one way or round trip.
Screenshot attached below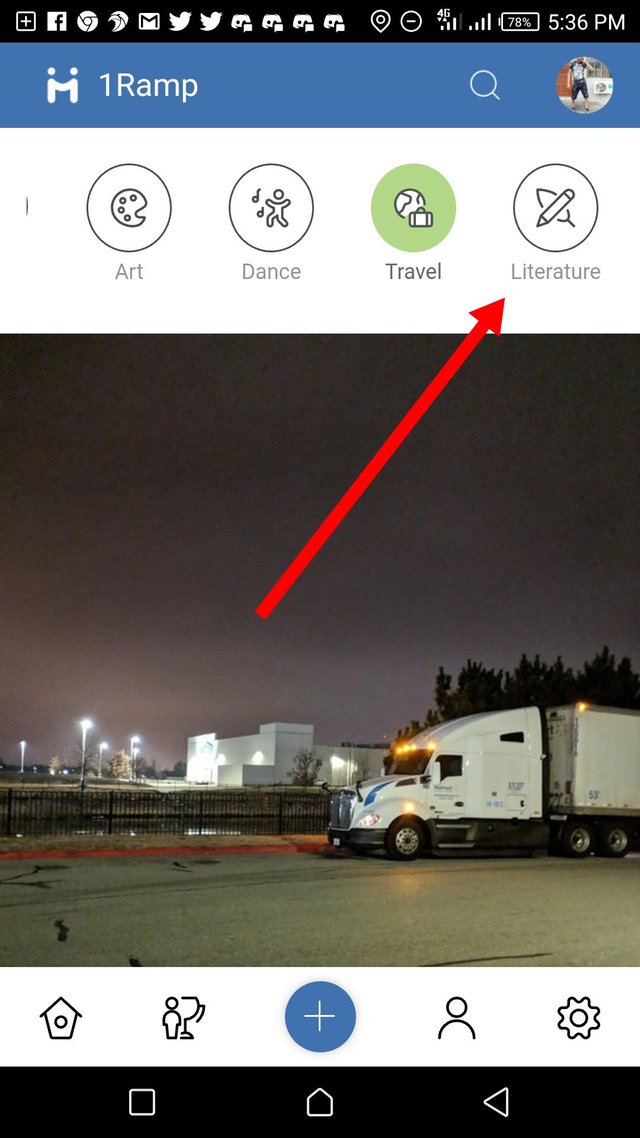 iii. Art: You have a painting or any master piece you have worked on, feel free to drop it and get rated.
Art is the expression or application of human creative skill and imagination, typically in a visual form such as painting or sculpture, producing works to be appreciated primarily for their beauty or emotional power.
Screenshot attached below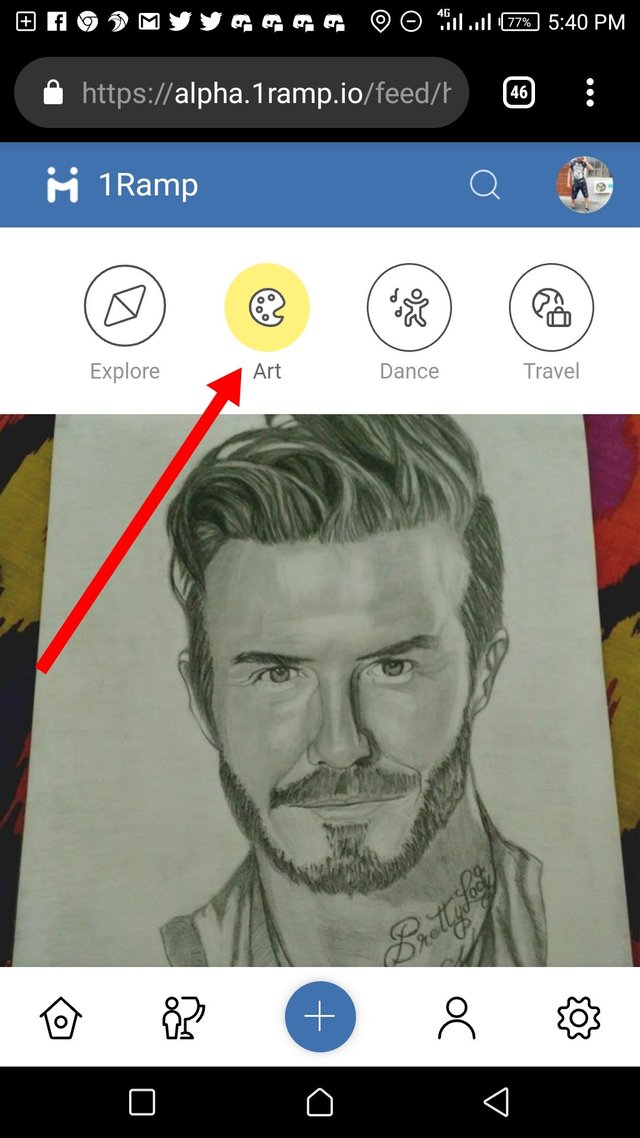 iv. Literature : This is a very deep field. It is a field for creative writing.
Screenshot attached below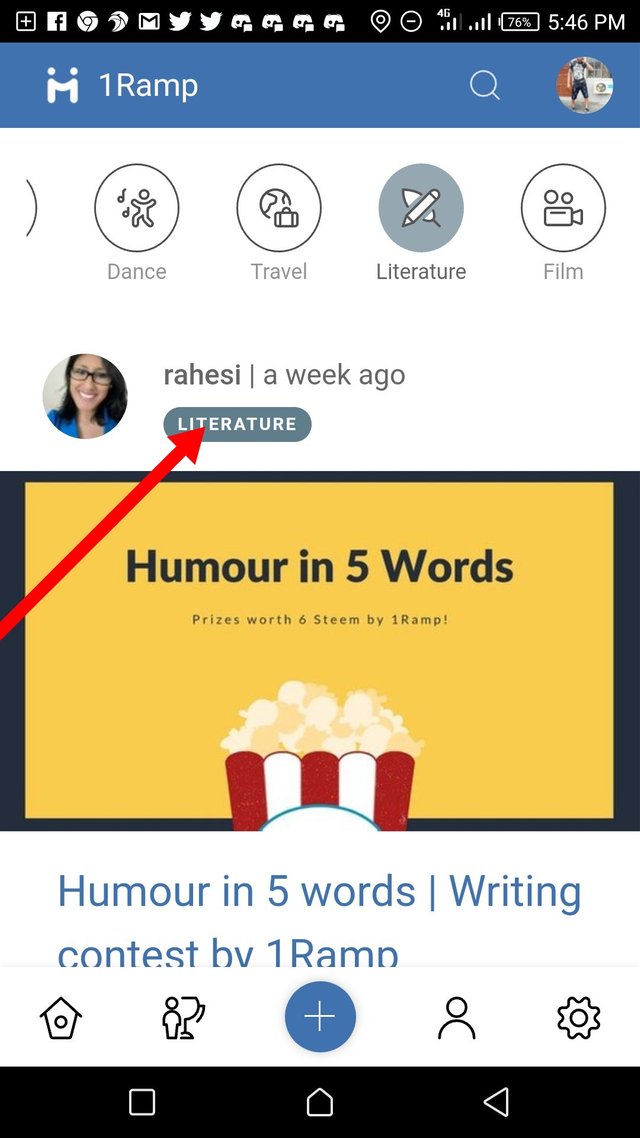 v. Film: This can either be a story or event recorded by a camera as a set of moving images. If you have such recording, feel free to share it and get rewarded.
vi. Photography:This can easily be done with your phone as you can use your phone camera to take any pic and share it or use any available camera. It just have to be something related to photo.
vii. Fashion: You can definitely share anything related to fashion and get rated for it.
Viii. Design: Almost offering what fashion offers, just drop any designed made by you and get rewarded as well.
Screenshot attached below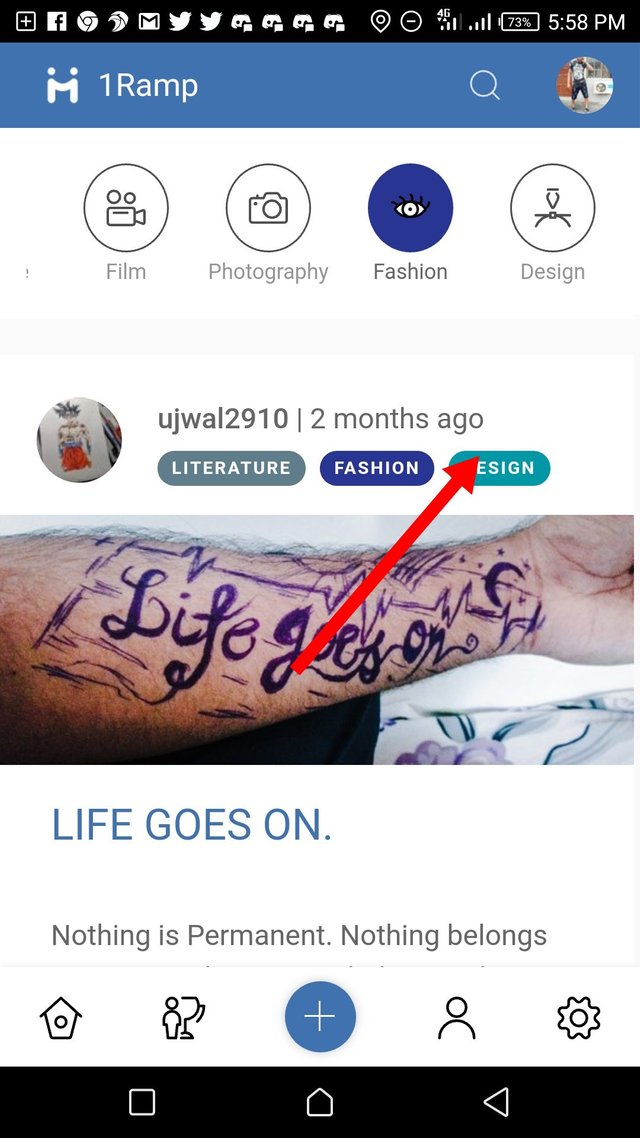 Get Upvote from 1Ramp
1Ramp holds various contests and through this contest support anybody user that passes the contest laid down rules and regulations.
N:B: For you to get rated from 1ramp, you have to make use of their platform and follow all set down rules and regulation.
How to get Started on 1Ramp
For you to enjoy the cool features that #1Ramp offers, you have to first of all register on the steem blockchain. You can do that by visiting steemit.com, at the top right-hand corner, click it and click sign up. Wait for your keys which might take days or weeks.
Assuming your registration is complete, download the 1Ramp app through this link
Now click Login and input your master keys and username. It will log you in, set up your profile, and start blogging with it.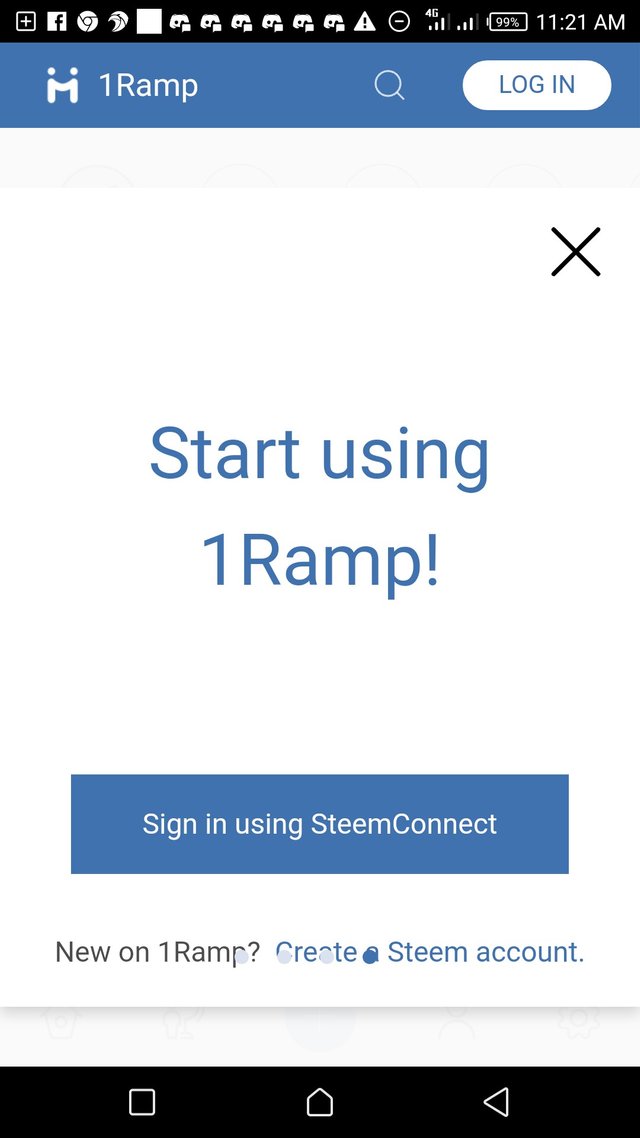 Likes
First of all, I love the idea and concept that 1Ramp is trying to introduce here. With it, talent can be discovered. This opens door for more creativity.
I also love the part whereby the community ensures that there is contests in all the 8 field to ensure that there is regular engagement.
Lastly, you can create your own contest, set rules for it and assign judges. This is also to promote and support the platform.
Screenshot attached below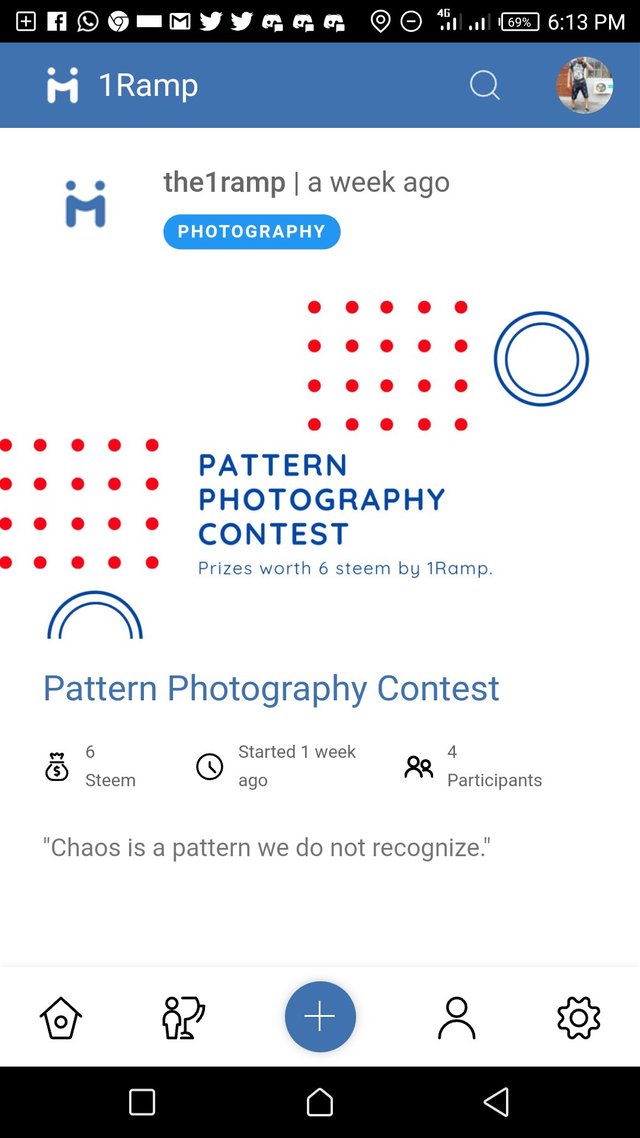 Dislike
I noticed that there is no voting bar, if I want to rate a post, it will rate it at 100%. I think this should be worked on as it will scare people away knowing fully well that they can't rate more than 50 post without draining their vp. This is the major issue I noticed about this dapp that is currently occupying number 110 in the state of the dapps list.
Final Verdict
With what 1Ramp is trying to introduce, it will help to bring more engagement to the steem blockchain, as a lot will be happy knowing fully well that they have a platform which they can share their skills on. I will give this great dapp 4/5 for the creativity they are introducing to the steem blockchain.
Disclaimer: Images are properties of 1Ramp and are used for the sole purpose of this review