DApp Review: How Decentraland Integrates Virtual Reality With Blockchain
Decentraland is a Virtual Reality platform where investors can discover and purchase plots of land and build their desired attractions or assets. These virtual assets are monetized and earn the owners Decentraland's native cryptocurrency, MANA. MANA is tradable on various cryptocurrency exchanges.
---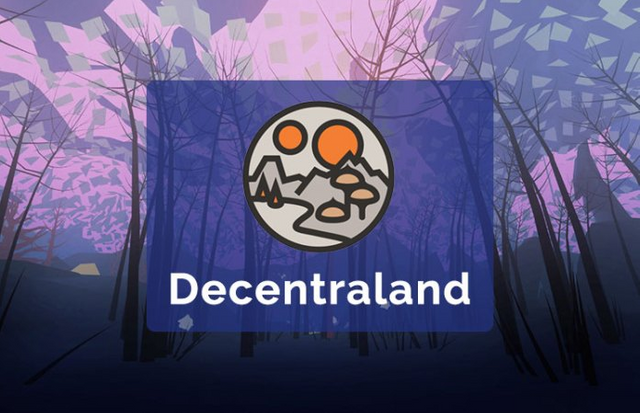 Source
---
How Decentraland integrates Blockchain Technology with Virtual Reality
---
The potential and benefits of Virtual Reality are becoming more and more appreciated. This is the next-generation technology that is taking the art and entertainment industries to the next level. Various firms have found their ways of integrating this highly-advanced technology into their specialized activities. Firefighters, pilots, rescue operators, etc. are few of various professionals being trained with the use of Virtual Reality. Decentraland has tapped into this technology to deliver commendable exercise activities to bring Virtual to Reality.
If you had known me before now, you'd understand how much I love to play with high graphic video games. What relieved me from devoting too much time on video games is the fact that they hardly bring monetary benefits. As much as I love to play with graphics and being in control of digital attractions in, they all seem to be outside reality to me. Decentraland brought a new experience to me and other assets lovers. You play around virtual lands, build what you like and earn digital currency that could be exchanged for fiat and spent. This is Virtual coming into Reality!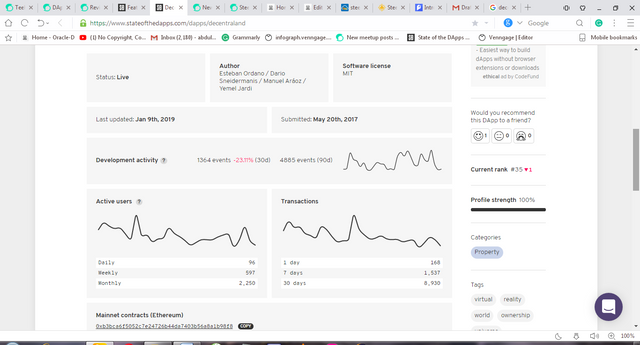 Decentraland on StateOfTheDApps
---
Decentraland uses the next generation technology; Blockchain to bring untapped benefits to territory owners. This is an Ethereum powered platform that allows people to own territories and build their personalized assets. You can buy plots of land and build your own assets or attractions which can be monetized. Assets owners earn Decentraland native token, MANA as users explore and access their properties.
---
---
Decentraland is like a video game that has a virtual universe. It is built on Ethereum Blockchain and uses a peer-to-peer mode of communication. There are 43,689 private 10x10m lands in Decentraland universe. You need to own a portion of this land before you can build your desired experience or attractions. The land prices vary and can be seen here. To purchase a land, you need to have Decentraland's Non-fungible token, MANA.
---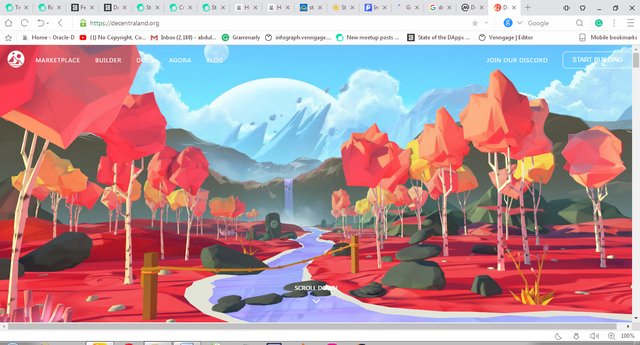 A screenshot from Decentraland.org
---
Each land is predefined in the ratio 33x33ft. Once you have acquired a portion, you can use it as you choose. Build whatever assets you like and start monetizing them.
---
---
There are three layers of software technology powering Decentraland. These are the Consensus layer, the Land Content layer and the Real-Time layer. These three work in an organized manner to deliver era-defining services to Decentraland users.
The Consensus layer
This is the bottommost among the three layers. It uses the Ethereum smart contract algorithm to manage land ownership in the ecosystem. The smart contract helps users to track the owner of a particular parcel of land and the kind of attractions residing on it.
---
The Land Content layer
This is responsible for storage and monitoring of the digital assets built on lands. Each land's content is hosted on the decentralized network powering the system. The Virtual world is built with textures, pixels and 3D models. These files are stored within the Land Content layer.
---
Real-Time layer
This is the layer responsible for the peer-to-peer interactions among the users. Landowners, buyers and investors can run transactions among themselves in real time thanks to the effect of this technology.
---
MANA – The Decentraland's Non-fungible Token
---
Cryptocurrency and Blockchain Technology have an inseparable union. Most Blockchain projects have native Cryptocurrency tokens fueling them. It is the same with Decentraland which is powered by its ERC20 native token, MANA. MANA is the currency with which buyers pay to acquire lands and other activities on the platform. When people make use of your goods or services (digital assets built on land), you are paid with MANA. It is the same for every other activity available in the virtual world.
---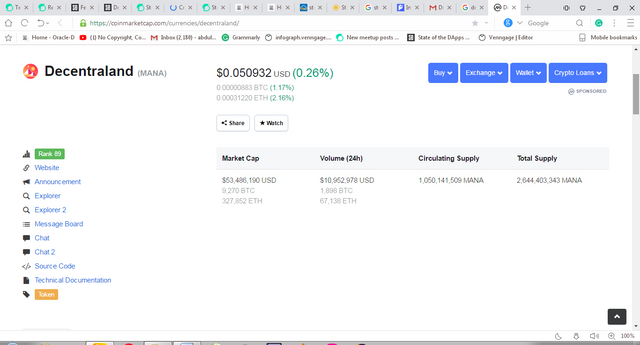 A screenshot from CoinMarketCap
---
Decentraland launched their ICO campaign in August 2017 – a remarkable campaign that yielded over $30 million USD in less than a minute. In January 2018, this token got to its all-time highest value at $0.259. MANA currently has a market cap of $53,486,190 USD and a 24hr market volume of $10,952,978 USD. At press time, 1,050,141,509 units of MANA are currently circulating in the market out of the total supply of 2,644,403,343. MANA's current price is $0.050932 according to CoinMarketCap.
---
Pros of Decentraland
---
Provides users with multiple use-cases
The tangibility of a project's use-case determines the survival of its native token. Projects with no tangible use-case have left their tokens suffering in the market or end up dying. Decentraland's creativity is unrivalled. It has loads of use-cases such as app development, brand advertisement, content curation and many more. This gives investors peace of mind and solidifies the potential of MANA.
---
It is a gamble worthy of a trial
It is hard to predict the future of most of the new projects in the Blockchain world. This is due to their inability to contend with competitors. Decentraland brings an untapped resource - bridging two giant industries together. Both the Virtual Reality and Blockchain industries individually boast a market capitalization of several billions of USD. The Decentraland project has no direct competitor due to its uniqueness. This makes it an ideal enterprise to invest on for the future.
---
Cons of Decentraland
---
Lack of content regulation
As much as it benefits us, the inability of Blockchain systems to regulate their contents is something of concern. On Decentraland, it is hard to control the kind of assets built on lands by their owners. Since this platform has no age restriction, attractions such as pornography and gambling could be accessed by under-age people. This is against some laws and etiquettes. I think there is a need for improvement as regards this.
---
The team still needs more experience in VR platform management
I must commend the effort of the team behind this unique project. When we look at it in Blockchain perspective, Decentraland is in perfect hands. I still think this platform requires more expert interference as regards Virtual Reality. There are experienced advisors in the VR world that can improve the efficiency of the platform.
---
Conclusion and Comparison with other VR platform
---
NeoLand is another platform where people can buy lands, build stuff and network just as we do on Decentraland. Now, remember that I said Decentraland has no direct competitor. NeoLand is not focused on Virtual Reality. It is much of a game than VR. Decentraland has a very large community on Discord boasting of over 8,300 active members, the biggest when it comes to DApp (or so I think).
---
Decentraland is unrivalled and has great potential. I have no problem rating them with 4 stars out of 5.
---
---
Links and References
Images used here are duly referenced.
---
Github Repository
---
DISCLAIMER
This is not financial advice, nor a guarantee or promise in regards to any result that may be obtained from using the above content. The information provided here is for informational and entertainment purposes only. It should not be considered as financial and/or investment advice. No person should make any kind of financial decision without first consulting their own financial adviser and/or conducting their own research and due diligence.