Less than 48 hours ago, I published a review about a project that lets its users send Ethereum, and Ether tokens to multiple addresses at once. At the end of that article, I rated the project 5/5 for being the only wallet on top of Ethereum Blockchain that supports multiple addresses transaction. I was wrong about that statement because I have just found a similar project that has the same function. If you missed my last review you can check here for the complete story.
In this review, I will be comparing the two projects. At the end of this article, we'll all know the project with the most unique functions.
The next project on StateOfthedapps that has the same function as MultiSend is Multisender. As you can see, they share almost the same domain and project name.

Multisender is simply a project that lets its users send Ethereum, and Ethereum tokens to different Ethereum addresses in a single transaction. Yes, I gave it the same definition as Multisend because they have the same function. However, the project owner gave it the same meaning in a different way. He defined in different ways and they are as follows; "A token Multisender Dapp smart contract, Airdrop tokens sender, and batch sending ERC20, ETH, Ethereum tokens, and send thousands of transfers in a few transactions".
How Does Multisender's Landing Page Looks?
Multisender's landing page looks beautiful and eye-catching than its competitor's. That was my first impression after I visited it for the first time.
If you've been a reader of my reviews, you'd have noticed that I will always prefer a dark colors interface to white ones. This is one of the reasons I stated that Multisender's homescreen is eye-catching than its competitor's. Below is a screenshot displaying what displayed after its URL was accessed.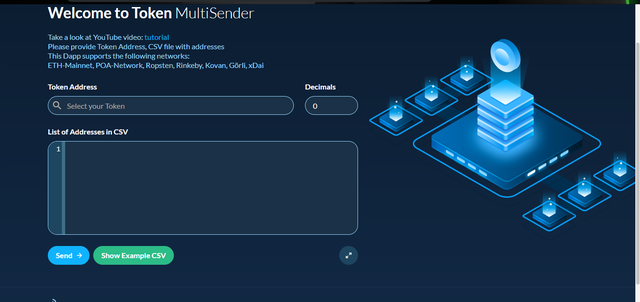 Apart from the colors, I love how simplified this platform is. On its landing page, it gave a Youtube Url to watch a tutorial on how it works. There are other helpful tips on the things the platform supports. All the texts on the homescreen are written with a color that makes it readable on a dark background color. Multisender is one of those web apps I wish they have an Android client.
Connecting Metamask With Multisender
The way Multisender behaved when I accessed its URL without my Metamask account signed-in was different from how Multisend reacted. If you've read my review on Multisend, you'll notice that it will request for Metamask account connection only when the Start sending button is clicked. On Multisender, it requested for the account connection immediately its landing page loaded. The first screenshot below is an interface of Multisender when requesting for account connection. The second image is an interface from Multisend after the Start sending button was clicked.
Multisender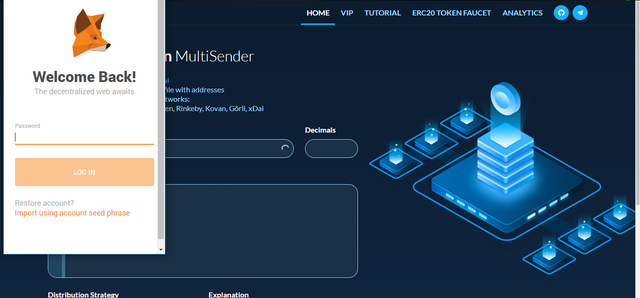 Multisend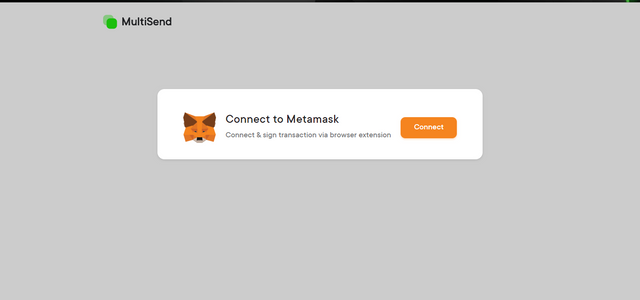 ---
Initiating A transaction
One of the amazing things I found out about Multisender and its competitor is how easy it's to use their transfer pages. Since both platforms are meant to perform similar functions, they also requested for almost the same requirements to complete a transaction successfully. For example, the common requirements between the two platforms are;
A text filed to enter wallet addresses
A text filed to enter the address in .CSV format
A button to send the tokens.
Below are the screenshots from the two platforms displaying how their different transfer pages look
Multisender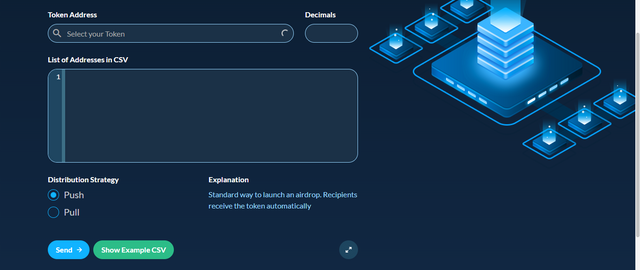 Multisend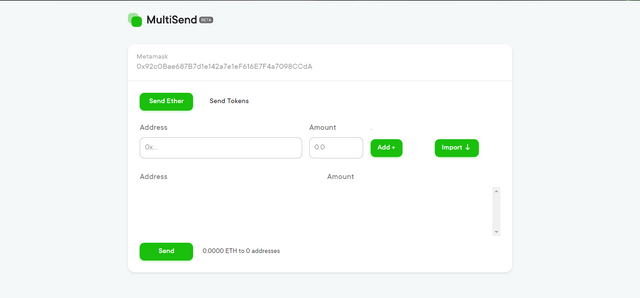 ---
Apart from the common features on these pages, there are lots of features on Multisender that aren't available on Multisend. These features are what I call unique features.
Unique Features On Multisender
A.

Auto Token Detection
After I signed in, the text field to enter the token address to send out was able to detect the list of available tokens on my Metamask account. Below is a screenshot of how it displayed the tokens on my account.

This feature saved me the stress of finding the token symbol or contact address. What if you don't have any token on your Metamask account? Well, that shouldn't be an issue because Multisender has a feature that lets its users create Ethereum ERC20 Token Faucet with Erc20fauce. You can create a token there anytime.
B.

Distribution Strategy
Push
> The standard way to launch an Airdrop. Recipients receive the token automatically. Source
Airdrop participants don't have to perform any action after the Airdrop completion to receive their token.
Pull
> The sender creates an Airdrop. Recipients have to claim their token balance Source
Action is required from the participants to pull the tokens to their balance.
---
I appreciate the developer behind Multisender for these brilliant options.
C.

Ability to Detect Wrong Address
While I was fixing the addresses on MultiSend, I was worried at a point if I had made a mistake or not. This is because it is not able to tell if an address is wrongly entered or not. This is a different case with Multisender. Multisender won't allow a transaction to go through the final stage if there's an error in the address. It's able to detect if a particular amount of token is omitted. Below is a screenshot showing how it detected that I entered a wrong address.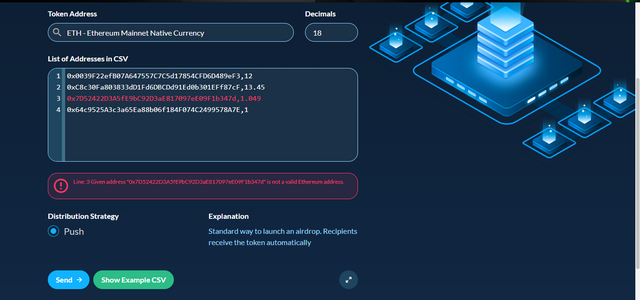 If you look closely, you'll notice that it doesn't just reject the transaction, but it also specifies where the error is.
D.

Transaction Confirmation Page
One of the main aims of this project and its competitor is the ability to save money. The money in this sense is the transaction fees. I love the fact that both platforms are helping users, and project on that. However, Multisender has another special feature on transfer fee page. It gives users two options to send tokens out. Users can either decide to send tokens with the fees deducted for a single transaction or choose an option to send the tokens while the total fees for the available tokens are deducted (helpful when the user is frequently making a transaction on the platform).
Rating
5/5.
Conclusion
Both Multisender and MultiSend are good projects to save time, and money while transferring token to multiple addresses. But I will prefer to use Multisender because of its unique features. Thank you for stopping by.