As a Blockchain and Cryptocurrency enthusiastic, there are some apps, or tools that are needed for a smooth journey in the world of Blockchain, and Cryptocurrency. Most of these tools are well known but not all. In fact, there are many unknown ones that are far better than the popular ones. I wouldn't have known or agreed to this fact if I didn't browse through StateOfthedapps while trying to participate for the Wallet review task by @dapplovers, and @oracle-d.
While I was searching for the Wallets to review, I found many of them but I have decided to talk about a tool that makes Cryptocurrency transaction easy for project owners.
If you have been into Blockchain, and Cryptocurrency for some time now, you should have heard of the term AIRDROP. But if you haven't, here is a link to read more on it. Organizing an Airdrop isn't a big deal as a project owner. The real work comes after the conclusion of the Airdrop. At this point, project owners find it hard to send the Airdrop token to the participants. This is always a tough task to compete especially when there are thousands of addresses.
Because of the issue stated above, some set of developers, or people with brilliant ideas came up with an idea to create Multisend; A platform where users can make multiple transfers at once. This simply means that every project owner won't find it hard to Airdrop their tokens to their Airdrop participants.
What Is MultiSend?
They defined Multisend as "an ethereum DAPP that allows users to send ethereum and ethereum tokens to multiple ethereum addresses in a single ethereum transaction".
Landing Page
One of the things I look out for while using a web app is how neat its landing page looks. And when I accessed Multisend, its landing page looks neat as expected. In fact, I fell in love with its color combinations. The image below is a screenshot displaying how its landing page looks.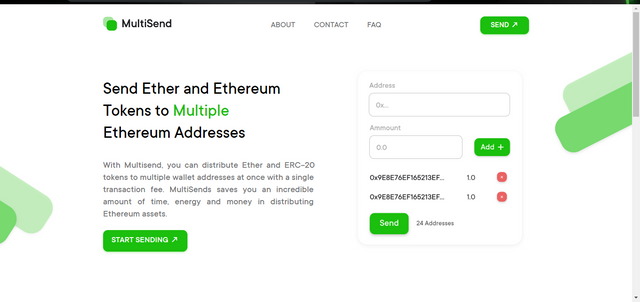 MultiSend's homescreen consists of a paragraph of texts explaining its functions. Before that, there's a brief but explanatory title which can be understood by anyone. Also, its homescreen has a screenshot embedded in it, and a button to get started.
With the information provided on this page, anyone that visits this web app for the first time would definitely get the whole idea behind this tool. Since I had read and understood its functions, I then used the Start sending button to get started. The next page that displayed is an interface that is requesting that I connect my Metamask account with it. The first screenshot below shows the interface before I connected it. While the second screenshot is an interface while It's being connected.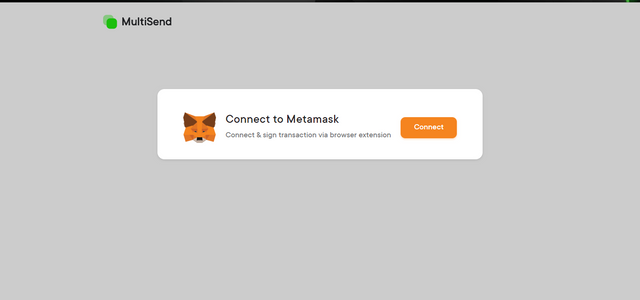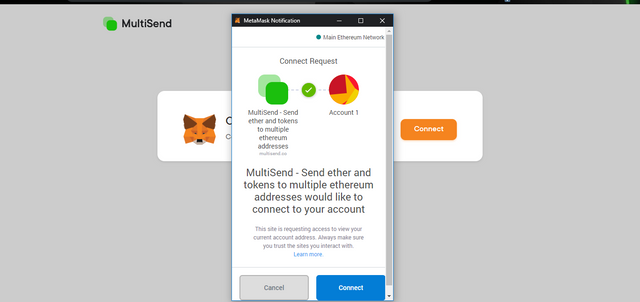 ---
The process taken to connect MetaMask with Multisend was very easy. If you don't know much about Metamask, or you don't even know how it functions at all, click on this link to learn more about it.
Transfer Page
After I have connected my account successfully, it then displayed an interface where I can send tokens to other users. The simplicity of this page is what amazes me. The function of this wallet is to transfer tokens to multiple addresses, but I am still surprised how its interface is more simplified than other wallets that can't even handle multiple transactions. Below is a screenshot showing the transfer interface.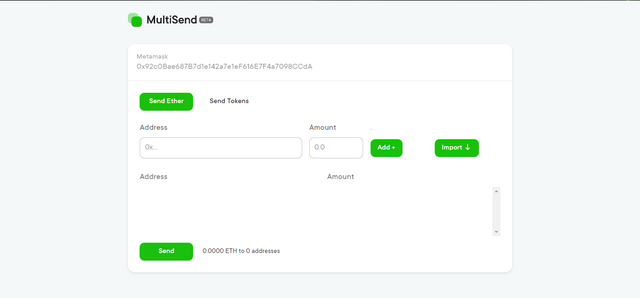 If you look closely to the image above, you'll notice that it displayed my meta ethereum wallet at the top of the page (a sign that it as connected successfully).
At the starting of this article, I stated that this wallet can be used to send airdrop tokens. That is right. However, both Ether and Ether tokens can be sent from this wallet. The buttons to send both Ether and Ether tokens are the first two options on the transfer page.
Below is a list of the required options, and text fields to complete transactions successfully.
Buttons to send Ether and Ether tokens
A text field to enter Address
A text field to enter the amount of Ether/tokens
A button to add more than one addresses
A button to import a list of addresses
A text filed to enter Contract Address (only available when sending tokens)
A button to send.
The text field to enter wallet addresses can contain as many addresses as you can think of (thousands of addresses). After the addresses are entered, the text field to enter the number of tokens for each address is also required.
Can't I import?
This is very possible. The button with its title as Import can be used to alternately fill the address field with a list of addresses in a .CSV file.
The two screenshots below are the interfaces displaying how to manually, and automatically add addresses to the transfer form.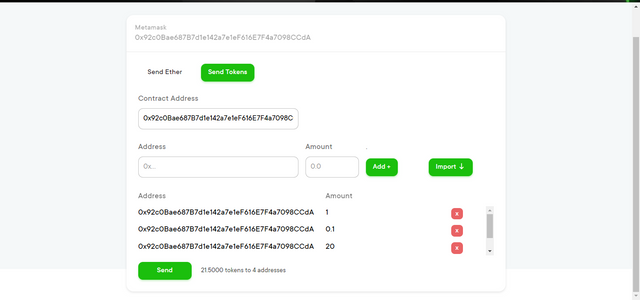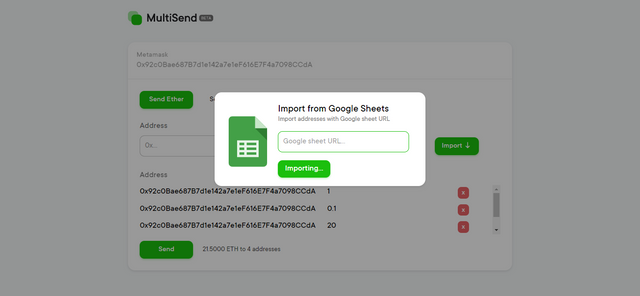 ---
Why You Should Use Multisend
One of the advantages of using MultiSend is the time it saves to complete a large number of transactions. it also saves energy and money.
Rating
I rate it 5/5 for being one of the uncommon and excellent projects.