EOS Knights gameplay review, I think am addicted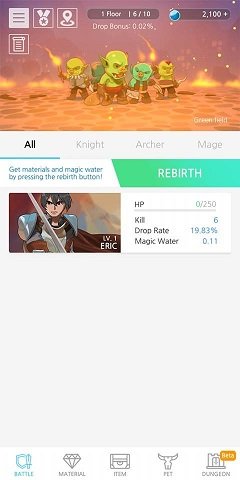 Last time I made a review about this game, I was yet to actually give it a test run, due to the fact that it needed you to hire a champion for a battle to commerce and I think I just got myself addicted to the game EOS Knights.
Last time we talked about this game, we discussed and looked at some features that were already presented and could be seen via their homepage which is https://eosknights.io/ but never actually got to try the game out, you can still get a quick look of the post I made about it a while back from Here, back then it was all speculation and views from gameplay we watched, but my view of it now after giving it a test run changed and I must say, if you looking to burn some time, it should act as a good gateway.
EOS Knights
EOS Knights is a mobile base game built on the blockchain using the EOS technology to execute various commands, with a unique interface and incredible gameplay.
Blockchain based games are rather unique unlike your normal rpg, mmo or fighting based game, materials and equipment acquired during the gameplay are yours and can't be reclaimed, updated or collected by the game developers, with such a unique feature, it's kind of a dream come true if you a game collectible kind of user, that is one that likes to unlock and hope to keep any new features added to a game.
The past few months, we have seen various games being developed using the blockchain technology but from these lists, EOS Knights have dominated the blockchain game arena with its unique game style.
A quick look, one immediately falls in love with the interface, game sounds and promised feature but you only get to truly experience it when you get involved in the game.
As I said before now, I did download the game a while back, on my quest to search for unique and different game styles, but with the price attached to the game, my adventure and quest to go further ended but if only I knew the opportunities I was missing as at then.
The game uses the EOS blockchain to complete various transactions, meaning owning an EOS account is a must if you intend to dive into this game.
With different procedures available online to create an EOS account, I was opportune to open a free one during an event that was held a while back, but I doubt the plan is still available, that being said, to create an EOS account, it cost 1 or more EOS and this can be done via MEET.ONE
To get this done, I did a little research and using this Link Register your own secure EOS account, you can easily get one up and running.
about the game
After setting up an EOS account, you are ready to dive into the world of EOS Knights and explore all it has to offer and I must say, you won't be let down as I wasn't when I started the game.
To start with, you will need to hire a character which currently go for 0.0002 EOS on your first purchase, yes the word first purchase was used here due to the fact that, after making my first hire order, prices of other champions went up, it seems the price to get the first character up and running is not much and a good way to attract players I must say.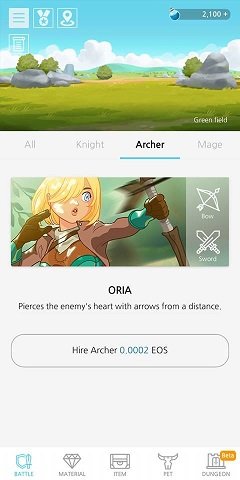 You have the option to choose from three different characters or better still, make a purchase of the three, that way you will be able to rank up fast and also be able to unlock more materials which can be used in crafting various weapons and armors.
The game is no different from paid to win games, the reason is that ranking up fast can be attained if you wish to spend more money/EOS in game.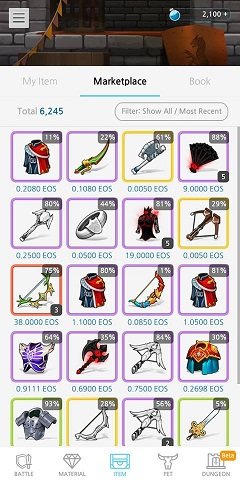 You get to purchase various armors, weapons, and pets that would give you a lot of boosts, giving you a better chance to defend the village and destroy the goblins before you.
in game tools
The game depends on various tools to run and each tool/equip you get, can be traded in the market or better still used to improve your character ability and hence giving him a better chance of leveling up.
Equipment's available ranges from Armor, accessory, weapons to pets.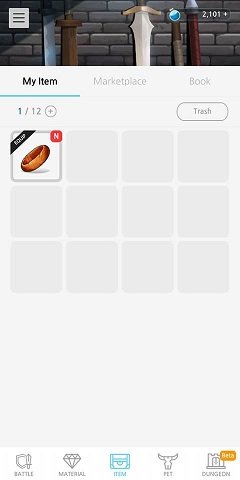 Each of the above plays their various functions as it relates to the game EOS Knights.
Although, if you are into gaming, then Armor, accessory and weapons wouldn't be that new to you, the same function as they apply in a regular base game goes here. They provide additional support to the character by buffing them up.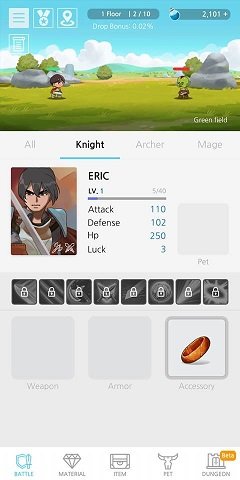 These equips will be able to increase the character defense and also offense ability.
The higher the weapon grade, the more boost you get, but be careful don't purchase armor your character won't be able to equip as at now. In the process of trying to buff my character ability up, I purchased an armor from the market place which looked appealing to the eyes, looked like it would be packed with a lot of defence and it was sold at a good discount, with the above qualities, I forgot to make other inquiries about the armor, if my character would be able to support it or not and to cut the story short, I purchased an armor that can be worn when my character reaches level 7 lol.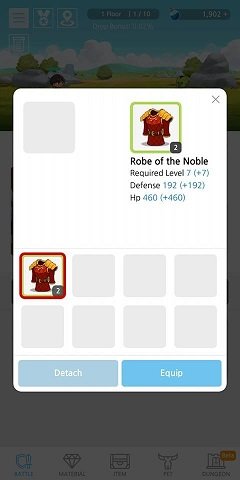 Although, the option to sell it back and get back my money if another user does purchase it is there, I think am just going to keep it, pending when I get to level 7.
Market place
This is probably what makes the game unique.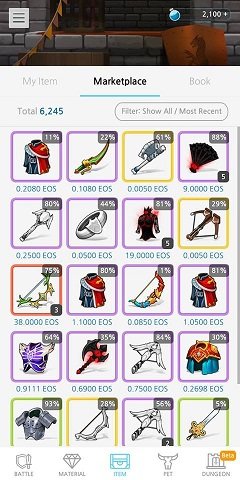 Every gamers dream is to make some money while they game, that is by selling double items or selling that extra equip, that dream is no longer far but rather a reality with EOS Knights, with the market place, players are able to trade their in-game equipment for the coin EOS and thus will be able to cash out when they exchange to fiat.
Sweet right?
But getting there won't be an easy task, as it will require devotion and constant gameplay to level up and unlock rare and unique equipment and also having to turn a blind eye when making sales for those unique items.
Sometimes we become attached to in-game equip and this will definitely bring such moments.
The above and many others can be acquired when you play EOS Knights.
The only issue I have with the game is needing to confirm any and every action that needs to be taken, that way you have to always log in to your MEET.ONE account while playing, making and updating any and everything, kind of tiring.

You might consider the above just for security purposes, to ensure that every transaction been made is by you and you alone

it would be great if a tool was created that keeps you online during every game session while you play the game and when you log out, you will need to log in once again when you open the game.
All images used were taken from the game EOS Knights during gaming
Disclaimer: The content shown above is not financial advice, readers should always make their own research before investing in any cryptocurrencies or digital asset, the above is just for entertainment and educational purposes