Task #9: Review of a Finance DApp (Review of OmiseGo DApp)
My Review of a non steem finance DApp OmiseGo, Unbank the Banked.
Task by: @oracle-d.tasks and dapplovers
![4oqkdftz94.jpg](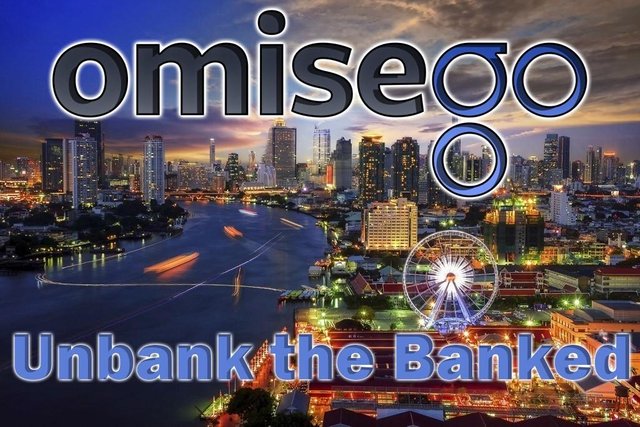 )
Introduction
One of the most exciting non steem project on the Ethereum blockchian is OmiseGo. OmiseGo is public financial technology exchange which works on Ethereum. This enables us to have transparent transactions and trade throughout our wallet. Its main aim apart from being the most successful exchange platform in the cryptocurrency world is to make sure that all financial payments run smoothly with strong security among all the financial institutions. It makes a unique decentralized exchange for Ethereum with a quest of finding solutions for payment method coordination problems. OmiseGo is an open source platform with a github repository which was lastly updated on Feb 25th, 2019. OmiseGo is a Thailand based company that was founded by Jun Hasegawa and Donnie Harinsut. OmiseGo Is ranked 2nd in the finance Dapp category and 19th in all DApp category at thestateofdapps.com website.
It has a value transfer system operating in various assets and currencies through OmiseGo. We can easily make payment through wallet due to its smooth service. OmiseGO enables financial inclusion and interoperability through the public, decentralized OMG network having an Apache software license.
Components of OmiseGo
A Decentralized Layer Exchange: With this, OmiseGo users can exchange digital tokens amongs them without the need of the intervention of any third party.
Mechanism of Proof-of-Stake Consensus: There are periods when users can withdraw tokens to stabelize the system as well as periods when staked tokens are locked and cannot be used. This is when the Proof of Stake consensus mechanism comes into play. Users of good behavior are rewarded while users of bad behavior are punished.
OmiseGo Token: An ERC-20 token with 140,245,398 tokens ranked 28th based on market capitalization.
Plasma: This is a framework used to scale financial transactions on the blockchain. It uses a parent and child chains that can run up to a million transactions per second. This Plasma on OmiseGo enables it to compete with other traditional payment systems and at a high speed.
OmiseGo Features the following
![wkal1nl4ak.png](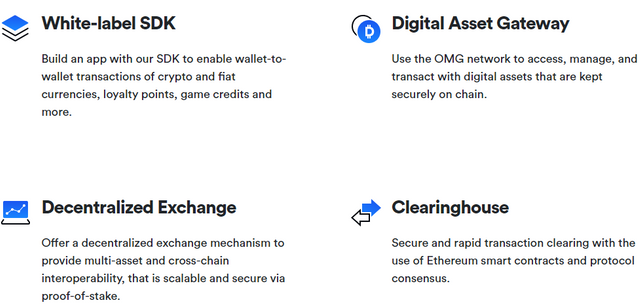 )
White-Label Software Developmet Kit (SDK): App that are build with SDK allow wallet to wallet transactions of crypto and fiat currencies, game credits, loyalty points, and more.
Digital Asset Gateway: The OMG Network can be used to access, manage and transact other assets kept securely on the blockchain.
Clearinghouse: Using the Ethereum smart contracts and protocol consensus, provides a secure and faster transaction.
Decentralized Exchange: This allows peer to peer exchange through scalable and secure proof-of-stake.
Reasons and Benefits of using OmiseGo Platform
This is the only platform tha gives people the freedom and flexibility required to conduct commerce trading under different networks. This system can exchange or accept almost any crypto a user holds that is users are open to unlimited accepted capabilities.
There is the creation of a secure token custody, decentralized exchange of all Ethereum assets, and ultra-secure transaction validation due to the bond their network to the Ethereum blockchain.
Omisego has aPlasma architecture which allows for unlimited scalability with unprecedented transaction speed of millions and probably billions of transactions per second.
Token holders can validate transactions and earn some fees by staking and as the network gains value, the token does as well. This gives proof of stake platform.
The Omisego gives people control and authority over their financial resources. So it improves the lives of its users.
The connection to the Ethereum blockchain gives extra security to the OmiseGo wallet.
It has a smooth integrated interface so it is easy for users and it provides simple solutions for the operations of the network.
Comparing OmiseGo With Other Similar Platforms
There are many other similar platforms like OmiseGo including Bittrex, Binance, Ripple, and Poloniex. Most of these are highly centralized and rely heavily on third parties to manage the platform.Some also need an issue gateway, to trade bitcoin and ether. OmiseGo does not need this anyway since it uses ETH-BTC for trading across chains.
Rating
OmiseGo is trying as much as possible to make itself unique. It is out to solve the challenges faced by users in value exchange. SO I am giving it a star rating of 4.5/5.
All images except the ones indicated are from the OmiseGo official website.
Thanks @oracle-d.tasks and dapplovers for the contest. I find it valuable.