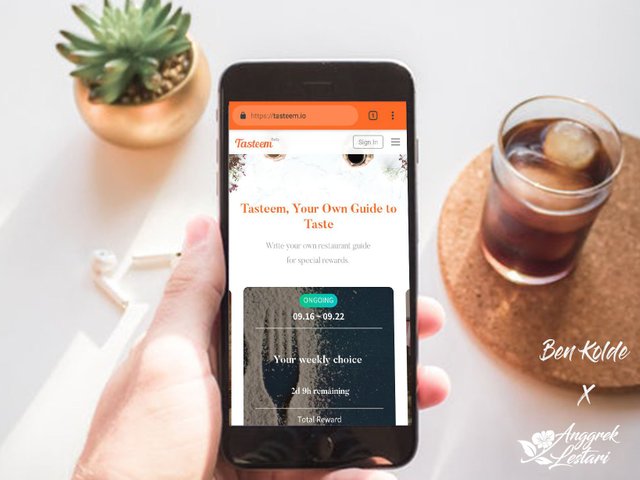 Prologue
Social media is a medium for interacting digitally like socializing in a society. The presence of technology turned out to change the culture by sharing things around in the form of content to upload on various social media.
Appealing food and dining place are the highest topics in social media, besides the topic of travel. So, reviewing places to eat is something that is now being done by many people on social media. The high interest in reviewing eating places is evidence that the increasing needs of the community are looking for interesting places to eat with family, friends, lovers, or even alone.
One more thing, a place to eat is not only used as a place to eat, but also to interact socially. Work meetings or just hangouts, and community meetings have used many restaurants.
Are you one of the social media users who gives your opinion about a restaurant and the menu served at that place?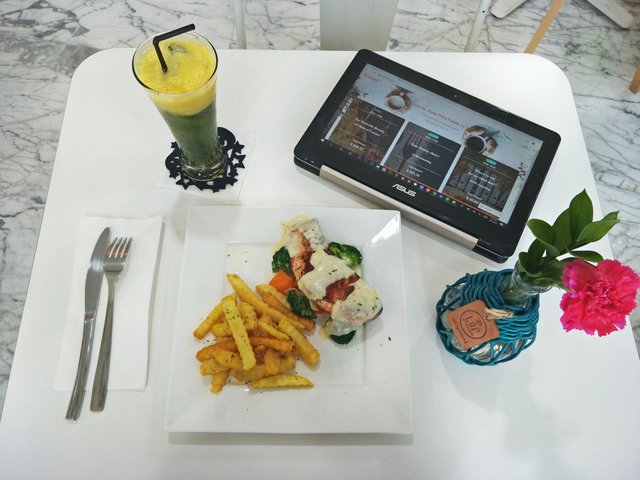 The Steem Blockchain has many decentralized apps that connect the interactions of many people. You can check them on website https://www.stateofthedapps.com/rankings/category/social
Now, Steem Blockchain introduce a restaurant review app to enhance the culture of interacting in a dining place to be more valuable and has an investment value. Let's get to know about Tasteem.
Tasteem's Profile on State of The Dapps: https://www.stateofthedapps.com/dapps/tasteem
---
TASTEEM: Write Your Own Restaurant Review and Get Special Rewards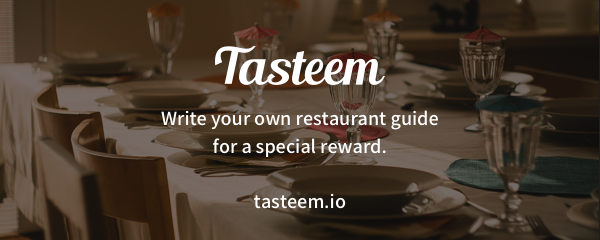 Do you believe that the food you enjoy in a restaurant can be an investment for you? From now on Tasteem will provide the proof for you, not just a promise. Tasteem offers more value for a dining place content.
Then, how can the content be a cryptocurrency investment for you? You simply just write a review and post on the Tasteem platform.
---
---
HOW TO ACCESS TASTEEM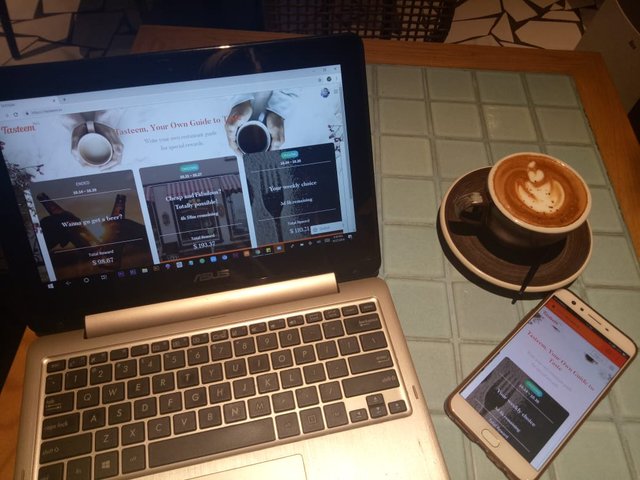 Tasteem built on the Steem Blockchain Steem can be accessed only through a browser (mobile and PC) with the link address: http://tasteem.io
Tasteem.io is for English users, and the review entered must be in English.
---
OTHERS LANGUAGES
For now, Tasteem runs in 3 languages to reach wider users.
TASTEEM GLOBAL, ENGLISH: Link address: https://tasteem.io/
TASTEEM JAPAN. Address Link: https://jp.tasteem.io/
TASTEEM KOREA. Address Link: https://kr.tasteem.io/
---
---
THEME CONTEST
Tasteem holds 2-3 contest themes every one week. The themes of this contest are a grouping of types of reviews of places to eat. Reviews that do not match the theme will be hidden from the Tasteem Interface.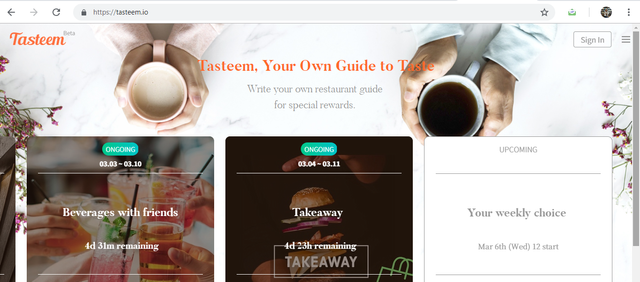 The themes held by Tasteem (can increase at any time)
Your Weekly Choice
Cheap and Fabulous
Beverage With Friends
The Palatable Beauty of Chinese Cuise
Bakeries and Patisseries
Where To Eat For My Blind Date?
Takeaway
---
---
REWARDS FOR USERS
Rewards earned by users (Tasteemers) in the form of varied votes according to several factors: user activity, and quality of content. Vote that will be received by users starting from 3 percent to 5 percent, with a value of 1.5-3.5 Steem (influenced by the value of Steem in the market).
Tasteem is indeed a contest-based platform, but each participant will get a vote for reward. In addition to the basic vote that was obtained by all participants, there is a vote that was special which is only given to users with good quality review & detailed reviews.
Extra Vote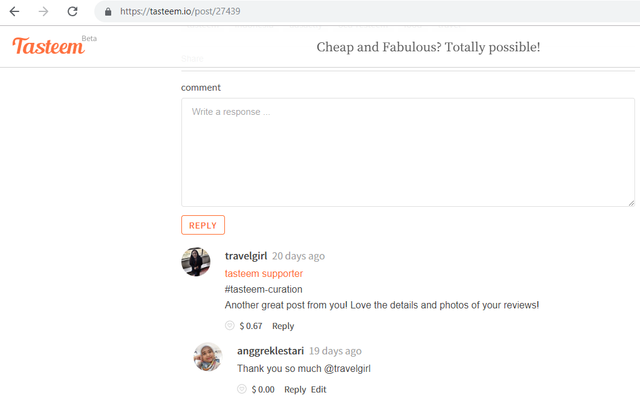 Tasteem has a Support Team to assess the quality of the review, and has the right to cancel the rewards received by the user if a violation is found in the review.
When a Tasteem Supporter has found a review entitled to be given Extra vote, a Tasteem Supporter will comment on the review with the word "#tasteem-curation" then 15 minutes later the user's vote percentage will automatically increase to 15 percent.
HOW TO GET EXTRA VOTE FROM THE TASTEEM SUPPORTER
The following are some things that must be in user's review to get extra curation:
A photo of the restaurant design (interior and exterior)
A photo of the restaurant menu
A photo of the food served
A description of the taste and quality of the food served
A general review of the restaurant, or own experience about the taste of food and service from the restaurant.
---
---
General Rules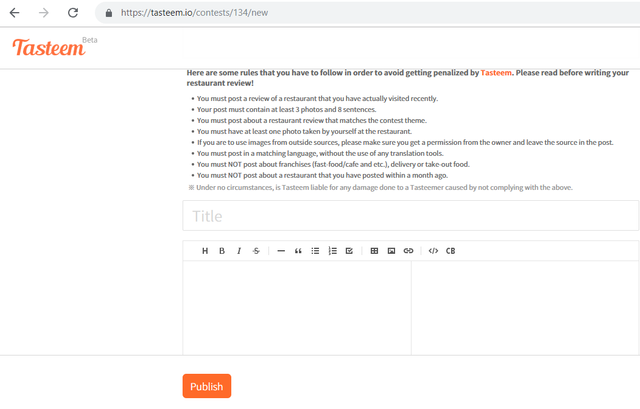 Tasteem has rules that have been attached on Tasteem Interface as well as every contest announcement post on Steemit Interface. Tasteem rules are enabled to provide justice for every review posted on the Tasteem platform.
In the first 15 minutes, all reviews entered will indeed get automatic votes from Tasteem. But then, the Tasteem Supporter will review manually whether these reviews are eligible to get a vote, extra vote, or vote cancellation for violating the rules made.
You must post a review of a restaurant that you have actually visited recently.
Your post must contain at least 3 photos and 8 sentences.
You must post about a restaurant review that matches the contest theme.
You must have at least one photo taken by yourself at the restaurant.
If you are to use images from outside sources, please make sure you get a permission from the owner and leave the source in the post.
You must post in a matching language, without the use of any translation tools.
You must NOT post about franchises (fast-food/cafe), delivery or take-out food.
You must NOT post about a restaurant that you have posted within a month ago.
---
---
WARNING FOR THE USER
A Tasteem Supporter will leave a comment with words "#tasteem-warning" to warn users to follow the advice stated by a Tasteem Supporter.
The "#tasteem-warning" command is given to the user as follows:
New users in Tasteem whose reviews do not meet General Tasteem's requirements.
Users who have very low quality review and users must improve the quality of the content.
If in 3 warnings the user does not improve the quality of the content, then Tasteem Supporter will cancel the user's rewards, or hide the review from the Tasteem Interface (But, review is still visible in the Steemit Interface).
PUNISHMENT FOR VIOLATIONS
#tasteem-hide
The type of command given by a Tasteem Supporter in a review will make the review hidden from the Tasteem Interface, so it is automatically disqualified from the contest, but rewards are not canceled. Tasteem-hide happens because of a good review, but it doesn't match the theme of the contest.

#tasteem-hide2
If a rule violation is found in a review, then a Tasteem Supporter will give the #tasteem-hide2 command and the rewards will automatically be canceled and the review will be hidden from the Tasteem Interface

#tasteem-hide3
Tasteem only allows one user to only include one account in the Tasteem contest. If a Tasteem Supporter knows that there are multiple accounts, the #tasteem-hide3 command will be given and the account will be automatically blacklisted from Tasteem.
---
---
HOW TO USE TASTEEM
Tasteem can be used on mobile and PC browsers. After accessing the link address according to the platform you selected, there is an option "SIGN IN" to the right of the Tasteem Interface.
Each language has the same procedure for use, so the following will only show how to use Global Tasteem (English).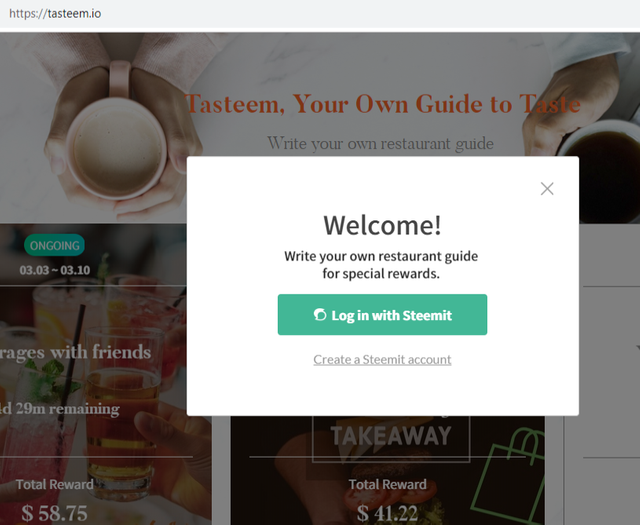 Click Sign In on the homepage https://tasteem.io/
Then, there are two choices, log in using Steemit Account, or "Create Steemit Account".
For those of you who don't have a Steemit account, you have to go through the process of creating a Steemit account, and have to wait for the account creation process for around 3-7 days.
After you have successfully logged in, please select the contest theme according to your review type.
Click the contest theme, then click "POST".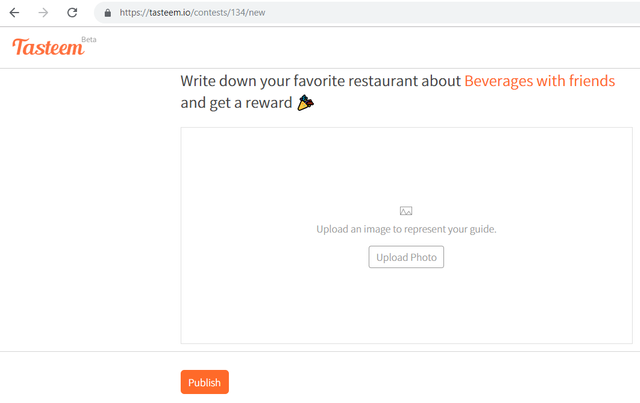 Then, start writing in the parts that are already available, starting from the header image, Title, Review Content, Restaurant Name, to the restaurant address, and tags.
Don't forget to checklist "Support Tasteem" for big vote.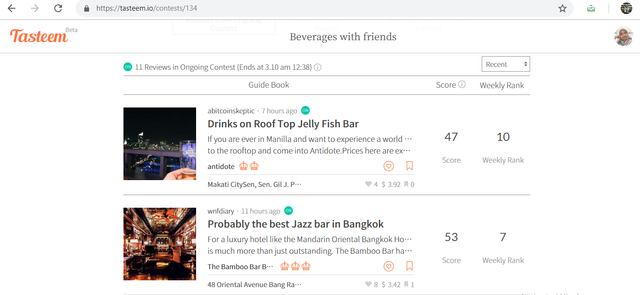 After writing, user reviews will display on the page according to the contest theme.
---
---
The Things that I think Are Good About Tasteem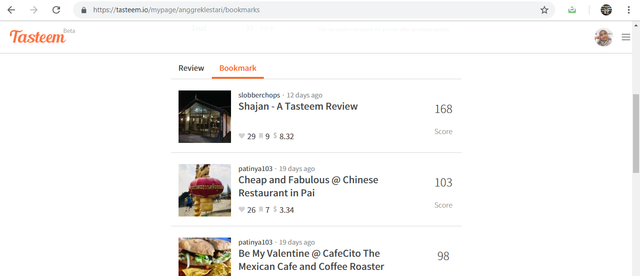 Tasteem has a menu of bookmarks for other people's reviews to store reviews on user profiles. This will make it easier if users want to see reviews of favorite restaurants again.
A combination of contests and daily app makes users get extra rewards, as a daily user, and rewards as winners.
---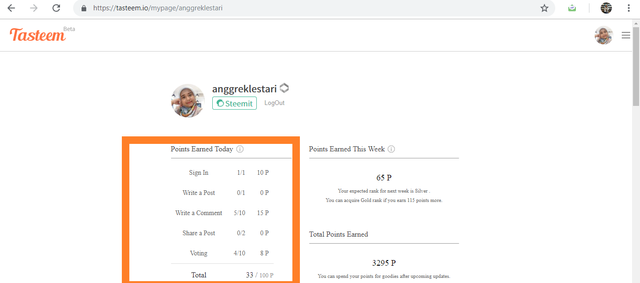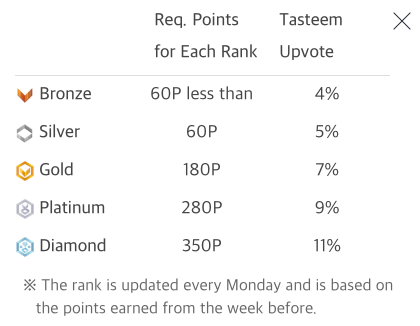 There is a point system to record the activeness of users that are obtained through daily sign-in, comment, vote, and share posts. All points will affect votes received by users.
---
---
The Things that I think Are Not Good About Tasteem.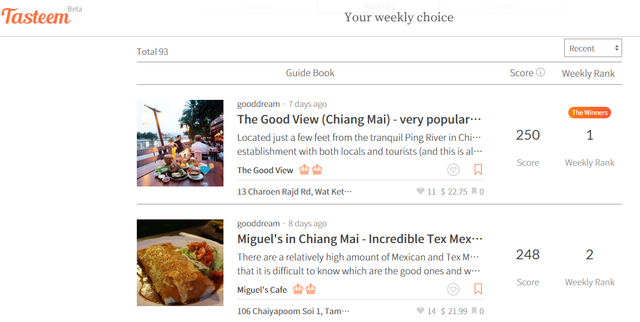 The winner selection system uses the number of scores obtained through the number of voters, bookmarks, and the value of upvote can only make popular users who win the contest. It's difficult thing to provide opportunities for new users to win the contest.
I hope that the rating system for winners in the future will be better.
---
---
CONCLUSION
As modern humans and supported by the presence of social media, we are more often going to restaurants to do meetings with colleagues, friends, community members, or even go to the restaurant alone to chilling out or work online.
Tasteem is a dapp based on Steem Blockchan that I give a rating of 4 of 5 stars for social categories that can add more value to dining in restaurants. Tasteem is the right choice for foodies.
Don't waste the food content that you enjoy in restaurants by just shared in restaurants. Let's write a restaurant review, and it will become a crypto-worth investment with STEEM BLOCKCHAIN.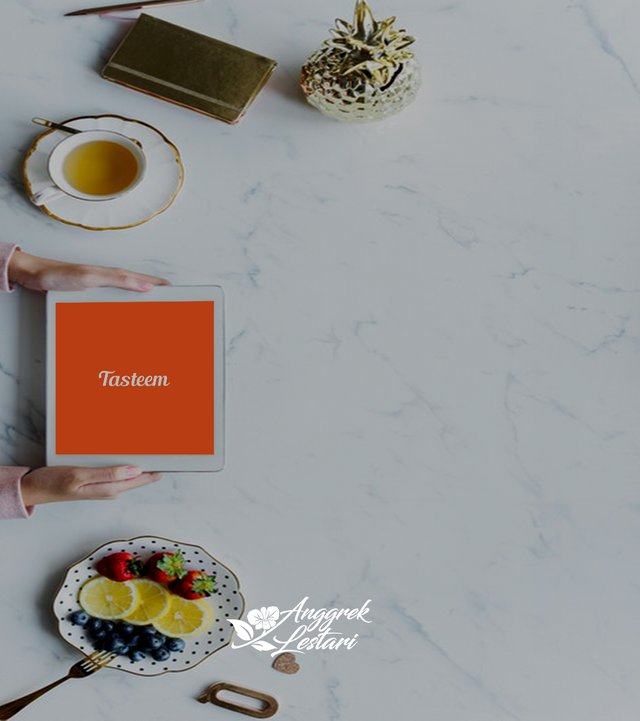 Get in Touch With Tasteem: