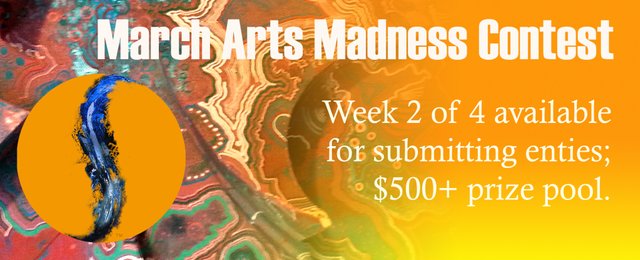 With a fabulous week #1 of art submissions and activity now past, March Art Madness currently moves into the second week of its call for entries. For those just finding out about this incentive, see SOA's original announcement from last week at the following link for important details:
http://steemit.com/art/@StateoftheArts/march-art-madness-contest-usd500-prize-pool
HOW TO PARTICIPATE
• First of all, "like", comment, and resteem this post (Also, make sure you're following @StateoftheArts)
• Then, with any form of art (video, performance, multimedia, photography, music, design, etc.) use the tag #stateofthearts, and simply attach your art to a comment below on this thread feed @StateoftheArts. All submissions for the incentive will be chosen from art on #stateofthearts curation trail and attached below to this thread feed here at @StateoftheArts. Week 2 submissions post here under this week 2 thread.
Finally, in order to be considered for placing in the top ten, you MUST do the following during the month of March
• Share this post and talk about steemit--or otherwise promote the platform--and/or use your art iself (by doing something creative with it) to promote steemit. Do this on at least one form of social media (instagram/twitter/facebook/etsy/youtube etc)
• Then (at some point before deadline) post a "Reply" to your art below and provide a link showing you shared this post on at least one other social media platform
• Your substantive comments, up-votes, and activity on @stateofthearts won't hurt either
$500+ PRIZE POOL
Again, on top of what Steemit already offers, we sweeten the pot with an additional $500 into the prize pool! Also 50% of all Steem Dollars earned on all March-Art Madness posts this month will be added to the prize pool! (50% goes to steemcash, 50% to steempower for promotions). From that, here is the contest specific breakdown.
1st place $200 (+50% of those Steem Dollars)
2nd Place $100 (+25% of those Steem Dollars)
3-10th Place $25 (+25% of those Steem Dollars)
What Are We Looking For
Top 10 will be chosen based off creativity, craft, activity in the community, support of other artists, and dedication to spreading the Steemit platform.
PROMOTE STEEMIT! Simple as that!
Not required, but for bonus points, come up with a way to put promotion within your artwork/performance/video/etc. itself, to help further steemit in some form!
We will be very active on the feed, be active as well! Comment on your fellow artists posts, be engaged, encourage and uplift the community. We as early adopters will create the greatest decentralized artist community on social media!

Winners will be announced at the end of March. We will feature, resteem, and upvote contestants all month long. Have fun and help art followers, creative communities, and entrepreneurial doers--people involved in every art form--learn about the power of Steemit! (video, performance, multimedia, photography, music, design, etc.).
Again, for more details, see the original call for entries at the following link:
http://steemit.com/art/@stateofthearts/march-art-madness-contest-usd500-prize-pool