On May 31st of this year, Disneyland opened arguably it's greatest expansion park ever, Star Wars: Galaxy's Edge! However, up until today, entrance to the park was by reservation ONLY... (reservations that sold out 2 months ago in less than 2 hours).
However, starting today, June 24th, You will no longer need a reservation to get into the land of the Jedi.. but, you will have to queue up virtually.. Here's how it works.. and why you might want to wait before jumping on the next hyperspace train, plane, or automobile over to the park..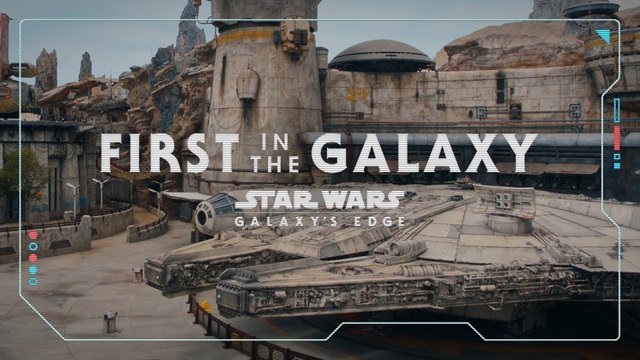 src
Anticipating the massive popularity of it's newest park extension, Disney has taken measures to ease congestion and discontent at the entrance. If you're looking to take a ride on the Millennium Falcon or wet your whistle at Olga's Cantina, you're going to have to get in line.. online, that is.
Disney has established a virtual queuing system that requires park-goers to download the disney app, and then line up once inside park premises.
To line up, you will need to log into the app and check Galaxy's Edge gate status. If it says Open, you can waltz right in, but if the park is already at capacity (which happens quickly), you will have to Join a boarding party, and wait your turn.
The good thing is you don't have to wait in line physically, you can still explore the rest of the theme park and Disney will send you a notification on your phone when your boarding pass is approved. Once your time slot has been opened, you have a two hour window to enter the park. So, no need to drop everything and immediately rush off.. but who are we kidding, of course we will.
The bad news is this means there is no guarantee that you will even get in. The park is extremely popular and lines to get on the Millennium Falcon: Smuggler's Run was already at a 3 hour wait time by 7:45am..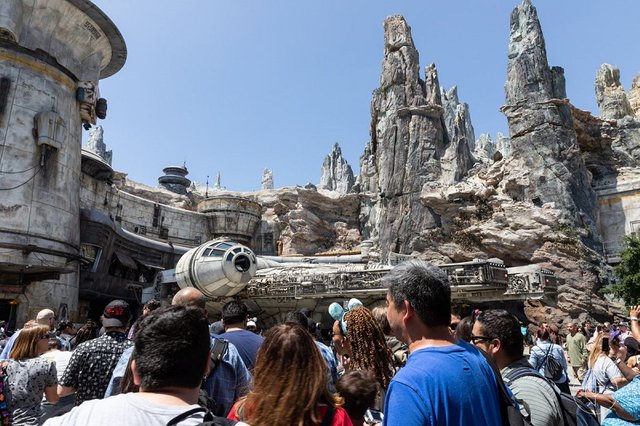 [These smugglers aren't going anywhere fast..]
src
Again, you have to be physically on the park to jump in line on your device (no idea if spoofing your location works). But furthermore, if you were hoping to enjoy a drink at Olga's Cantina or the experience of building your own lightsaber at Savi's workshop you DO need a reservation. Guests at the park can no longer just wander up and get in line (apparently lines for these attractions both regularly totaled over 2 hours wait, included a lot of pushing and shoving, and people getting cut off because they were going to be able to make it through before their time was up.)
The reservation ONLY will drastically reduce wait time, but also means that many Star Wars fans will have to be satisfied going without partaking in two of the most popular aspects of the park. Reservations open for both for the day around 7am, and so far has been selling out within 15 mins..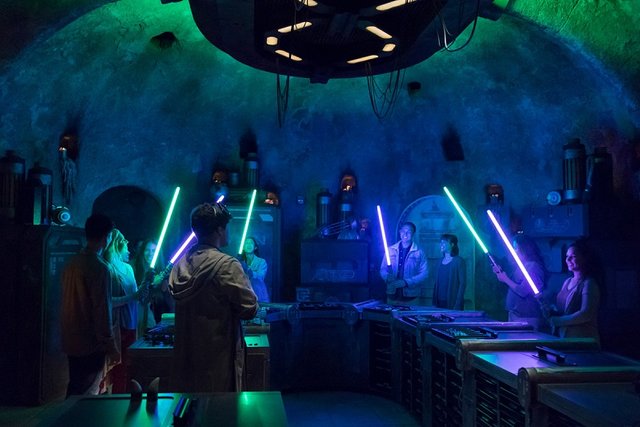 [May the Force Be With You..]
src
With that being said, although many people are raving about the park, it may be wise, for now, to hold off your visit until next year. I say this for three reasons:
The "No Promises Made" state of affairs. Currently you may show up to Disneyland in LA and very well not be able to get access to the park. Now wouldn't that suck?

The massive throngs of people. Even if you DO manage to get lucky enough to gain access to the park, your experience is likely to be ruined by the standstill of crowds that are currently flocking to the Star Wars attractions. And speaking of attractions..

probably the most compelling reason to wait is Rise of the Resistance! Currently the only ride at Galaxy's Edge is Millennium Falcon: Smuggler's Run, but if you can delay your gratification until the end of the year, another major attraction is slated to be added to the park. Rise of the Resistance is a cool ride which will see you capture aboard the deck of a First Order Star Destroyer.. an experience long term Star Wars fans are most like not going to want to miss! 😃
src
So there you have it. Star Wars: Galaxy's Edge is open for all, but if you use the force, you may be able to refrain your trip to a later date and have a MUCH more enjoyable experience!
What do you think? are you a Star Wars fan? Will you visit the park? if so, will you wait, or are you going to get your kick now while it's all the rage? Let us know in the comments below!
Until then..
Stay Savvy!
😎...