SPUD4STEEM guideline's
Today i wanted to remind everyone of the guidelines for our Community Power up event, we have had instances over the past few months where people could have won a prize but failed to follow the guidelines.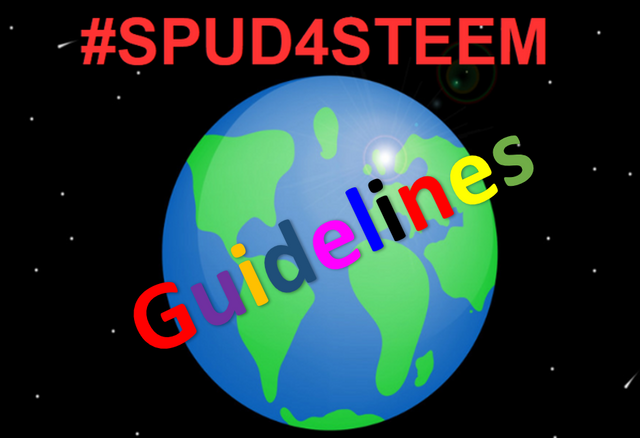 1, To be eligible for prizes Steemit users MUST NOT BE POWERING DOWN 7 days before the competition starts on the 1st day of the new month, remember this competition is about powering up and not powering down. Any prize winner who is found to be powering down while in possession of a delegated prize will have the delegation removed – checks are done 😊
🌎🥔🌎🥔🌎🥔🌎🥔🌎🥔🌎🥔🌎🥔🌎🥔🌎
2, Steemit users must have more than 500 Steem power in their wallet before #spud4steem & no more than 20,000 Steem power. Delegated Steem power (in or out) does not count towards any % increase.
🌎🥔🌎🥔🌎🥔🌎🥔🌎🥔🌎🥔🌎🥔🌎🥔🌎
3, Steemit users must have a reputation of over 40 & under 75 to be eligible for prize pool
🌎🥔🌎🥔🌎🥔🌎🥔🌎🥔🌎🥔🌎🥔🌎🥔🌎
4, Participants must have at least 1 post before the 1st of the month talking about this contest & their intention of participating. A clear picture of their wallet showing account balances must be included before starting the contest. The tag #spud4steem must be used.
🌎🥔🌎🥔🌎🥔🌎🥔🌎🥔🌎🥔🌎🥔🌎🥔🌎
5, Power up must be done on the 1st day of each month in your countries TIME ZONE. One power up per account per #spud4steem day.
🌎🥔🌎🥔🌎🥔🌎🥔🌎🥔🌎🥔🌎🥔🌎🥔🌎
6, Your post on the 1st of the month must also show CLEAR screenshots of your wallet before & after power up, so that it is clear & easy to calculate the % increase of your powerup. Daily claimed rewards are not included.
🌎🥔🌎🥔🌎🥔🌎🥔🌎🥔🌎🥔🌎🥔🌎🥔🌎
7, Steemit users who meet the above criteria also have to be active on Steemit - that means we will no longer accept accounts clearly taking advantage of our Sponsors. In 2020 we had accounts come out of the blue only just meeting the threshold of 100sp and dominating the winners list with a power up. This is the reason the entry requirements of 500SP now exists to try to stop this.
🌎🥔🌎🥔🌎🥔🌎🥔🌎🥔🌎🥔🌎🥔🌎🥔🌎
8, Since this competition is about Powering up all winners of Delegated Steem Power must ensure they are doing two things while in possession of a 21 day Delegated prize.
Set all post's to 100% Power up - after all this competition is about building Steem Power, or if you must set posts to 50/50 then SBD's earned should only be exchanged for Steem using the Steemit internal market and then it should be Powered up.
🥔🥔🥔🥔🥔🥔🥔🥔🥔🥔🥔🥔🥔🥔
Here's an Example:
User 1 has 500 Steem and power's up 75 more Steem power which will be a 15% increase
User 2 has 1000 Steem and powers up 75 Steem Power more, which is an increase of 7.5%
So in this scenario user 1 has a higher % and is more likely to win a prize compared to user 2
These awards and gifts are designed to promote the launch of the Steem Blockchain to provide a better understanding of how Steem power supports the Steem Ecosystem.
📖📖📖📖📖📖📖📖📖📖📖📖📖📖
It's really important people read and understand these rules, i have seen a few accounts miss out on prizes for not making posts before the 1st of the month - see # 4
---
50/50
These awesome #SPUD4STEEM Sponsors know the importance of Powering up Steem - be like them
@xpilar
@steem.history
@hingsten
@bippe
@kiwi-crypto
@steemchiller
@kiwiscanfly
@randulakoralage
@adeljose
@mariana4ve
@abuahmad
@hive-181136
@alejos7ven
@fjjrg
@damithudaya
@boss75
@marito74
@cotina
@karianaporras
@tucsond
The whole idea of this competition is to encourage Steemians to power up and lock away their Steem power which in turn make the individual account stronger plus the entire community 💪💪💪💪💪
🥔🌏🥔🌏🥔🌏🥔🌏🥔🌏🥔🌏🥔🌏🥔
Check out some previous Winners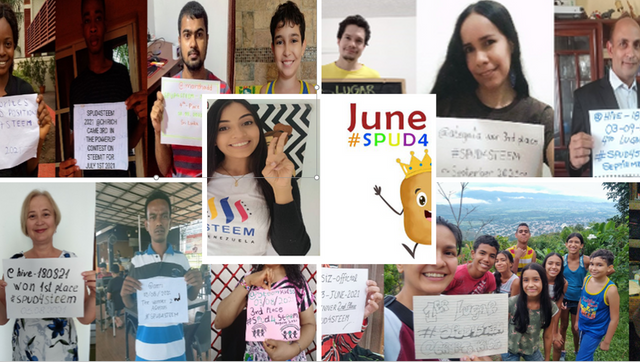 Will you be a November #SPUD4STEEM winner?