BREAKING NEWS Prize Pool over 31K
I am pleased to announce 3 x new sponsors who have kindly offered to help sponsor #SPUD4STEEM, we have lost a sponsor as well .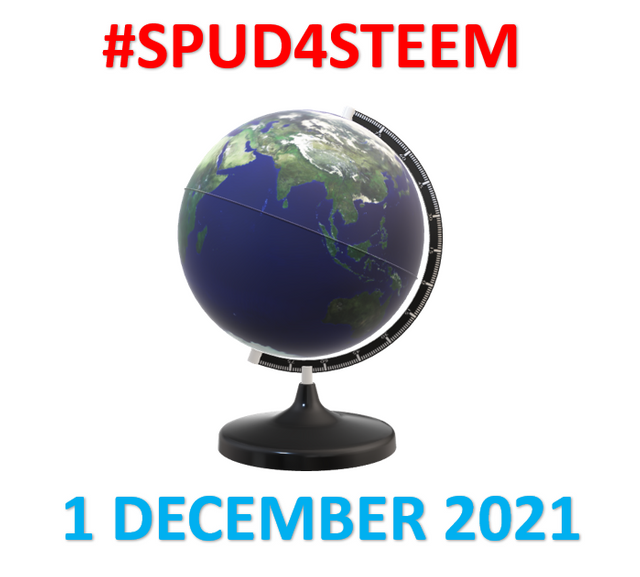 🥔🌏🥔🌏🥔🌏🥔🌏🥔🌏🥔🌏🥔🌏🥔
This means our Prize pool is now a whopping 31,500SP by way of 21 day SP delegations.
Plus we have some early Xmas presents to share around🎁🎁🎁
🥔🌏🥔🌏🥔🌏🥔🌏🥔🌏🥔🌏🥔🌏🥔
New Sponsors & Sponsor leaving us
Two of our new sponsors have participated in #SPUD4STEEM and have been past winners.
@ngoenyi has kindly sponsoring 2000SP which we have used to make 2nd place an impressive 9000sp
@jesusbar23 is sponsoring 1000SP which we have used to make 1st place a mouth watering 12,000SP
@voidsoul is keen to be a sponsor as well and has offered a 500SP which is timely as this month (November ) is the last one that @boss75 will be sponsoring - Thank you to @boss75 for your sponsorship.
Please join me in congratulating our new sponsors while thanking @boss75
🥔🌏🥔🌏🥔🌏🥔🌏🥔🌏🥔🌏🥔🌏🥔
Lets check out the new Prize pool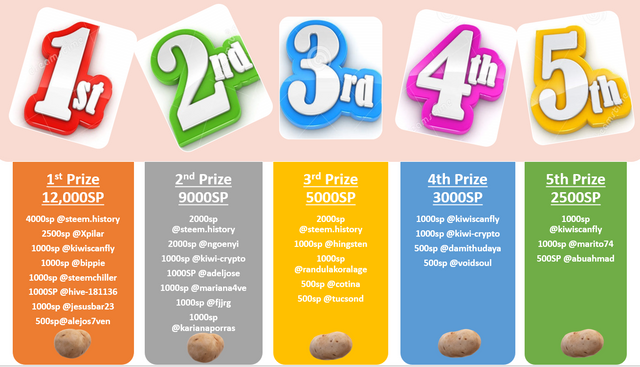 1st place is now an impressive 12,000SP
2nd place has been increased to 9000SP
But wait there is more...
Early Christmas presents 🎁🎁🎁
For the December 1st #SPUD4STEEM the very generous @xpilar team is providing 3 x extra delegations like they did last December!
These awesome #SPUD4STEEM Sponsors know the importance of Powering up Steem - be like them
@xpilar
@steem.history
@hingsten
@bippe
@kiwi-crypto
@steemchiller
@kiwiscanfly
@voidsoul
@randulakoralage
@adeljose
@ngoenyi
@mariana4ve
@abuahmad
@hive-181136
@alejos7ven
@fjjrg
@damithudaya
@marito74
@cotina
@karianaporras
@tucsond
@jesusbar23
Will you be a December #SPUD4STEEM winner??

Have a great Steemit day everyone