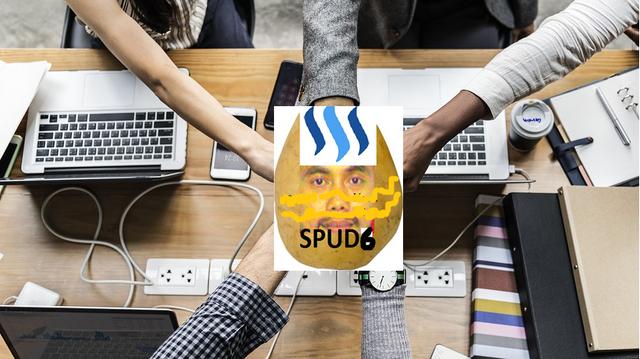 Power Up Will Become a Trend in Steem
Hi Steemian how are you? Hopefully always healthy and creative work.
SPUD6 is getting closer. This brilliant idea initiated by
@streetstyle
will continue to roll and grow even bigger. Especially after HF21 / 22, which benefits the curators more. This is a new level in Steem as a community that will help add economic value. Increased curation rewards make Steemian must increase Steem Power. With a large SP will provide many benefits both to the upvote value and the value of the curation obtained. Moreover if you give upvote in the right timeframe. This becomes even greater added value. In order for SP to continue to increase, each Steemian must continue to power up. the more often power up, the opportunity to add economic value will be more open to create prosperity. Maybe for small SP owners still have to be patient. The important thing is to do power ups from Steem collected little by little. Do it continuously until it will be collected in large numbers. One day will not feel a great gift for posting posts and also a passive income from curation.
Power Up becomes a Trend
Today I read a post from
@socky
. In his post explained about the number of Steemian who began to power up. You can read the following posts.
2 Full WEEKS of Powering Up Every Day Beating Power Down!
I've been recording this data daily for over a year and a half and this is very unusual. I've circled the other times where there were consecutive days of power up that beat power down.
As a supporter of SPUD, I am very happy that what is desired in the SPUD movement will continue to grow and will become a trend in the future. If this continues to develop, I am sure that SPUD will be the foremost movement in Steem and can have a good influence on Steem's stability in the future. Maybe what we have to move is how the whales are actively involved with the support of dolphins, ocra and minnows to actively do power ups.
Therefore, let's continue to spread the SPUD news so that more and more people will know and provide support and take part in active power ups in SPUD6 on October 1. Moreover, if more and more whales want to become sponsors, they will certainly attract more interest to participate in SPUD6.
As we know SPUD6 has received sponsors and will continue to grow. The sponsors who made sure again were @streetstyle who were also the initiator, @xpilar, @sultan-aceh, @bippe, @hingsten, @reflektor.
We hope SPUD5 sponsors will definitely give back real support such as @jlsplatts, @traciyork, @flipstar, @davedickeyyall, @braaiboy, @improv, @steemit-nz, @cryptocurator and @taliakerch.
It will be even more powerful that this movement will also be sponsored by large accounts like @socky, @theycallmedan, @exyle or other large accounts. It will certainly be a thunderous movement
the important thing is do not forget October 1 we do:

Power Up, No Power Down
No Sell Steem
No Transfer Steem .
Thank you for reading my post. I hope you enjoy it