Splinterlands - Javelin Thrower (Weekly Battle Post)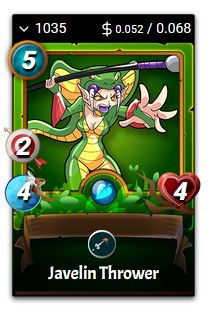 This week is focused on an older rewards card in Javelin Thrower. When I first earned the reward card I got hook to using it as part of my rear formation. The range attack of 2 for a 5 mana monster is decent but has a speed of 4 which makes it very useful in attacking opponents from a far and quickly. Here is one battle of me using the Javelin!
The Battle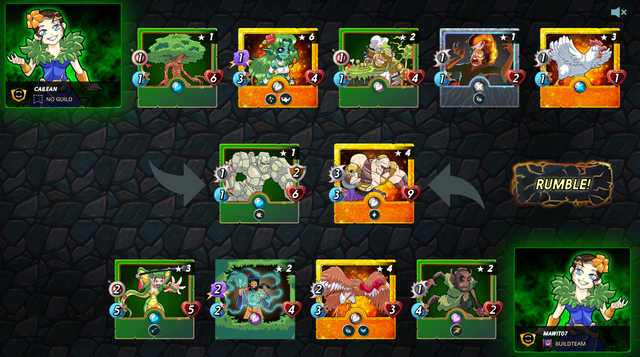 The rule set was weak magic and reverse speed with a limit of 22 Mana. All but fire and dragon splinter was allowed to be used in battle. I went with earth splinter since I needed to get going in using Javelin Thrower. Also I was aware my opponent favors earth splinter so using it head to head I was hopping to get a slight upper hand.
My Formation
I started with Flesh Golem as my tank monster and followed by Brownie, Screeching Vulture and close out with Magi and Javelin. I did not have enough time left in setup of formation to put in Furious Chicken but if I did I would have had it in position 6. As first glance one would say my formation did not take advantage of the battle's rule set since I used a magic attack monster and added speed with Brownie which forces my monsters to be one step behind my opponent.
My Opponent's Formation
My opponent uses a level 6 Lyanna but most of their monsters were level 1 in Stone Golem, Earth Elemental, and Parasitic Growth. Furthermore putting Earth at second position pretty much makes it useless after Golem is knocked out. All in all this formatin was not solid either hence I was lucky to escape with a win.
The Battle Results

The battle was a lot more competitive than I thought. The battle between the Golems was very interesting but I luckily prevailed. The remainder of the formation was easy to knock out afterwards, but it also helped that my opponent knocked out my Brownie as the first monster to get knocked out in the match. Basically my Brownie was a punch bag that needed to be knocked out. If you are interested in watching the match here is a link..
If You have yet to take part in playing this great game called Splinterlands please click on my referral link. It is free but in order to earn real assets such as cards and token you would have to invest in a starter deck or purchase game cards. Join the discord to learn more. Good luck!

THANKS FOR READING! CONTINUE TO PLAY SPLINTERLANDS!