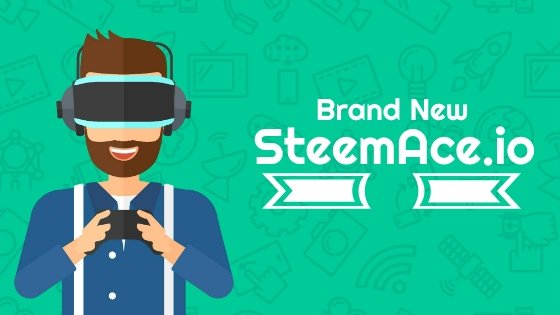 SteemAce.io Has launched and with it a token called Good Game Token or GG.
There are currently a few game related communities such as SPT and Battle which have been doing rather well.
However Steemace might just have a few unique aces up it's sleeves to beat the competition. Lets dive into it!
---
Content Type
The only content that should be posted on SteemAce.io is gaming
It has a tube.steemace.io instant for uploading videos
Airdrop
1 Million GG Tokens were awarded to Palcoin skaters and active authors in different selected gaming tags (Be sure to view your
1.3 Million GG Tokens will be awarded in following airdrops
Inflation rate is 14% and decreases by 2% each year and then hold at 4%
Miners
20,000 total miners will be sold. 17 winning miners per each hour
Unique Features that stood out to me
710k tokens where awarded to the "team"
Delegation account has 190k GG staked which is used to upvote good quality content
There is a mute account with 300k GG staked this is used to flag bad accounts and content that is totally unrelated (In other words start getting serious and taking care of what tags you use!!)
There will be a future airdrop of 1.3 million GG tokens but no eta on it as of yet from what I have seen
The Core Settings
1 free downvote a day
60/40 split 60 to creator and 40 to curator
Payout in 7 days
Unstaking happens in 28 days and over the course of 4 installments.
With a few of these unique features I have a feeling this community should be one of the cleaner ones. One of the best things I learned in business is to NEVER be the first to come up with an idea. Let everyone else do that and then find where they went wrong. Make adjustments and modifications based on that information and you most likely will have a big winner on your hands! I am curious to see how this site does with the few unique features it has.