Splinterlands - Exploding Dwarf upgraded to Level 8
Exploding Dwarf is one of the easiest card ones can purchase from the market and upgrade. The price of the card is very cheap compared to all other cards. The card can also be used only in certain ranked matches and not in all the games. I was fortunate to upgrade the Exploding Dwarf to Level 8. I did make a purchase from the market for 0.013$ and 0.014$ and make my Exploding Dwarf reach Level 8 now.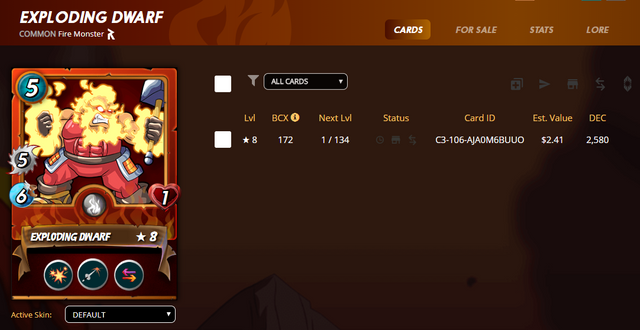 I'm not planning to do any further upgrade for this card as of now because I don't think it is worth it as my summoner itself is only in Level 6 and it supports only Level 8 monsters. Though this card is available for a cheap price in the market, I'm not going to spend any more money on this monster.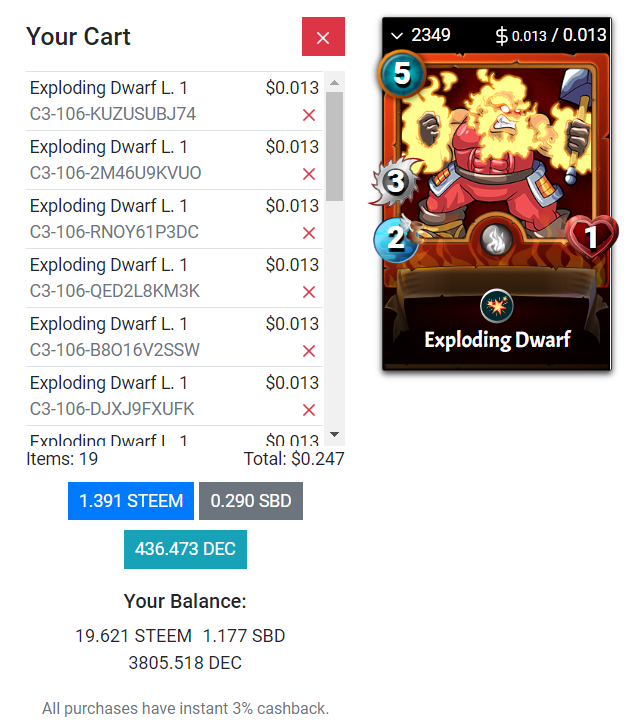 In level 8, it is one of the powerful cards in the game. If the game rule is super sneak this card will do wonders in the battle. The good advantage of this card is the Blast and Piercing ability together. Whenever I select this card in my game, I just wish this card to hit only once. That itself will give a great downfall to the opponent. The monster not only attacks the target monster but it also attacks the monsters nearby. In level 8, the monster also has retaliated ability with which the monster is capable of triggering an additional attack if someone else is attacking this monster.
The only drawback with this card is that it has low health and has to be used carefully in the battles. If the opponent is having a card with high speed that can straightaway attack this monster, then we are screwed. But there again the advantage is when the retaliate gets triggered and the monster attacks the opponent back before it dies.