OpenSeed: Cross-Platform Off-Chain Solutions for Steem Apps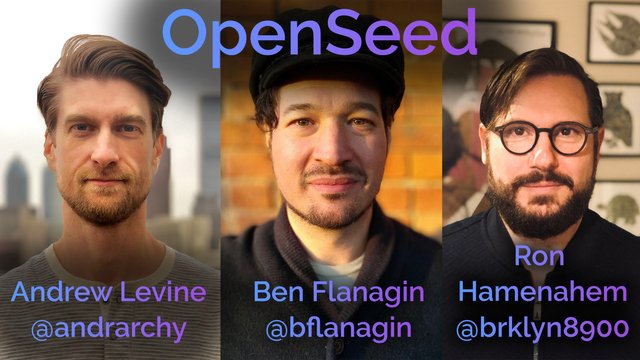 Summary
OpenSeed is a platform, powered by Steem, that makes building Web 3.0 applications easier and cheaper
OpenSeed provides turnkey features to Steem apps that benefit from cross-platform interoperability like off-chain accounts, encrypted messaging, and more.
OpenSeed is now a collaboration between @bflanagin, @andrarchy, and @brklyn8900
OpenSeed already has amazing advisors from 3Speak.Online and SteemPeak, and we look forward to bringing on more representatives of Steem applications
ALL of the funds we receive will go back to community developers!
Vote for our proposal! OpenSeed is already a functional platform that can help Steem apps grow exponentially while lowering their development costs and improving their user experience..
Surprise! You'll have to scroll down for this one ;)


Note: This is intended to replace the original proposal for OpenSeed which has now been deleted. If you would like to see the post associated with the original proposal go here.


None of the statements in this proposal should be interpreted as an endorsement by Steemit, Inc. or representing the views of Steemit, Inc. This is an informal effort that is wholly independent of Steemit, Inc.
Who is OpenSeed for?
OpenSeed is for Steem Developers
OpenSeed is a platform for Steem app developers that offers turnkey cross-platform features like a shared user database and encrypted messaging to Steem applications. This enables Steem apps to save time and money by developing common features that benefit from cross-platform interoperability, while enabling those applications to grow their user bases far faster than they would using Steem alone.
OpenSeed is for NON-Steem Developers
OpenSeed doesn't just make it easier for Steem developers to more rapidly develop applications with state-of-the-art user experiences, it also works the other way; making it easier for non-Steem developers to integrate blockchain features with just a few lines of code, turning their ordinary Web 2.0 application into extraordinary Web 3.0 applications.
A core objective of OpenSeed is to enable developers to take advantage of Steem's revolutionary features, without having to understand or even know about the Steem blockchain.

OpenSeed is for Steem Users
OpenSeed is free and open source software that dramatically improves the user experience of Steem applications by providing those features that have become standard in web applications, but are not yet offered in most Steem applications.
Even when applications do offer these features (like guest accounts or messaging), they are exclusive to that application which means they fracture the user experience on Steem, undermining one of the unique value propositions of Steem as a unified backend database of social information.

Our Vision for Steem
We believe that the key to returning Steem to its rightful place at the top of the rankings is to have as many Steem applications as possible growing at an exponential rate while generating positive fiat cash flow (profits).
Multi-App Effort
While OpenSeed already has a number of functional features, and more in progress, it is absolutely vital that the features we prioritize be the ones that the best Steem apps need
yesterday
. This is precisely why we are focusing on messaging first. This is also why we have established the OpenSeed public
discord server
where any app developer or user can communicate with us, and why we have brought on amazing advisors (see below).
Who is "We"?
Currently, OpenSeed is a collaboration between
@bflanagin
(creator of OpenSeed) and
@andrarchy
(Head of Communications and Advocacy at Steemit).
@andrarchy
shares Ben's vision for Steem and agrees that the best thing for Steem is dozens (ideally far more) of exponentially growing, and profitable, applications. They agree that the best way to accomplish this is to "hybridize" Steem with other database technologies. In addition, Ron Hamenahem (
@brkln8900
) has been contributing to the project in important ways (more on that below) and we look forward to his increased involvement.
Ben has been working with computers for 18+ years. He's pretty much done it all, from building software for embedded devices to IT/Infosec work in the public sector. He has built in-house network security tools including visualizers, log analyzers, a public access system for a public library, and created a software level deduplication script that maximized storage space on servers that couldn't be upgraded due to budget constraints. He has also worked on Mozilla's Thunderbird software. To learn more about Ben, be sure to follow his Steem account (@bflanagin) where he will be sharing a companion piece for this proposal.

Andrew is acting Head of Communications and Advocacy for Steemit. He has been collaborating with Ben in his spare time because he believes that OpenSeed fills a much needed gap in the Steem ecosystem. None of this should be interpreted as an endorsement by Steemit, Inc. or in any way representing the views of Steemit, Inc. This is an informal effort that is wholly independent of Steemit, Inc.

Advisors
In order to ensure that we are developing features that Steem apps want we are extremely grateful that representatives of 3Speak.Online (
@theycallmedan
) and SteemPeak (
@jarvie
) have already agreed to be advisors to this project and we look forward to bringing on even more advisors in the near future.
These advisors will help ensure that OpenSeed is developing those features that Steem applications need the most, with specifications that will meet their standards. If you are interested in being an advisor, please feel free to stop by the discord server or DM any member of the team.

Existing Features
While OpenSeed has a number of existing features, our primary focus has been on refining the two core features Steem developers are saying they need the most: 1. A shared user database that utilizes a typical username/password ("off-chain" accounts), and 2. Encrypted Chat. Encrypted chat will not only make it easy for any Steem developer to add chat functionality to their application, but because OpenSeed is a cross-platform solution, users would actually be able to take their conversations from one app to another!
Future Features
A shared user database and chat feature will help Steem developers onboard more users and increase engagement, but they likely won't generate revenue for developers. We believe that a major revenue generator for developers will be in-game items powered by NFTs. For this reason we have already begun work on an NFT system, though we are not opposed to integrating existing NFT standards if that is the feedback we get from Steem developers. What is most important to us is not what standard is used, but how developers can turn user engagement into hard currency they can use to fund operations.
Request for Funding: 100 SBD/Day
We are asking for 100 SBD per day for 3 months which we will use entirely to reward community developers who contribute to our products! This is work we intend to do regardless of whether this proposal receives funding, but funding will enable us to develop the common features that Steem developers need even faster. At the end of the 3 months, we will evaluate our progress, how well we are able to leverage these funds, and likely submit a new proposal based on the information we gather.
OpenSeed is an open source project. The only way we're going to be able to compete with our private competitors is with the help of this amazing community (in more ways than one!). The SPS could allow us to incentivize community developers while ensuring that there is still a centralized party who can be held accountable if the work product is sub-par. If we are not using the SPS funds to reward amazing community developers who are helping produce great features for Steem developers, then the Steem community can withdraw their votes from our proposal and remove our funding.

Long Term Sustainability
We believe that it is extremely important that we have a long term plan for ending our use of the SPS. We believe that the SPS can be an invaluable tool for helping applications bootstrap on Steem, but those applications have to be self-sustaining
and profitable
to be worth the "investment."
Ultimately, the purpose of OpenSeed is to provide features to Steem applications that their users love and are therefore willing to pay for in one way or another. Payment might be for premium features or in-game items, and it might be in the form of subscriptions, paywalls, or through the acquisition of stake.
We intend to monetize our platform by creating opportunities for users to demonstrate their love and appreciation for an application through the purchase of digital goods and we intend to take a "cut" of those sales. Oh and we have one more potential source of revenue…

Surprise! Introducing OpenLink
One of the things that
@andrarchy
has learned from his experience at Steemit is that there is no better way to understand the needs of developers than to be a developer yourself. That's why we've developed a prototype networking and messaging application on top of OpenSeed that is now available on android and iOS through TestFlight. We want to reiterate that this is an
extremely rough prototype
. That means it's buggy and the design is being totally reworked. If you would like access to the iOS app through TestFlight, stop by our
discord server
. The following video is a preview of the next iteration of OpenLink created by
@brklyn8900
.
What's important is that every feature you see in OpenLink is a feature that is currently offered up in OpenSeed. Any developer could add these features to their applications today. The major barrier to this happening is developer documentation that we are hard at work on.

Our Mission
Our mission is to make open source software development economically sustainable by offering valuable features to developers that help them grow their business faster, at lower cost, while generating more revenue. OpenLink will not just act as a testbed for experimenting with these features and gathering valuable user feedback, but it will also enable us to monetize the valuable insights we gain from our developer partners. The more revenue we can generate through OpenLink, the fewer costs we have to pass along to developers, entrepreneurs, and users.
By monetizing both the platform itself, and the flagship application, we believe we can become economically self-sustaining. At the same time, our platform will make it easier for other Steem applications to become economically viable themselves, while creating more delightful experiences for Steem users. It's the type of win-win-win scenario that is only really on possible Steem.

Stay Tuned
We will be providing many more updates on our work through the
@openseed
account as well as our personal accounts (
@andrarchy
,
@bflanagin
and
@brklyn8900
), all of which will be accessible through the OpenSeed community. So be sure to follow those accounts.
You can view and vote for proposals at the following sites: