On September 20th, that is, tomorrow, it is time for the long-awaited kick-off for the Rugby World Cup in 2019. We have waited for the event for a long time, and it is hard to believe that it is finally time for the event to start.
Unfortunately for rugby fans, the sport isn't really popular in Europe, meaning that it is almost impossible to find places where you can actually stream the event online or watch it on your local TV channel. I live in Europe, but I have no chance at all in Hungary to stream the event. So, what can I do if I want to watch the Rugby World Cup online? I guess I will have to find a channel that shows the matches online and then use a VPN to get access to it. But, it is actually harder to find a channel streaming the event than most people would think.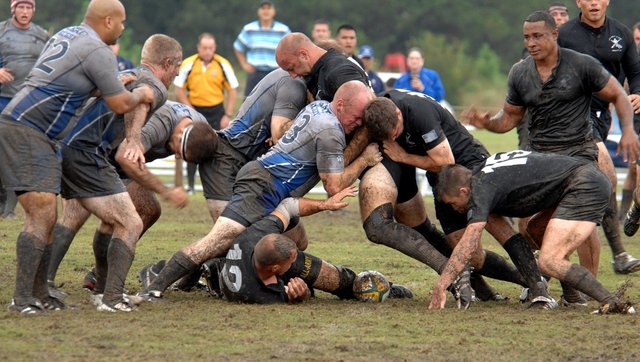 Source: Pixabay
Luckily, we have ITV in the UK which will broadcast every single match from the tournament, and it all starts tomorrow morning around 10.00. That is when the opening match of the Rugby World Cup will start with a match between Japan and Russia. Neither of the teams is considered to be among the big rugby nations of the world, but if things move in the same direction as in football, the gap between the best and the second-best nations is getting smaller and smaller. So, maybe Japan can surprise? Especially considering that they are playing in front of a home audience in Japan, this can get very interesting for them!
Interesting matches coming up on September 21st
Even though the opening day might be a bit boring, there will be several interesting matches played on September 21st. You can find a full Rugby World Cup schedule here, but to help you out... the nation who has won the last Rugby World Cups (New Zealand) will play against Yokohama as the first match of the day on the 21st. Later on the same day we will see France against Argentina, and then Australia against Fiji.
For those in England, the 22nd of September will be even more interesting. That is when their local heroes will enter the pitch in Sapporo to play against Tonga. It should end up with an easy win for England, but if the nerves take overhand, this might not be an easy match, no matter what.
Which team do you cheer for in the Rugby World Cup?
I am not much of a Rugby fan (really), but I never like it when the same nation wins a tournament over and over again. So, by default, I will not cheer for New Zealand. But, it would be cool if the host nation Japan could surprise and make it a long way in the tournament. And of course, for the sake of the fans in England, it is always fun when they succeed in tournaments such as this one. Of course, they did win the Cricket World Cup earlier this year, so I do not feel sorry for them either. But, it would be nice for them to get a Rugby World Cup win (in the start of November), maybe making up for the wounds left behind if they end up leaving the European Union on October 31st.
What do the bookmakers expect?
If you check the odds for the different nations, there is no doubt, that New Zealand is the biggest favorite to win the Rugby World Cup in 2019 as well. But, not far behind them we find both England and South Africa, followed by Ireland and Wales as solid outsiders.
Based on this, we can clearly say that the match between New Zealand and South Africa on September 21st will be a big highlight, after all, it will give us a feeling about which side stands stronger once the tournament has started. Currently, a bet on New Zealand in this match will give you your money back 1.42 times (at NordicBet), while a victory for South Africa will give you more than 3 times your money back. The match between France and Argentina on September 21st should also be a close race, while everyone expects England to easily beat Tonga, and for Australia to easily beat Fiji. What about the opening match? Japan is expected to lead the match from start till end, so bookmakers do not leave Russia a chance in front of the match.
Share your thoughts about rugby, the rugby world cup, about your favorites, about Brexit, and whatever might be on your mind! :)