Popovich was hurt after what happened to Team USA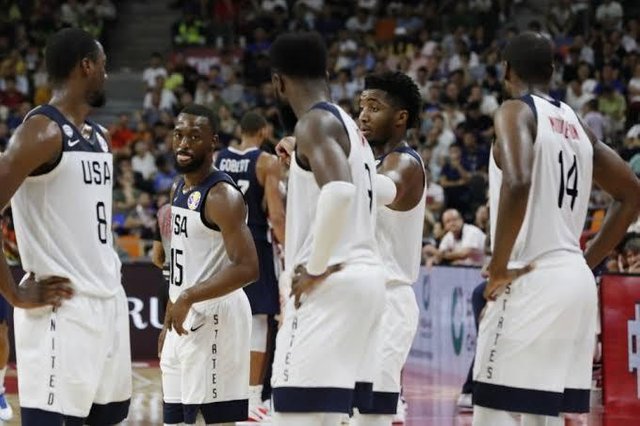 Source
Not only beating Team USA but winning the gold medal is on the heels of France in the ongoing 2019 Fiba World Cup in China.
This is a message echoed by Rudy Gobert who was one of France's heroes as they ousted the USA, 89-79, in Wednesday's quarterfinal match in Dongguan, China.
"We came here to win gold," Gobert said. "We knew it wasn't going to be easy. A lot of people counted us out, but we got the win.Beating the Americans wasn't the goal - winning gold is. It doesn't mean anything if you don't win in the end. "
France's victory gave them a place in the semifinals round where they will face Argentina's expectation today. Argentina also beat Serbia's other title-contender.
This is the first time since 2016, that the US sent NBA players to international competition without harvesting gold.
Evan Fournier chipped in 22 points while Gobert added 21 points, 16 rebounds, except for his strong defense in the bottom half where he lost to Donovan Mitchell and Kemba Walker.
US coach Gregg Popovich admits they were really hurt by the loss.
"Any loss hurts," Popovich said. "And in this situation, it hurts more. But life goes on. This is very important and we would have loved to have won ... but we're all grown, we all have families and lives and life goes on. "
On the record, the US has 58 straight wins in the Fiba and Olympic competition that began with winning the bronze medal at the 2006 world championships that saw them compete in the Fiba Americas, World Cup and Olympics.
Team USA's highest score is currently fifth, the lowest ever since the 2002 world championships.
They also come home as sure of a place for the 2020 Olympics but no medal.
Historically, France would never win the US in their last nine games, often defeating them.
However at the Rio de Janeiro Olympics 2016 the US only surpassed three points, 100-97.
The US and Serbia are coming to a consolation round played last night.
In the other quarterfinals match, Australia also lost a place in the semifinals round after defeating the Czech Republic, 82-70.
Patty Mills led Australia with 24 points, while Chris Goulding added 14 and Andrew Bogut added 10.
Australia will face Spain today in another semifinal match in which the winner will take on the win over France and Argentina.