Elorde's grandson was knocked out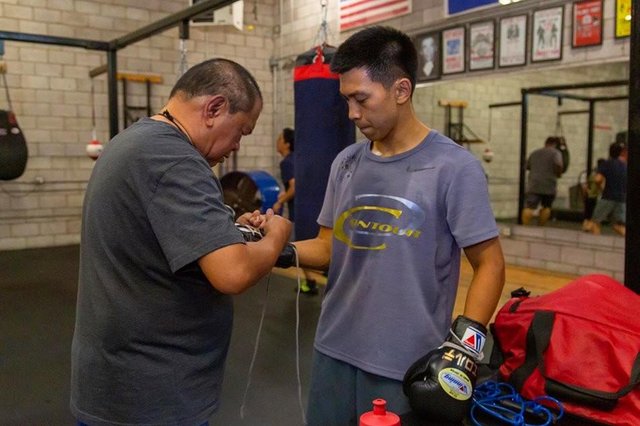 Source
The grandson of Pinoy boxing legend and former world champion "Flash" Gabriel Elorde Juan Miguel "The Boss" Elorde failed to lift a world title after being knocked out in the fourth round by Mexican WBO super bantamweight champion Emmanuel Navarrete in their fight yesterday at the T-Mobile Arena in Las Vegas.
Elorde could have started aggressively in the first round where he could hit Navarrete's left overhand who seemed to be watching his action at that moment.
But in the second round, the battle pattern changed when Navarrete threw a solid left to Elorde's body followed by another right uppercut to the jaw that shocked the Filipino challenger.
In the third round, the pace of the fight changed dramatically, and this time Navarrete again fired punches to hit Elorde's body and head that was knocked down but in time.
Elorde was still in contention with his coaches in the fourth round, but Navarrete's two solid fists landed on Elorde's head, prompting referee Russell Mora to quit. Time, 26 seconds left in the fourth round.
In the win, 24-year-old Navarrete improved to a 29-1, 25 KOs record, while Elorde slipped to 28-2, 15 KOs.
While at Dignity Health Sports Park (formerly Stub Hub Center) in Carson, California, Cotabato native fighter Romero "Ruthless" Duno remains the WBO NABO Lightweight champion following a seven-round knockout victory over "American" Striker "Ivan Delgado.
"I can say that Romero (Duno) is really strong, although he still lacks but every fight he can learn. I am happy with his performance but I am not satisfied with the many combinations of his goals for distance "said Cebu trainer Rodel Mayol.
The pride of the 2nd class Municipality of Tulunan, Cotabato province Duno has increased to (21-1, 16KO) while Delgado crashed (13-3-2, 6KO).