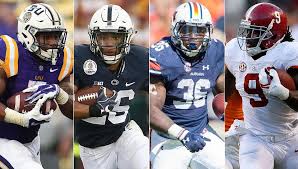 ---
SteemSports Presenter: Scott Frank,
@scottybuckets
---
Only 16 more days until the start of the college football season! Today I will rank the top 10 running backs in college football this year. There are some incredible guys at the top of the list that will be playing on Sundays next year. Let's get it started!
---
1. Saquon Barkley Penn State - He enters his junior season with a Heisman state of mind. Penn State is loaded on offense and Barkley is ready to have a huge season. His freshman year he rushed for over 1,000 yards. Last year he improved to nearly 1,500 yards and added on 400 receiving yards. With quarterback Trace McSorey back, this will be a top ten offense and I have Barkley at the top of my board.
---
2. Nick Chubb Georgia - The Bulldogs will have the best running back combo in the country this year. Chubb will lead the group and is finally healthy after an ACL tear 2 years ago. He will surpass his 1,500 yard total from his freshman year. His success will also be benefited by teammate Sony Michel who will keep the defense on their toes on every play. Chubb has first round draft pick potential and I look forward to watching him back at full street for the first time since 2104.
---
3. Derrius Guice LSU - Last season, Guice shared the backfield with star Leonard Fournette for the Tigers. In fact, Guice actually led the team in rushing with 1,387 yards. This year he will be THE man. He should fly past the 1,500 yard make and could definitely make some noise in the Heisman watch.
---
4. Royce Freeman Oregon - He had two incredible seasons to start his Oregon career in 2014 and 2015. Freeman ran for a combine 3,100 yard in those years. His junior year was not as successful as the Oregon offensive line was awful. He still nearly hit 1,000 yard but it was still a disappointing season. Freeman will have a much better offensive line this year and should return to the greatness of his sophomore year.
---
5. Ronald Jones USC - He is entering his junior year after an impressive season. He ran for over 1,000 yards last year. Jones is one of the fastest players in the country and is also a star on the Trojan track team. With defenses keying on Sam Darnold and the passing game, I expect there to be some big holes for Jones. He has home run speed and will definitely have some big bursts and long runs this season.
---
6. Myles Gaskin Washington - Coming off back to back 1,300 yard seasons, Gaskin will be a beast again for the Huskies. As I wrote yesterday about his teammate, quarterback Jake Browning, the Washington Huskies has an easy schedule and will need to blow out teams to impress the BCS. They will have their gas on the pedal and that includes Gaskin.
---
7. Mike Weber Ohio State - The Buckeyes have one of the best offensive lines in the country and Weber is ready to reap the benefits. He ran for close to 1,100 yards last year and should cruise past that this year. With the Buckeyes dominating defense, Weber should get plenty of looks, even with top 5 recruit, JK Dobbins, joining the backfield.
---
8. Justin Jackson Northwestern - He is poised to be the all time leading rusher for the Wildcats. No one had had more carries than Jackson and he is over the 4,000 career yard mark. Northwestern's head coach, Pat Fitzgerald, will lean on Jackson early and often this season. The success of the team will be on the back of Jackson and he will be ready to lead.
---
9. LJ Scott Michigan State - He enters this year with the potential to be near the top of the Big Ten rushers. He has gotten better each year and went from 699 yards as a freshman to just shy of 1,000 yards last year. He averaged an impressive 5.4 yards per carry last year. Michigan State will pound the ball with Scott this season.
---
10. Bo Scarbrough Alabama - has top 5 talent but the backfield is packed for the Crimson Tide. Damien Harris is back and had over 1,000 yards last year and the #1 running back recruit, Najee Harris, is in the fold and will also get carries. As a unit, they are the best in the country.
---
Who did I overrate? Who did I miss? Please tell me your thoughts and follow
@steemsports
and catch me
@scottybuckets
Cheers!