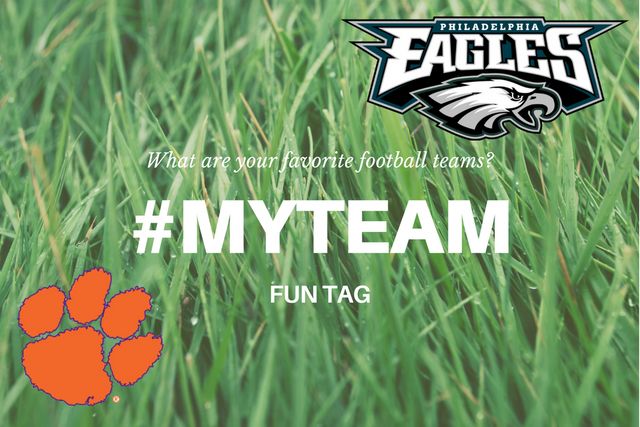 my edit
Football season is only a few weeks away!
If you have spent time on the steemit platform lately I'm sure you have noticed it's being flooded with a bunch of doom and gloom. Negative Nancy's have taken over as prices in crypto land continue to hit new lows daily. I'm here to remind you that we can still have some fun even if we are forced to eat Ramen noodles for the rest of the year.
As a self proclaimed sports fanatic you better believe I'm excited that football season is almost here. Growing up in South Carolina your weekends in the fall are spent supporting your favorite high school and collegiate football teams. Now that it's almost that time of year again I wanted to inject a little bit of fun back into steemit with the #myteam tag.
Pledge your allegiance to your team!
In the sports world there aren't many things more annoying than bandwagon fans. Fans who swear they have been supporting their favorite teams since birth, but they can't name one player on the roster. My girlfriend is guilty of this herself so I've put my foot down this year and told her that she must pick one team from here moving forward. If you are curious how that has been going she has changed teams (Steelers, Seahawks, Cardinals) three times since Saturday. Don't be that guy/girl.
On the flip side it's always great to hear awesome stories of how people became fans of their teams. So before the season starts I thought it would be fun for sports fans to share their stories of how they became fans of their favorite sports teams or simply pledge their allegiance before the season begins. Hopefully this will encourage some positive engagement and help users find other steemins who share similar interest.
Use the #myteam tag so you can find fellow fans or talk trash to your teams rivals.
Feel free to share your favorite teams from all sports.
Share a favorite sports memory with the team.
Tell us how you became a fan.
There's no limitations. Have fun with it!
My Teams!
Clemson Tigers: Growing up in South Carolina the first decision you are expected to make immediately after birth is what college team you are going to cheer for. Your two options being the Clemson Tigers or South Carolina Gamecocks. Fortunately, I made the right decision at a young age when I decided to defy the majority of my family and claim loyalty to Clemson University. If you follow college football you know its been a great couple of years for the Clemson football team and it's National Championship or bust again this year.
Philadelphia Eagles: Now this story doesn't start at birth. In South Carolina collegiate sports rule the land since there are no professional teams within the state. Therefore I didn't begin paying close attention to the NFL until I was in high school around the time that Michael Vick was the human highlight reel for the Atlanta Falcons. Since the Falcons were the closest NFL market it was common that their games were being aired on local television and there I was tuned in each weekend to watch Vick.
As you all know Vick's reign in Atlanta didn't last forever. Eventually he ended up with the Philadelphia Eagles after serving time in prison. Around the same time in 08-09 I got stationed in Phoenix, AZ where my new supervisor was a diehard Eagles fan who grew up in Pennsylvania. Over the next few years I spent every Sunday during football season watching the Eagles play at his house and the rest is history. You can only imagine how lucky I felt to witness both my favorite collegiate and NFL team bring home a championship. Hopefully it won't be their last either.
If you have made it this far go ahead and share your favorite sports teams using the #myteam tag. I'll do my best to upvote and comment on every post I find.
Thanks for reading! Remember to upvote, comment, and resteem!✌
Check out some of my other content below.✍🏻
• Ulog #6: Bird Electric Scooters
• Beware of Groupthink Mentality
• President Trump: Politcal Genius or Insecure Idiot
• Apple: The Trillion Dollar Company
• "The Sandlot" Prequel!? 🎥