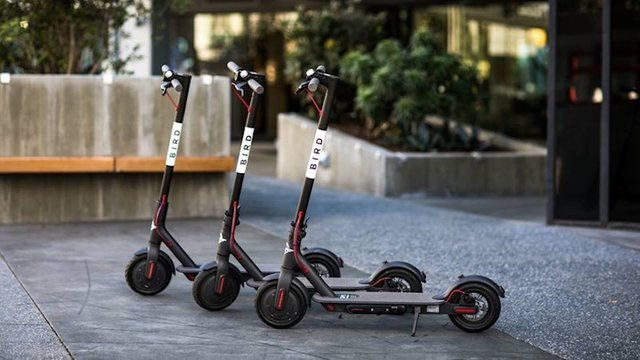 source
Have you ever ridden a Bird?
The new player in the ride sharing economy that is taking a bite out of Uber's profits comes in the form of a shared scooter. Bird is an electric scooter company founded in 2017 by a former executive at Lyft and Uber. After starting off with its first round of venture capital funding in February 2018 the Santa Monica based company recently reached a $2 billion valuation. A number that is causing competitors, users, and local governments to take notice. More on that in a minute.
Bird similar to other ride sharing services utilizes an app to locate, unlock, and end your ride. Back in May of this year Bird made its first appearance in my city Tempe, AZ where they invaded the local streets overnight. Once I came across one I had to give it a try. My experience setting up an account was a breeze. After entering in my payment information and acknowledging some local safety laws I was blasting down the sidewalk at speeds just north of 15 mph. A very fun and efficient way of traveling short distances in an urban environment.
Since Bird's are dock-less scooters they rely on a community of chargers to collect them overnight so they can be charged and released the next morning. Chargers can get paid daily anywhere from $5 to $20 per Bird that they charge overnight. I'm always looking for easy revenue streams so I figured why not give it a go.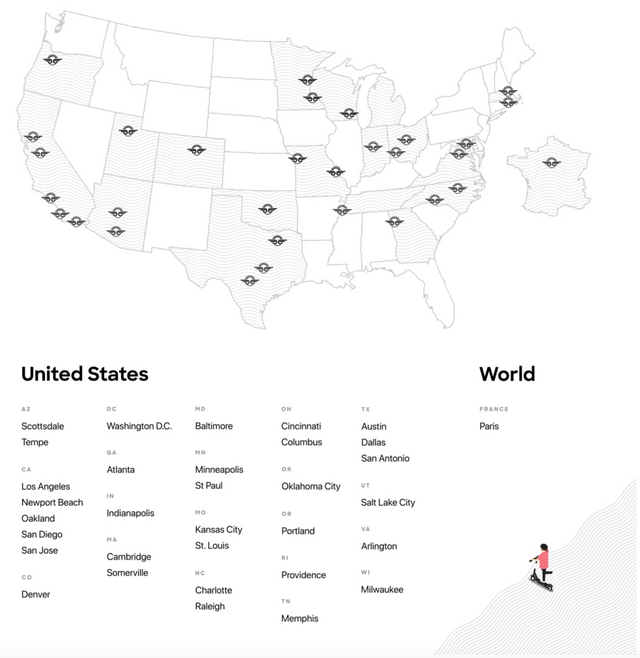 source
My charger experience.
I signed up through the app to become a Bird charger, which took a few days to get verified and receive my three charging cables. During that process I was also given access to the "charger" homepage within the app where I would use the map to locate Birds that needed to be charged. I like to tell people it's similar to searching for Pokemon except you get paid for your efforts the next morning.
On average I brought in anywhere from $15 to $60 dollars a night, but the time it takes to do the work varies drastically. On some occasions the Bird is right where it is supposed to be waiting for you to scoop it up and other times you never manage to find it before getting frustrated enough to move on.
Now some people have perfected the art of finding Bird's in the wild creating legit competition amongst the community where turf wars are actually a thing or so I hear. There are stories of some chargers making hundreds of dollars in a night once they requested extra charging cables from the company after proof of being a reliable charger. I don't charge scooters on a daily basis anymore as I've decided to only grab scooters when the opportunity presents itself.
Not everyone is happy.
While I think the Bird scooters are a great alternative to common transportation options many local city officials and disgruntled residents disagree. Different cities across the U.S. where Birds are currently in use are actively working to ban them. My hometown of Charleston, SC became the newest city to ban the scooters labeling them as unregulated vehicles.
The Bird business model, created by former Lyft and Uber executive Travis VanderZanden, is bolstered by the absolutely transparent fiction that people will abide by the rules. Few riders don helmets, which are required. Lots of people ride double — even with small children — which is verboten. People ditch them on sidewalks, creating hazards for pedestrians. You're supposed to be at least 18 and have a driver's license to ride a Bird, a requirement that is routinely flouted. - Robin Abcarian
Safety concerns and a lack of local laws with regards to motorized scooters are placing cities on their heals. The Bird scooters have taken over cities with little notice leaving city officials scratching their heads on how to contain the chaos. Reportedly, Bird executives are working with cities they reside in to find solutions to some of the current problems.
Some prominent business experts think electric scooter sharing will be short lived as more and more cities ban them. Other people disagree and think a scooter war is on the horizon. Word on the street is Uber will be the next company to take part in scooter mania and many believe they will ultimately win the war. So don't be surprised if you see an Uber electric scooter in your city in the not so distant future.


Thanks for reading! Remember to upvote, comment, and resteem!✌
Check out some of my other content below.✍🏻
• Beware of Groupthink Mentality
• President Trump: Politcal Genius or Insecure Idiot
• Apple: The Trillion Dollar Company
• "The Sandlot" Prequel!? 🎥
• Ulog #5: Cuteness overload inside. 👶