Cristiano y el Madrid conquistaron Turín / Cristiano and Madrid conquered Turin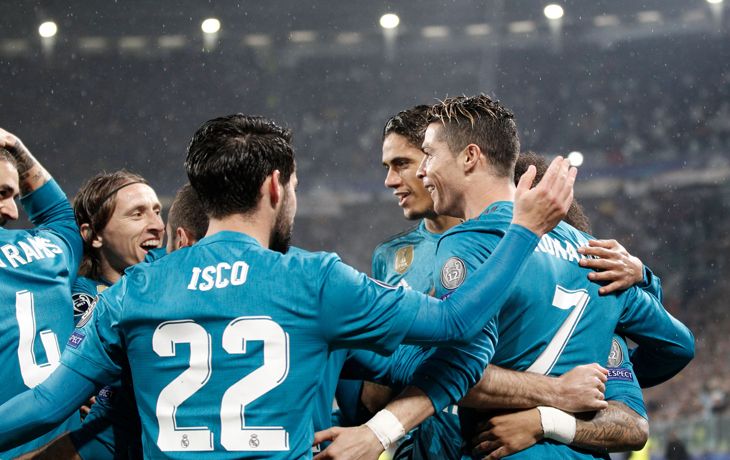 Hola Steemians! Bienvenidos a una nueva publicación de mi perfil, en esta oportunidad escribí sobre el partido de ida de los cuartos de final de la Champions League, entre Real Madrid y Juventus, espero les guste.
Guiados por un Cristiano Ronaldo inspirado, Real Madrid conquistó Turín y goleó 0-3 a la Juventus, por la ida de los cuartos de final de la Champions League.
Españoles e italianos se reencontraban luego de haberse visto en la final de 2017 en Cardiff, pero esta vez el resultado no sería diferente, los merengues dominaron el partido desde el inicio, y tan solo al minuto 3, en su primera llegada, concretaron para abrir el marcador por intermedio del portugués, Cristiano Ronaldo, quien tuvo una noche de ensueño, pues anotando ese gol ya empezaba a hacer historia, al convertirse en el primer jugador en marcar en 10 partidos seguidos de Liga de Campeones, superando a Ruud van Nistelrooy, quien ostentaba el record desde 2003.
Pese al tempranero gol, el conjunto local salió al ataque en búsqueda de un empate que nunca llegó. El primer tiempo fue el más claro para los italianos, donde llegaron a exigir en varias ocasiones al portero, Keylor Navas. Sin embargo, el Madrid se iría al descanso con la ventaja 0-1.
En la segunda mitad los locales seguirían con su insistencia por intermedió de Dybala e Higuain, pero al 64 el protagonista del partido volvería a aparecer… Luego de un centro de Dani Carvajal, Cristiano Ronaldo definió de manera MAGISTRAL con una chilena para romper el arco de Buffon y silenciar el Juventus Stadium.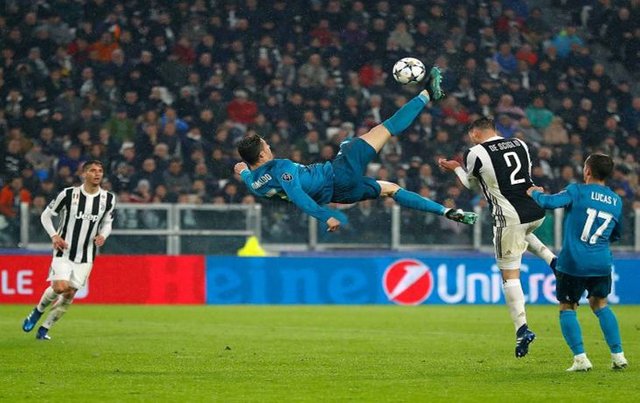 El gol que siempre soñó había llegado, un tanto histórico a la altura de una leyenda del fútbol en un escenario mítico, que seguro no se borrará de la mente de todos los fanáticos del fútbol…
El gol del portugués dio un golpe anímico a la Juventus que apenas dos minutos después se quedó con diez hombres por la doble amonestación a Dybala, castigado por una dura falta sobre Carvajal.
Con un hombre más en cancha los españoles gestionaron mejor su juego y pusieron cifras definitivas, Marcelo apareció al 72 para crear una jugada colectiva dentro del área para definir y colocar el 0-3.
De esta manera Real Madrid venció a la Juventus en una noche histórica llena de datos, pues los italianos cerraron una racha de 25 partidos sin perder del conjunto italiano, que no salía derrotado del Juventus Stadium en competición europea desde hacía cinco años.
Sin lugar a dudas Cristiano Ronaldo fue el hombre de la noche, pues con ese doblete guió anímicamente la victoria de su equipo, y además regaló una joya a todos los fanáticos del fútbol con esa chilena que lo pone nuevamente como uno de los mejores dentro de este deporte.
---
In English:
Hello Steemians! Welcome to a new publication of my profile, this time I wrote about the first leg of the quarterfinals of the Champions League, between Real Madrid and Juventus, I hope you like it.
Guided by an inspired Cristiano Ronaldo, Real Madrid conquered Turin and thrashed 0-3 at Juventus, for the first leg of the quarterfinals of the Champions League.
Spaniards and Italians were reunited after having seen each other in the final of 2017 in Cardiff, but this time the result would not be different, the meringues dominated the game from the beginning, and only at minute 3, on their first arrival, they managed to open the marker through the Portuguese, Cristiano Ronaldo, who had a dream night, scoring that goal and began to make history, becoming the first player to score in 10 straight Champions League games, beating Ruud van Nistelrooy, who held the record since 2003.
Despite the early goal, the local team went on the attack in search of a draw that never came. The first time was the clearest for the Italians, where they came to demand repeatedly the goalkeeper, Keylor Navas. However, Madrid would go to rest with the 0-1 advantage.
In the second half the locals would continue with their insistence through Dybala and Higuain, but at 64 the protagonist of the game would reappear ... After a center by Dani Carvajal, Cristiano Ronaldo defined in a MAGISTRAL way with a Chilean to break the goal Buffon and silencing Juventus Stadium.
The goal that he had always dreamed of had arrived, a bit historical at the height of a football legend in a mythical scenario, which surely will not be erased from the minds of all soccer fans ...
The Portuguese goal gave a blow to Juventus that just two minutes later was left with ten men for the double warning to Dybala, punished by a tough foul on Carvajal.
With one more man on the court, the Spaniards managed their game better and put definite numbers, Marcelo appeared at 72 to create a collective play within the area to define and place the 0-3.
In this way Real Madrid beat Juventus in a historic night full of data, as the Italians closed a streak of 25 games without losing the Italian team, which was not defeated Juventus Stadium in European competition for five years.
Without a doubt, Cristiano Ronaldo was the man of the night, because with that double he guided his team's victory, and he also gave a jewel to all football fans with that Chilean girl who puts him again as one of the best in the game. this sport.