The Minnesota Twins had 3 postponements this weekend due to the blizzard we had over the day weekend. As a Twins fan, it was obviously disappointing not to have Twins baseball all weekend.
Not playing scheduled baseball games is a relatively new concept in Minnesota. The Twins were housed in the indoor Metrodome from 1982-2009 until moving outdoors to Target Field in 2010. While the change to outdoor baseball in a beautiful stadium was outstanding, it was also met with a downside of attending baseball games in miserable conditions during the home opener and games soon after.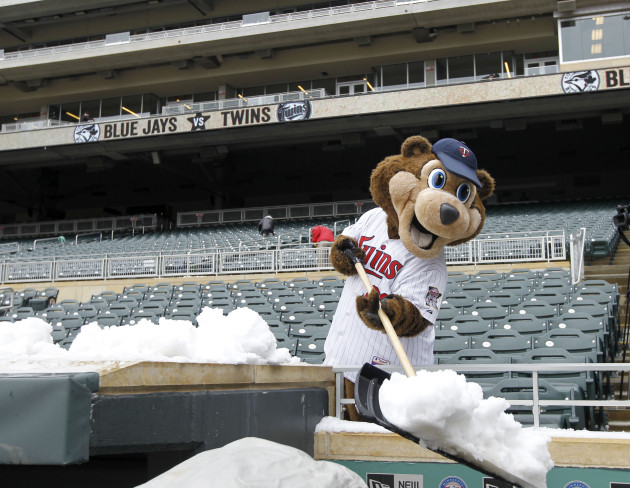 In early April, especially north of the Mason Dixon line, the weather is a mixed bag of occasional beautiful Spring weather along with more frequently, relentless cold, rain, wind, and yes, snow. Entire 3 or 4 game series, like in Minnesota this weekend, are being postponed creating scheduling nightmares for MLB teams and scores of disappointed fans.
When I look at other cites like Detriot or Cleveland having home games in early April, it's downright depressing. Who wants to attend those games? That is, of course, if there is a game. When it's 40 degrees outside, muscles get tight, and injuries are common. Cubs star Anthony Rizzo went on the 10 day DL with a back injury in early April. He has had nagging back issues but playing in cold weather cant help him certainly.
So here is my proposal. It's simple: Just do not schedule home games in northern cities until after April 15th. 50 years ago, that would have been impossible, but in 2018 we have a lot of southern teams like Marlins, Diamondbacks, and Washington Nationals (who relocated from Montreal). Plus many teams play indoors! Why aren't the indoor stadiums at least housing the majority of games in early April? It's just bonkers! And I don't use the word "bonkers" lightly.
It's a win/win for fans and players alike. For those purists who believe opening day should alternate each year, I say: Come out from the cold my friend. You'll enjoy it.
I understand the natural comeback "it rains and gets cold after April 15th as well, and we have beautiful days in early April sometimes up north." I understand, but consider the average temperature on April 1st in a city like Minneapolis is only 50 degrees. By April 15th, the average is 58. That's a big difference! By the end of April, it's a balmy 64 degrees on average.
Why play baseball in the riskiest weather cities in the beginning of April? Baseball is simply a nice weather sport. Or at least it should be played in the best weather possible.
𝐇𝐞𝐫𝐞'𝐬 𝐭𝐡𝐞 𝐬𝐜𝐡𝐞𝐝𝐮𝐥𝐞 𝐭𝐡𝐚𝐭 𝐰𝐨𝐮𝐥𝐝 𝐰𝐨𝐫𝐤 𝐰𝐞𝐥𝐥:
𝑻𝒉𝒆𝒔𝒆 𝒕𝒆𝒂𝒎𝒔 𝒑𝒍𝒂𝒚 𝒐𝒏 𝒕𝒉𝒆 𝒓𝒐𝒂𝒅 𝒇𝒊𝒓𝒔𝒕 𝒕𝒘𝒐 𝒘𝒆𝒆𝒌𝒔 𝒐𝒖𝒕 𝒐𝒇 𝒕𝒉𝒆 𝒚𝒆𝒂𝒓:
Cleveland Indians
Detriot Tigers
Minnesota Twins
Chicago White Sox and Cubs
Boston Red Sox
New York Yankees and Mets
Pittsburgh Pirates
Philidelphia Phillies
Colorado Rockies
𝑻𝒉𝒆𝒔𝒆 𝒕𝒆𝒂𝒎𝒔 𝒂𝒍𝒘𝒂𝒚𝒔 𝒈𝒆𝒕 𝒉𝒐𝒎𝒆 𝒈𝒂𝒎𝒆𝒔 𝒇𝒊𝒓𝒔𝒕 𝒕𝒘𝒐 𝒘𝒆𝒆𝒌𝒔 𝒐𝒇 𝒕𝒉𝒆 𝒔𝒆𝒂𝒔𝒐𝒏:
Arizona Diamondbacks (dome, but who are we kidding, the roof should be always open in April)
LA Dodgers and/or LA Angels
Atlanta Braves
Texas Rangers
Tampa Bay Rays (indoor optional ballpark)
Miami Marlins (indoor optional ballpark)
Milwaukee Brewers (indoor optional ballpark)
Toronto Blue Jays (dome)
Houston Astros (dome)
San Diego Padres
So what about teams who play in the middle of the country like St. Louis, Baltimore, Washington, and Kansas City? They can alternate every year just like the current scheduling format (what can I say? it's a work in progress).
Another added bonus: Northern teams will get more summer home games when the weather is awesome! And in places like Atlanta and Texas, where it's miserably hot in the summer, they get less home games. Like I said, everyone wins!
So let's push baseball in the 21st century! Let's book it!
Please leave your thoughts on this idea. I'll be out shoveling my Minnesota snow in the meantime.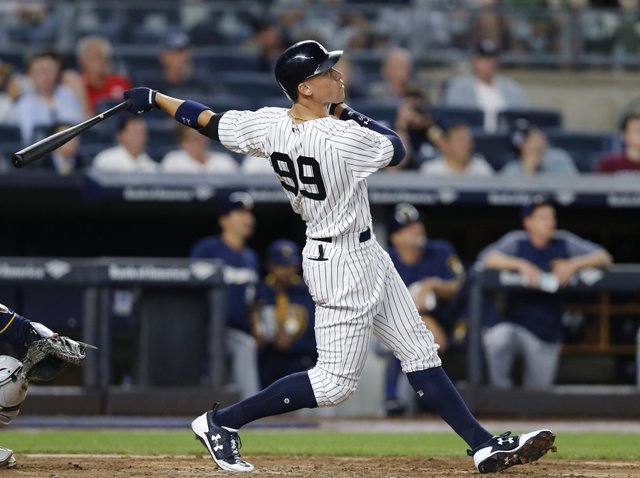 Source: https://www.accuweather.com/en/us/minneapolis-mn/55415/april-weather/348794
Photo Credit: https://blogs.mprnews.org/newscut/2014/04/maybe-target-field-should-have-had-a-roof/