Seattle Sounders Conquered The MLS Cup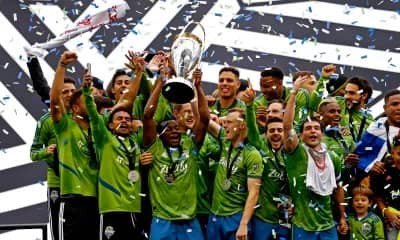 Seattle Sounders,
2019 Champions
Seattle Sounders claimed their 2nd ever MLS Playoffs trophy(The Audi Cup) within 4 years by defeating familiar foes, the Toronto FC 3-1 in the final in front of packed home fans and a capacity crowd of about 70000. 2 2nd-half goals from full-backs Kelvin and(57') and Victor Rodriquez(76') was capped on by a 3rd by striker Raul Ruidiaz(90') in a historic night for the Seattle franchise, Jozy Altidore(90'+3') with Toronto's consolation goal.
It was a game some deemed as 'destined for Sounders' because Toronto had everything it takes to bury the game in the 1st 45 minutes but for all Toronto's dominance, they failed to do the most important of all, score. 65% of the ball possession to Toronto in contrast to Sounders 35% shows the picture but Toronto had only 5 shots on target out of a total of 14 shots played.
Sounders, not for the 1st time in this year's Playoffs showed grit and determination to grind out a victory, their Western Conference final 3-1 win over the Playoffs favourite, the Los Angeles FC was a semblance of the win over Toronto, LAFC also dominated that proceedings with 69% of the possession, with 14 total shots but managed a mere 4 on target.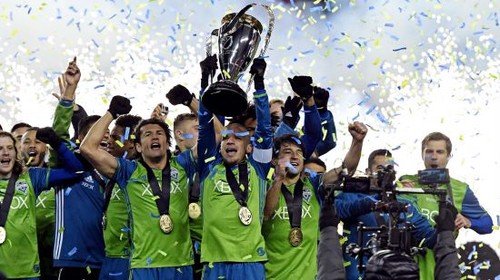 Seattle Sounders,
2016 Champions
Seattle Sounders road to the final deserves commendation, they overcame a battling Western Conference 1st round tie, defeating FC Dallas 4-3. And then had an easy peasy 2-0 win over Real Salt Lake in the conference semifinal. Then, they defeated LAFC in the Western Conference final as earlier mentioned.
Toronto FC, on their path to the Audi Cup final, defeated their 1st round opponent in the Eastern Conference, DC United 5-1. They then edge New York City FC 2-1 in a keenly contested semifinal. Toronto went on to defeat the defending Audi Cup champion, Atlanta United FC in a come-from-behind 2-1 win, to set up the date with Sounders.
The Audi Cup final now seems to be a personal duel between the Seattle Sounders and the Toronto FC. Both teams had now competed in 3 of the last 4 finals, with the Seattle Sounders winning 2, the shootout victory after the regulation score stood at 0-0 in the 2016 finals and this 3-1 win(2019). Toronto FC won the 2017 final 2-0 for their 1st and only playoffs trophy.
Congratulations to the Seattle Sounders. Thank you all for your time.