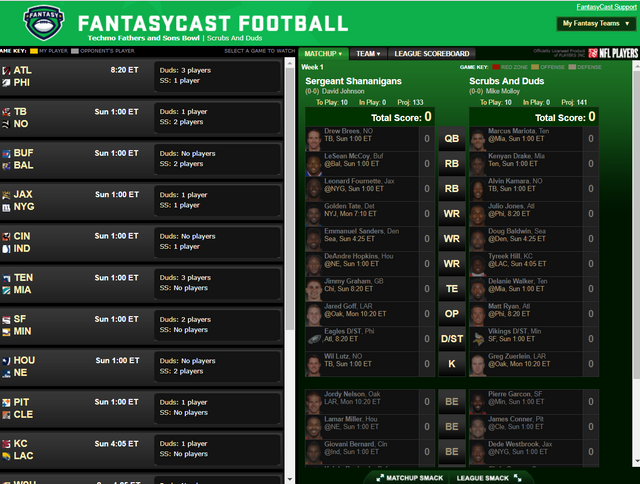 I am. But there's a delay at the stadium with lightning and high winds in the area. They are hoping to get started in about 20 minutes. We will see what happens with that.
As you can see from the picture, I am excited because it is time for Fantasy Matchups as well. I am a member in two leagues this year. Unfortunately missed out on being a part of any Steem related leagues this time. Last year the Steem league was a lot of fun. Probably my favorite of the three leagues I was in.
But the one in the picture is a Father/Son league that I play with my son, so that is really a lot of fun too.
This is a PPR league, so I decided to stack up on WR rounds 2-5 and waited and waited on QB. I ended up getting Wentz for my #1 QB but he is not playing tonight, so I picked up Marcus Mariota late to fill in until Wentz is ready to go.
We play with an OP instead of a Flex so a second QB can be utilized. Hoping Matt Ryan/Julio stack doesn't drag me down all year. We'll see how that works out for me.
Are you in a league? Who was your first round pick? Who did you get a little later that you have super high hopes for?