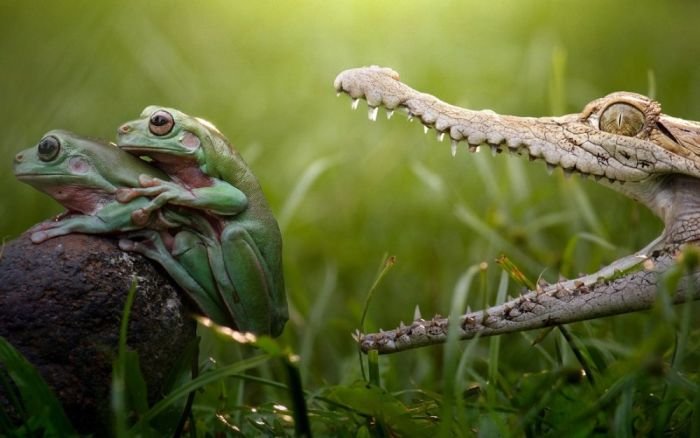 The thing I love most about DFS is finding value in places the average recreational player will not (with the player who best exemplifies this at each position being labelled the "Sneak" play of the week). For this reason, while many players choose to build their lineups through a top-down approach, plugging in their favorite high-priced options first and then trying to fit a team around them, I primarily take the opposite approach, starting my search for each position by scrolling to the very bottom of the list and working my way up. In my mind the reason is clear,
It's always easier finding a high-priced stud to pair with a value play than vice versa.
In fact, using this strategy last NBA season allowed me to roster Russell Westbrook, Anthony Davis & Draymond Green (on the same team!) the night I won the FanDuel 150K Tournament for $10,000.
And although I have not had the same success playing NFL yet, it is a strategy I enjoy experimenting with and will look to continue taking shots at throughout the season.
So with that said, let's take a look at this week's Sneaks, as well as some of the rest of my Week Two DFS favorite plays.
QB
Sneak of the Week (SOTW): Trevor Siemian (DEN) v Colts
If you read my Week 1 Recap, you might remember me saying the following.
"I don't know about you but I've already circled every opponent Indianapolis will face and will look to load up against their secondary as early and often as possible."
Well, that didn't take long, did it? At only $6,400 on FanDuel against one of the most ravaged defensive units I can remember, I've very rarely felt as excited about seeing the team I used to follow (before DFS eliminated all reasons to care about one specific team over another) take a beating. Although Siemian is no (insert above-average QB here), if he can't chew off big yards against this secondary while throwing to Demaryius Thomas (potentially) and Emmanuel Sanders, he might want to rethink his career options.
Fav Plays
Anyone playing in the NO/NYG & ATL/OAK games.
RB
SOTW: Danny Woodhead (SD) v JAC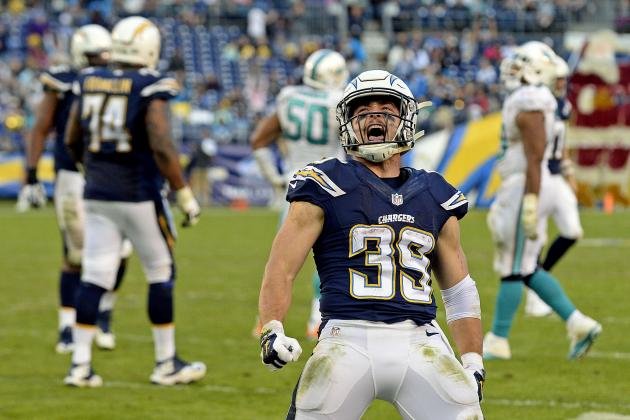 I don't know how he does it, but Woodhead is consistently one of the most beastly underdogs in the league. Sometimes when I see him play I can't help but think I'm watching a modern Rudy where the little engine that could forgets he's not supposed to be able to hit a home-run every time he steps up to the plate. I may have mixed up some metaphors there, but that's what little Danny will do to you!
Seriously though, with Keenan Allen likely done-like-dinner (again!), it's time to watch Danny EAT!
Fav Plays
Ezekiel "LolRedskinsD" Elliot v Was,
CJ "NOMNOMNOM Colts" Anderson v Indi,
DeAngelo "EZ Game" Williams v Cin,
Mark "3-Down Stud" Ingram v NYG
WR
SOTW: Tajae Sharpe (TEN) v DET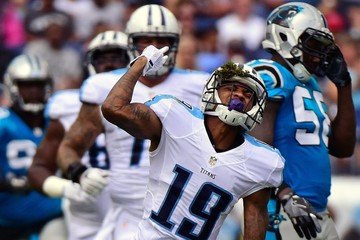 Sharpe showed good chemistry with QB Marcus Mariota, making 7 catches against a solid Vikings defense. Although the rookie still has a lot to prove, a favorable matchup against the Lions should go a long way as establishing Sharpe as a force to be reckoned with in Tennessee.  
Fav Plays
We should be in for a treat this week as you really can't go wrong at the WR position with multiple games presenting juicy two-way action. The NO/NYG game puts everyone in play and will likely be a popular DFS destination this week (look to Sterling Shepard to pivot off OBJ & Cruz). Similarly the ATL/OAK game should also feature some aerial aerobics at much-reduced ownership levels with literally everyone from both teams in play (with Seth Roberts presenting another solid sneaky play). Finally, although the Colts don't present the same allure as their counterparts, as we've already discussed in the QB position, the Broncos receivers should have a field day in Denver against the lowly Indianapolis defense (with Emmanuel Sanders' value going through the roof if Demaryius Thomas ends up sitting or is forced to leave the game early).
TE
Sneak: CJ Uzomah (CIN) v PIT & SuperSneak Dwayne Allen (IND) v Den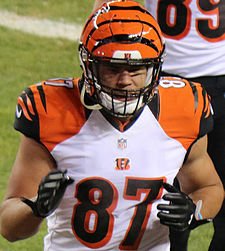 With the TE position often offering the most variance, I am even more likely to take a shot at spots I see value, with this week's Sneak CJ Uzomah (continuing to fill in for Tyler Eifert) and SuperSneak Dwayne Allen (a valued safety-blanket option for Andrew Luck, who should be under immense pressure all day, against a D that has historically struggled against the TE position) presenting what I see as the best options to Sneak one by the field.
Fav Plays
Greg "Matchup-Proof" Olson v SF,
Gary "Back To The Well" Barnidge v BAL,
Eric "Vamooo Stafford" Ebron v TEN,
Jacob "Almost A Sneak" Tamme 
That's all for this week, I'll see you guys on Tuesday for the Week 2 wrap-up with Tuesday Morning Quarterback. Good Luck this weekend!
~ ~ ~
Tune in for more Sneaks & Favs and other writing by clicking the follow button @ltm.
Please leave me a comment below with your feedback and remember to click that upvote button if you enjoyed the story! Thank you!