In this column I will try to make use of the 36-hours I waste on watching football each week in the hopes that I can justify another losing Sunday. Won't you come along?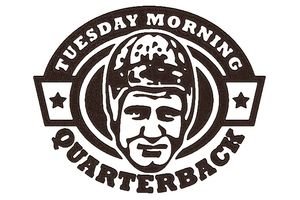 Week One
1. Seattle Soft Spot  
The slot is still looking good against the Seahawks. Jarvis Landry had 7 catches for 59 yards for the Dolphins. I know those aren't exactly eye-popping numbers but that's more of a factor of Miami being unable to get anyone else going (which admittedly, will always be a factor against Seattle's top-ranked defense). However, defending the slot receiver definitely seems to continue being the Seahawks' Achilles heel so it's something to keep in mind as the DFS season gets underway.
On the other side, although they weren't able to sustain much of anything as the game went on, the Dolphins offence actually showed a little flash early with Arian Foster breaking out a couple of nice runs and Tannehill making some good throws to Kenny Stills, who made what might hold the title of worst dropped-pass throughout this entire season! You can see the video below (you'll need to click-through to youtube due to NFL copyright) and condolences to anyone who had Stills on their DFS team this week.
Regardless of the missteps, I liked what I saw early from Miami this week and I'll definitely be looking to get some Dolphin action against a more porous defense, most immediately Cleveland and Cincinnati coming up in weeks 3 and 4. 
2. Saints Gonna Saint
Drew Brees throws for another 400+ yards with 4 TDs and 0 INTs while WRs Snead & Cooks thank their good fortune for the front row seats and pull in 172 and 143 yards respectfully with 3 TDs between them. Something to keep in mind when you're trying to use lineup construction to differentiate yourself from the field in large DFS tournaments, although the QB + 2WRs will be more popular here than in most cases, it might still be be a good strategy to look to employ when the time is right. And looking ahead to the schedule with games against the Giants, Falcons and Chargers, in the next 3 weeks, the future looks bright for fans of the longball.
On the other side of the ball, the saints D looks as horrific as usual with pretty much every Raiders player getting in on the action, led by Amari Cooper's 137 yards. And if you think I'm being disrespectful to the NO defense, the  Raiders elected to forgo an extra point with 47 seconds to play, choosing instead to challenge the soft Saints secondary by attempting a 2-point conversion and throwing it to the outside, which they converted with ease. To make matters worse, the Saints lost their top cornerback Delving Breaux to a broken fibula and he is expected to miss significant time. I was already on the NO train before this game, but I now expect my DFS lineups to feature even more players from both the teams playing, starting immediately with juicy matchups loaded with DFS potential again the Giants, Falcons and Chargers in the next 3 weeks.
3. Colts Gonna Colt
Speaking of injuries, no one has it worse than the Indianapolis Colts, who lost 2 more DBs to injuries and were forced to finish the game with only 6; fatigue no doubt contributing to their inability to stop Matthew Stafford on the game winning drive. I don't know about you but I've already circled every opponent Indianapolis will face and will look to load up against their secondary as early and often as possible. Here is the schedule for your enjoyment.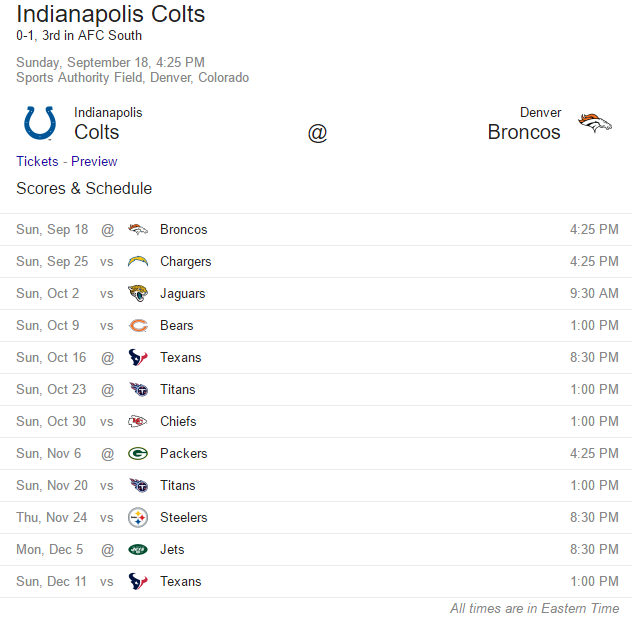 For the Lions, Stafford finished with 340 yards, 3 TDs and no INTs on 39 pass attempts while showing good chemistry with Jones, Ebron and Tate, any of whom could be in line for big days in this high-flying offense, with games against the Bears and Eagles in weeks 4 & 5 both presenting good opportunities for one of them to do so.
4. Murder By Brown
Note to self 
Defenses to avoid: The one playing Antonio Brown!

Seriously, Antonio is an absolute beast and I had the great displeasure of facing him in the first week of the Steemit Fantasy Football league while playing our own resident DFS pro @daut44. I'll let you guess how that one turned out for me...
5. What's A Kicker?
Finally, for those of you playing on FanDuel, kicker Dan Bailey may be in for a monster of a season playing clean-up for the rookie-heavy team. Bailey finished 4-4 with a 56-yarder and an extra-point to boot (no pun intended)! Rookies Dax Prescott (QB) & Ezekiel Elliott (RB) both looked competent, if not impressive, in their first NFL game and could be a force to be reckoned with should they continue to develop. I'll definitely be keeping my eye on them as the season progresses with games against the Eagles and Browns in weeks 8 & 9 already circled on my DFS schedule.   
That's it for this week; thanks for reading and I'll see you next week for Week 2 of Tuesday Morning Quarterback!
 ~ ~ ~
Tune in for more Tuesday Morning Quarterback & other writing by clicking the follow button @ltm.
Please leave me a comment below with your feedback and remember to click that upvote button if you enjoyed the story! Thank you!