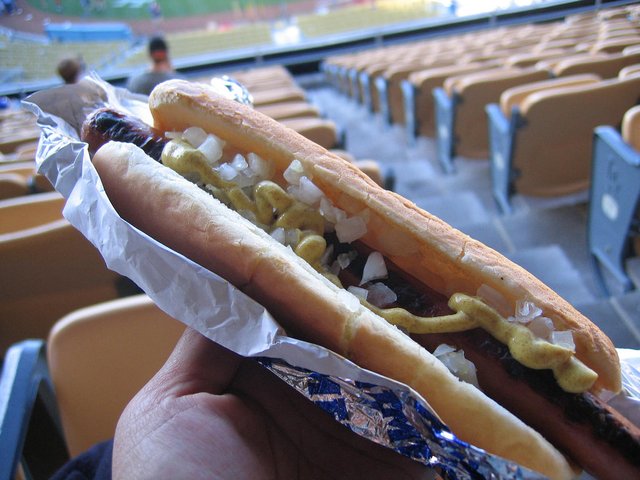 Joc Pederson, Yasiel Puig, Cody Bellinger, Chris Taylor, Max Muncy, and maybe even Matt Kemp. If that looks like the Los Angeles Dodgers' starting lineup, it's pretty close, if a bit neglectful of catchers and middle infielders. But those names have something else in common besides Dodger blue: you could call it Dodger Blues.
At their best, that is a powerful group of hitters.
There is not a single name on that list who has not been a legitimate recipient or contender for either an All Star selection, Most Valuable Player (MVP) or Rookie of the Year award in recent years. Each of those players has had at least one GREAT year, followed by a prolonged slump. I'll cut Justin Turner some slack because he was injured earlier this year and he has produced for an extended period (he's not on my list). Also, Max Muncy is the latest phenom to join that list; his slump is quite recent and perhaps he will show more consistency over time than the others.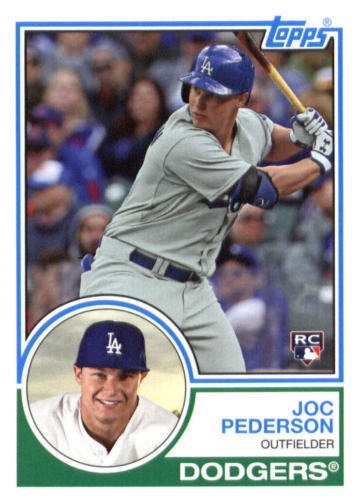 But what about those other guys?
Joc Pederson was an All Star in his first full season. Two years later, he was underachieving so badly that he was demoted to the minor leagues to regain his mojo. Yasiel Puig was supposed to be the next big thing, and he showed flashes of brilliance his first two seasons (plus that gun of an arm), but after that he hit only 11 home runs in each of the next two years. Both of those guys may be bouncing back beyond mediocrity this year, but a team expects more consistency than that out of its top players.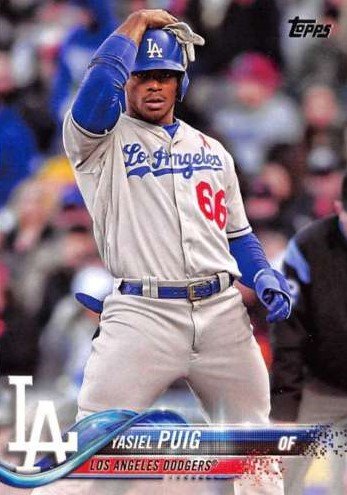 The sophomore slump has been in full force this year. 2017 Rookie of the Year Cody Bellinger hit 39 home runs in his first full year, but has just 20 this year and his OPS is 125 points lower. If there was a Dodger "out of nowhere" award, last year's would have been won easily by Chris Taylor, a journeyman who had achieved little before the Dodgers took a chance on him. And last year, he was one of their shining stars at the plate, producing offense like no one believed he was capable of previously. But this year, he clearly regressed. As of the time of this writing, Taylor was leading the league in strikeouts with a batting average that's down 40 points and an OPS that's 100 points lower than last year's.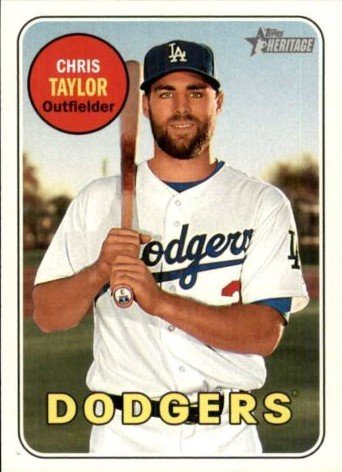 The Dodgers seem to have someone each year who fills the gap.
For most of this season, it was "out of nowhere" Max Muncy, another low-priced acquisition who hadn't shown much promise before donning Dodger blue. For the first half of this year, he was probably the team's best hitter, barely missing the All Star team but drawing an invitation to the Home Run Derby. He then had a rough July before appearing to turn it on again in August. We will see if Muncy joins the ranks of his inconsistent teammates or if he proves to be a perennial source of offense, more like a Justin Turner or Corey Seager (their recent injuries notwithstanding).
And I forgot Matt Kemp. How does he fit into this? He doesn't, but he's an older version of some of these other players. He's had MVP-type seasons, but also badly underachieving ones. In that way, his career may be something of a blueprint for the younger players. Kemp also has played for San Diego and Atlanta, now on his second stint with the Dodgers. It's safe to say that no one expected him to be such a great player for the Dodgers this time around (there were some experts forecasting that the team would cut him from the roster before this season started), yet he lost some weight in the offseason and then carried the team's offense almost single-handedly for parts of 2018.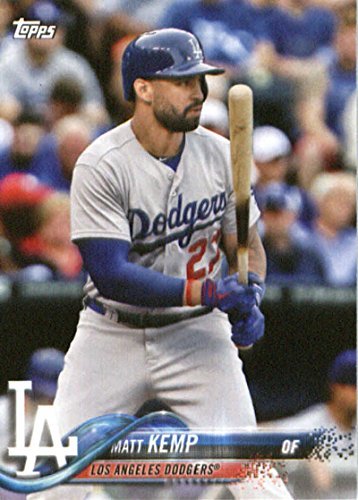 Last year, the Dodgers appeared to be one of the deepest and most talented teams in recent memory. But these slumps or regressions have continued. Just when they think they have an MVP candidate in one of these players, he does his best to play himself out of a starting job for an extended period. The inconsistency must be maddening for the front office, as it certainly is for the fans.
For a team that is still being picked to make the playoffs, the above might be cause for concern. But the Dodgers have an extremely strong lineup. Most teams would kill to have a few of their hitters, even though these guys have shown this curious cycle of flash-in-the-pan followed by extended spells of chronic under-performance. In addition to the above names and a few others, they have added Manny Machado and Brian Dozier to the middle of their infield (Machado to fill in for injured shortstop Corey Seager). On a good day, there are very few names in the Dodger lineup that are not All Star caliber players.
Relief pitching is the bigger issue right now.
The bigger worry for the Los Angeles Dodgers, if indeed they are playoff-bound, is their pitching. They keep winning the division each year, yet each year their pitching is not quite good enough. Last year, they went out and acquired Yu Darvish late in the season. And while he helped them then, he was terrible in the World Series. Will they seek additional help this year for their starting pitching or their ailing bullpen?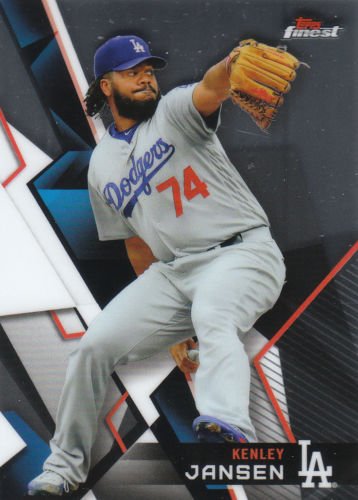 It's clear that closer Kenley Jansen is not himself lately. Maybe it's his heart issue (he's had an irregular heartbeat). Maybe he's just thrown too hard for too many years now. Most closers have a short shelf life except for the inhuman ones who just keep on ticking (e.g. Trevor Hoffman).
Even if Jansen is not done, the Dodgers were looking for a bullpen setup arm before his current troubles. I've never cared for this front office's strategy of relying on high injury risk, high upside pitchers the last few years, since many of them have been injured for long stretches (though others have out-performed expectations). They are getting a couple of those guys back from injuries now, so currently the starting pitching is looking better than the back end of the bullpen.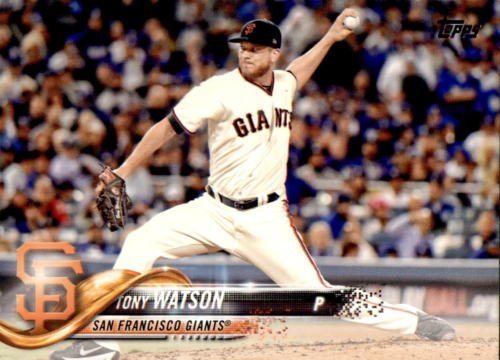 Ouch. Wrong uniform for Dodgers fans.
They sure could use 1-2 additional arms to close out the 8th and 9th Innings. I also never understood how the Dodgers could let Tony Watson and others walk away after last year without replacing them and still expect to be as good as they were before. This Dodgers team is not as good and the competition is stronger. But if they go on a winning streak, it still might be good enough to place first in a terrible division. From there, the postseason is more about good pitching performances, tight defense, and timely hitting.
I think this team could have done a better job acquiring some more pitching help by now. We'll see if they improve their roster any more. Without good pitching, winning in the playoffs is possible, but even assuming they get all the way through, it's hard to envision them beating a Boston or a Houston. (Quite honestly, we could add New York, Cleveland, and Oakland to that list because the Top 5 AL teams are all better than these Dodgers right now.)
Dogs or Champions?
Is this team a bunch of chronically under-achieving dogs or can this group finally step up and win a championship? Anything less than that would be a disappointment for LA. I would have made a joke using the team's official mascot, but the Dodgers do not have one. So I think I'll have another Dodger Dog while I watch.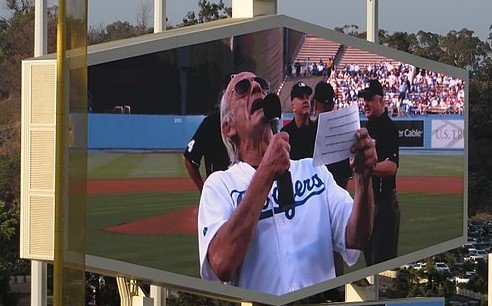 Images are trading cards from the Topps Company. Top photo shows a Dodger Dog, Creative Commons via Flickr.com by Eileen Rose. Bottom photo (showing actor Christopher Lloyd announcing the starting lineups at an exhibition game) is Creative Commons via Wikimedia.com by Ken Lund.