An Angel Smiling Down on Anaheim
Hats off to the Halos for an incredibly classy performance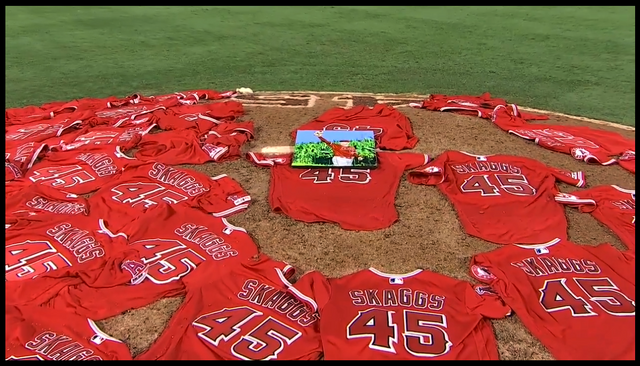 ---
Recently, the Los Angeles Angels (the Major League Baseball team in Anaheim, California) lost a player. Young pitcher Tyler Skaggs, only 28 years of age, was found dead (his cause of death has not been released yet). Tonight, the entire team paid tribute to him as all of the players wore a jersey with "Skaggs 45" emblazoned on the back. That alone was an emotional tribute to see, but Skaggs' teammates were just getting started.
From the ceremonial first pitch, which was thrown out by Tyler Skaggs' mother, it was a magical night. First of all, the Angels beat the visiting Seattle Mariners in front of their home crowd by a score of 13-0. That offensive performance and the shutout should have been enough to honor their fallen comrade. But the Angels pitchers threw on even more of a tribute.
Their two pitchers of record, Taylor Cole and Felix Pena, combined for a no-hitter. Over 9 innings and 27 outs, they held the Seattle Mariners for no hits. Somewhere up above, they must have been cheered on by the late Tyler Skaggs.
Combined no hitters have been a rarity in baseball history because managers used to leave their pitchers in when the guy hadn't given up a hit, but now with openers, the game's first pitcher may only throw an inning or two (Cole threw two innings tonight; Pena pitched the remainder of the game). We'll certainly be seeing more combined no hitters in the future, but any no hitter is a rare occasion worthy of celebration.
After the game, each Angels player removed his jersey and laid it on the field. As they departed towards the clubhouse, a full set of Skaggs 45 jerseys adorned the mound from which Tyler Skaggs once pitched. Even as a fan watching on a television far away, it was an emotional sight to behold.
Kudos to the Angels team and players for a heartwarming tribute to their late teammate.
Image: Screenshot from MLB.TV, taken by the author during the game's broadcast.