BREAKING NEWS!! - Ronda Rousey Debuts at WWE Royal Rumble - Signs Longterm WWE Contract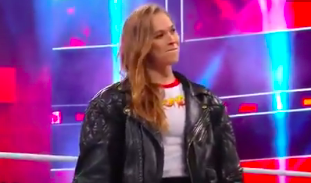 There is breaking news tonight in the professional wrestling world. The women's royal rumble match couldn't get any better after seeing returns from The Bella Twins, Trish Stratus, Lita, and many more. Could it? Well, after Asuka eliminated Nikki Bella to become the first ever woman to win the Royal Rumble there was one more historical moment in store for everyone.
Both Charlotte and Alexa Bliss entered the ring so Asuka could select her opponent for Wrestlemania... Then the music hit and it was none other than "Rowdy" Ronda Rousey wearing a shirt in the likeness of "Rowdy" Roddy Piper. She came to the ring with the crowd going wild and pointed up to the Wrestlemania sign. Does this mean she is planning to wrestle for the title that Asuka doesn't choose? I can see Asuka facing off against Alexa Bliss which opens the door for a dream match between Charlotte and Rousey. If there was ever a chance for women to main even Wrestlemania, that might be the match, but only time will tell.
The good news is that Rousey has already stated that this isn't just a "money grab". She is planning to be with the company for a long run and that can only be good news for WWE fans and the women's revolution. The women just had the main event at the Royal Rumble and the match itself was better than the men's Royal Rumble match, so it could be a real possibility that we see history made at Wrestlemania 34. One thing is for sure... WWE just became "Must Watch TV" again with the signing of Rousey. Business is about to pick up...
Stay Cool My Friends