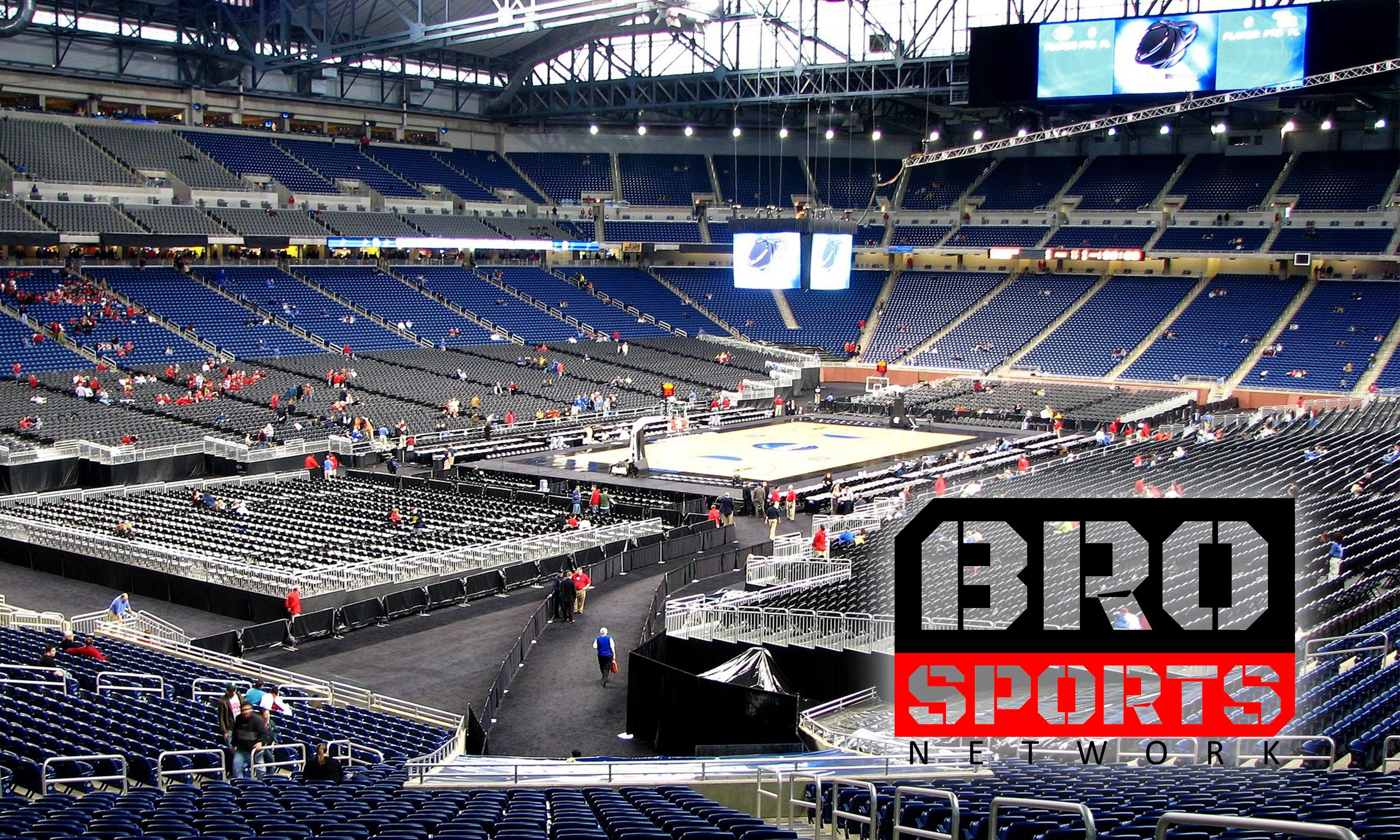 The Madness
This year's tournament will go down in history as the first ever for a No. 1 seed to lose a No. 16. UVA could not buy a 3-pointer and only shot 18.2% from beyond the arc. Meanwhile, UMBC shot an impressive 50% from deep and 54.2% from the field. While UVA won the turnover battle 7-12, it simply was not enough to overcome the lights out shooting from the Retrievers. The Wahoos are now in the history books as the first No. 1 seed to lose in the first round of the tournament.
While UMBC performed the biggest upset, two other teams managed to pull off upsets of their own. No. 11 Loyola Chicago first beat No. 6 University of Miami and then beat No. 3 Tennessee. No. 11 Syracuse had a similar same path beating No. 6 TCU and then No. 3 Michigan State. Both Loyola and Syracuse are the lowest seeds to make it to this year's Sweet Sixteen.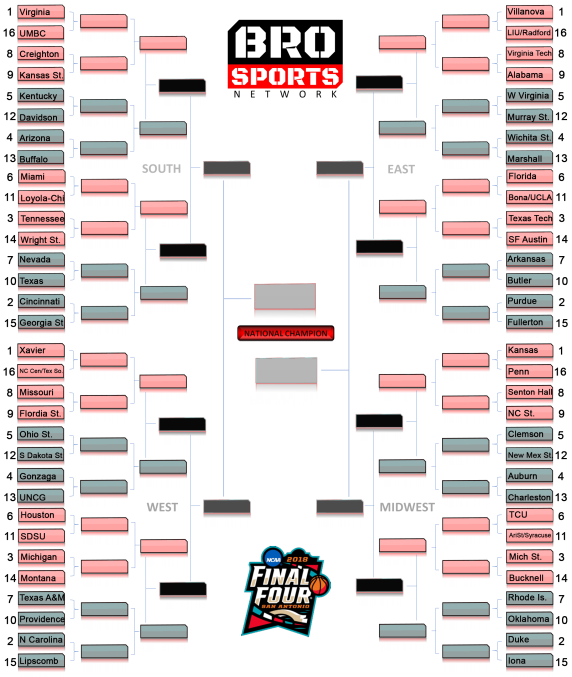 Bracket image courtesy of @nicnas
South
No. 9 Kansas St. vs No. 5 Kentucky
Kentucky is a 5.5 point favorite over Kansas St. UK averages 77.3 points per game (PPG) while KSU is a little less at 71.6. On the other hand, KSU averages 66.9 points allowed (PA) and UK allows 70.5. They each have their own advantage which should make for a close game. KSU will have to slow down UK's Shai Gilgeous-Alexander and Hamidou Diallo who scored 27 and 22 points respectively last game against Buffalo.
No. 11 Loyola Chicago vs No. 7 Nevada
Nevada is a slight 1-point favorite over Loyola Chicago. NEV beats L-IL in PPG, free throw percentage, rebounding, turnovers, and points off the bench. L-IL does have an advantage on field goal percentage and defense though. NEV averages 83 PPG while L-IL averages 62 PA. With such a wide spread, the game can go in either team's favor.
West
No. 9 Florida State vs No. 4 Gonzaga
FSU is coming off a big win against No. 1 Xavier, who was the second 1-seed knocked out of the tournament. Even though they knocked out No. 1 Xavier, FSU is 5.5 point underdogs to Gonzaga. The Bulldogs beat the Seminoles in every category except for points off the bench. FSU needs their bench to perform and to slow down Zach Norvell Jr., who had 28 points for the Bulldogs against Ohio State.
No. 3 Michigan vs No. 7 Texas A&M
Texas A&M is coming off an impressive 21-point win over No. 2 North Carolina. The Aggies scored 86 points - almost 11 points better than their season average of 75.3. Michigan is averaging slightly less at 73 PPG. Nonetheless, Michigan has a slight advantage of 2.5 points. The stats are similar, but the Wolverines have a slight edge of allowing 6 PPG less than the Aggies.
East
No. 1 Villanova vs No. 5 West VA
These two teams have not played each other since December, 2011, where West Virginia won by 14 points. This time around, Villanova is a 5-point favorite and looks to get some revenge. Villanova's Mikal Bridges led the team with 23 points last game while West Virginia's Jevon Carter led with 28 points. Both players will have to step up again if they want their team to move on to the next round.
No. 3 Texas Tech vs. No. 2 Purdue
Purdue shoots well from beyond the arc with an impressive 42.1%. The Red Raiders though have only allowed 32.7% 3-pointers. Whoever can come closest to their season average will have a big advantage. Purdue is only a 1.5-point favorite, but looks to live by the 3-pointer yet again. Texas Tech has not made the Elite Eight since the current tournament format started and will try to end the drought.
Midwest
No. 1 Kansas vs No. 5 Clemson
Kansas knows the tournament well as they enter the Sweet Sixteen for their third straight season. On the other hand, Clemson has not been to the Sweet Sixteen since 1997 and only reached the Elite Eight once, which was in 1980. Kansas is a 5-point favorite but Clemson is hungry to end their tournament slump. The Tigers will have to find a way to stop Malik Newman who had an impressive 28 points against Seton Hall. Kansas has outscored Clemson all season, but Clemson has a slight advantage on defense.
No. 11 Syracuse vs No. 2 Duke
Duke is favored by 11.5 points, which is the most of any Sweet Sixteen game this year. Syracuse will have to dig deep to pull off the upset, especially after losing to the Blue Devils by 16 points late February. Syracuse only averages 66.7 PPG while Duke is at 84.9 PPG. Grayson Allen is capable of scoring multiple 3-pointers at any point and the Orange will have to keep him in check. Not only do they need to worry about Allen, but Marvin Bagley III led the team with 22 points last game. Anything is possible, but the Orange will have to play their best game of the season to beat the red-hot Blue Devils.
The action starts back up on Thursday, March 22nd, with a 7:07 PM (EST) tip-off. The South and West will play Thursday while the East and Midwest games are on Friday. The Elite Eight will then be the following two days, Saturday and Sunday.
Cover photo credits: Dave Hogg, CC BY 2.0
---
Author: @boatsports90
Editor: @bacchist

© 2018 BRO Sports™ Network