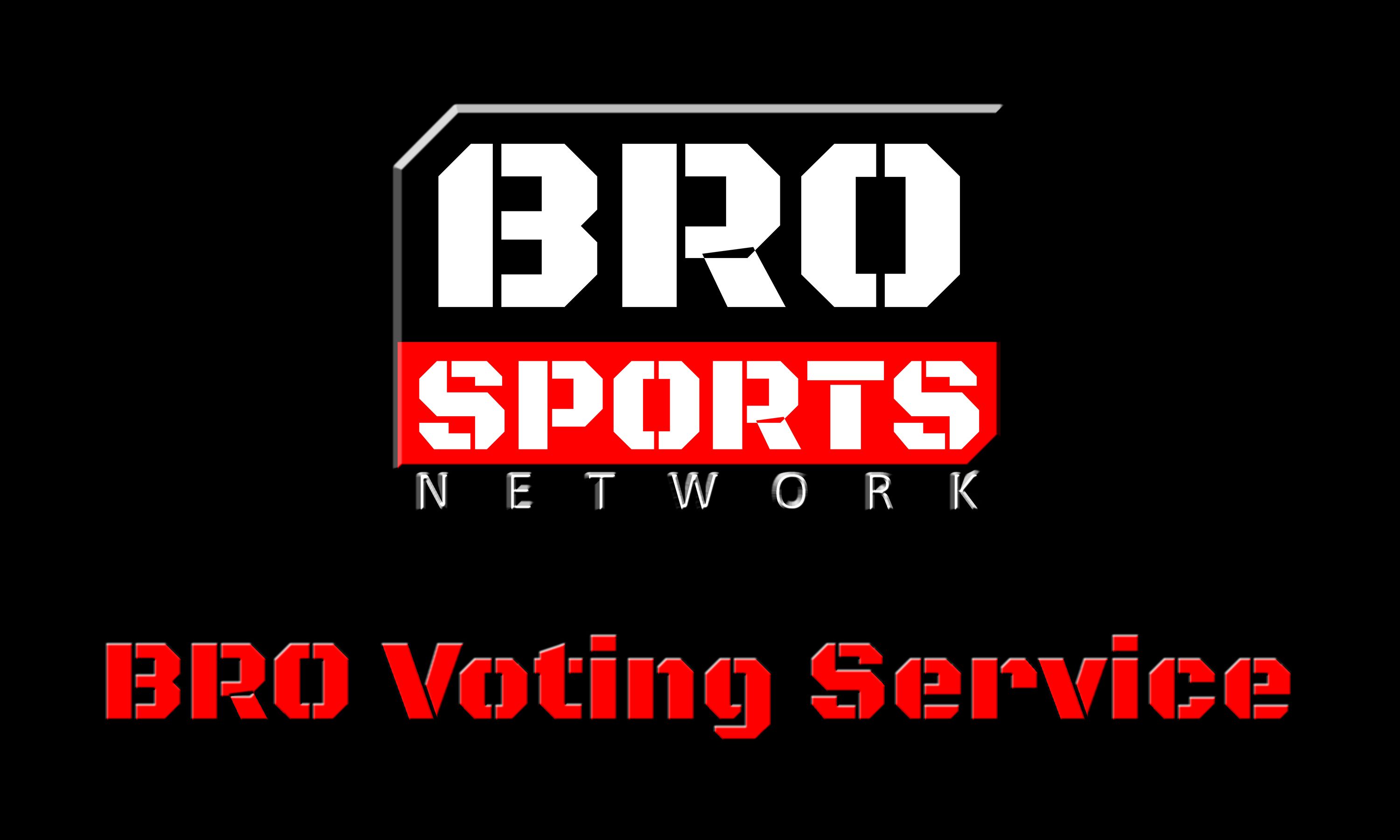 The
@bro-sports
voting bot is a service and reward mechanism for valued members of the sports and sports-related community and is managed by the BRO Sports™ Network. It consists of a vetted whitelist of Steem users who have been consistently producing good content for, participating and engaging in, and/or developing worthwhile projects in/for the sports community. The users on this list have come from a personally vetted pool of bloggers based on more than a year and a half of experience blogging and curating on the platform.
What is the purpose of the @bro-sports bot?
This account maintains a manually selected and updated list of accounts that do not spam, scam, post (subjectively) low-quality content, and aren't sock puppets (as far as we know). It is a dual-purpose project meant to not only reward established authors/users for their sports-related content, but to provide curators with a list of vetted individuals that they can support with their limited voting power.
The @bro-sports bot is designed to be a fully automated curation project for established users on their selected content. The individuals using this service will be able to choose which sports-related posts they want to bring more attention to – without the dirty feelings or shame of using the typical vote-selling services and bid-bots. It's meant to be a reward for these specific users based on their contributions to the platform, not just a vote to anyone who wants one, simply for the sake of "supporting minnows."
This bot is also designed to be a rewarding mechanism for official BRO Sports™ Network contributors for their sports-related content on their own individual blogs. It's one of the "perks" for being part of the official BRO Sports™ team.
These are the rules for the @bro-sports bot, so please pay attention in order to avoid losing money or having your feelings hurt!
Only vetted and listed users are eligible to use this bot. The list of eligible users are those that can be found on this account's "followed" list, here: https://steemit.com/@bro-sports/followed . Any user on this list can use the bot and they can use it only on their own posts.

There is no excessive use of the @bro-sports bot. Nobody on the list will be able to receive more than one vote per day. If more than one link is submitted per day, a refund will be issued and no vote will be cast.

Comments are not eligible. Only parent posts are eligible to receive votes. If a comment link is submitted, a refund will be issued and no vote will be cast.

No posts over 48 hours old are eligible. Posts can only receive votes after 15 minutes have passed and no later than 48 hours after posting. If a link is submitted before 15 minutes have passed, then the vote will be delayed until at least 15 minutes after the post was published. If a link is submitted for a post after day two (48 hours after posting), a refund will be issued and no vote will be cast.
Send a minimum of 0.01 SBD to @bro-sports via your account wallet. Any more than 0.01 SBD will be considered a donation to the BRO Sports™ Network.

Copy and paste into the "memo" field the link of the parent post that you'd like to upvote with the @bro-sports account. Make sure that you are on the @bro-sports follow list and that the link to your post is the correct link that you would like to upvote. We will not issue refunds for votes that are successfully cast on the wrong link.

Marvel at the rain-making abilities of the @bro-sports bot.
Why are you charging for this service?
The minimal fee of 0.01 SBD is necessary to leave control in the hands of the individual author. They alone will be choosing which posts they want to promote through our service. Since it is fully-automated on the blockchain, this is the best way to trigger our bot and direct it to the proper post. While 0.01 SBD is a very small fee, we do have some expenses to cover, so this will help cover the costs of the bot and also add to the pool of the development funds for the BRO Sports™ Network in general.
We are allowing additional SBD donations for this service and for the network if the authors feel like offering more for the service – but this is not required and voting weight is not calculated based on the size of the transfer.
Any SBDs acquired through this service will be split 50/50 for operations and powering up the @bro-sports account. On a periodic basis, 50% of the SBDs acquired will be sold for or converted to STEEM (depending on market conditions) and powered up. The remaining 50% will be used for operational costs or held in reserves for future use. With a minimal fee of 0.01 SBD and a limited number of vetted accounts eligible to use our services, we do not expect any significant amount of money being made by this account.
Curators are wanted for additional benefits to our vetted users.
The purpose of the
@bro-sports
bot is not to sell votes. We want our vetted users to be able to receive additional attention from anyone who trusts our vetting process and has reviewed our list of users. If you approve of this project and want to reward those users who have earned our trust as eligible recipients of our services, then please consider adding these people to your own voting list or follow our votes as they are cast.
These are the user and voting targets that we hope to achieve:
The @bro-sports bot's current target for vetted users is approximately 50. The content and use of our services will be manually monitored and users can be added to or removed from our approved list based on quality, activity, or use of the service.

The bot's ideal average vote target at current STEEM Power levels will be approximately 40 votes per day at an average weight of approximately 25% per vote. This should keep voting power at or above the daily allowance and reduce or virtually eliminate any down time due to voting strength. It will also keep allocation/rewards from the @bro-sports account relatively consistent.
If you're a curator looking for better automated services, a user that cannot put in the time for curating quality posts, or if you just happen to have an extra account or two that you'd like to put into action, please consider following the votes from this account. A SteemAuto trail has been set up to make this easier for the average user.
All votes cast by @bro-sports will be followed by the @ats-witness account.
While the @bro-sports bot is currently fully operational, it is still in the experimental stage.
Things may break and targets may need adjusting over time, so don't treat anything in this post as a guaranteed target or outcome over the long-term. There may need to be some fine-tuning in order to meet targets or those targets may prove to be inadequate altogether. The whitelist is also still growing, so don't expect full capacity to be immediately reached.
If you are on the whitelist but do not want to be on it or associated with this project, please let us know so that we can free that space for another user.
---