No no, this is not one of those clickbait article like those you see from ads on low rep websites telling you how *there are 100 middle aged women in your neighborhood looking for a date* or how *this single mom made 7,300 USD by completing captchas*.
This post actually has nothing to do with that and I just titled my post like that to clickbait you into checking out my post. I'm sorry, every once in a while I do that, I hope you can forgive me.
But I'm not really sorry SORRY, because I want to share my day with you and, despite it being boring for some people, I'm actually pretty satisfied with how it went.
For the first time in more than a decade I didn't feel tired during the day. It probably has to do with the 7 pills I'm taking but I felt amazing. I was able to wake up at 7 am and right now it's 11 pm and I'm writing a post! And didn't have to take a nap in the middle of the day and I didn't feel like crashing a couch after having lunch.
I recorded 5 videos in Spanish for @steemonboarding, then I got to work on the business plan a little bit more and after that, I had some interesting conversations with some of the dApp founders.
I played ball with my dogs for 1 hour and then took them out for a long long walk, I even took them with me to get next week's groceries
I did some house chores (which I never, ever do) and actually washed all the dishes, tidied up my room and took a shower (inside joke for those who know me in person).
And then, after that, I remembered that this weekend was the NFL wild card games and, since I'm a big fan and I know my football - I even managed a fantasy football team this year - I decided to bet some BTC.
I exchanged via @blocktrades my 140 Steem and got 10mBTC which is roughly 40 dollars in a matter of minutes.
Shameless shill - if you need quick BTC, use blocktrades.us and two minutes after you send them Steem, you'll receive BTC in your preferred address
Anyway, this is not betting advice and I highly recommend you don't play with your hard earned Steem the way I did. I did it because I'm good at it, if you want to bet, git gud kid.
I bet 10mBTC in favor of the Colts winning their game against the Texans. The colts were the underdog because they played away; also Deshawn Watson is a great QB and the Texans defense is terrific; apart from that, they have the best WR in the league at the moment (in my opinion): DeAndre Hopkins. But I knew Andrew Luck and company play amazingly good when they are the underdog.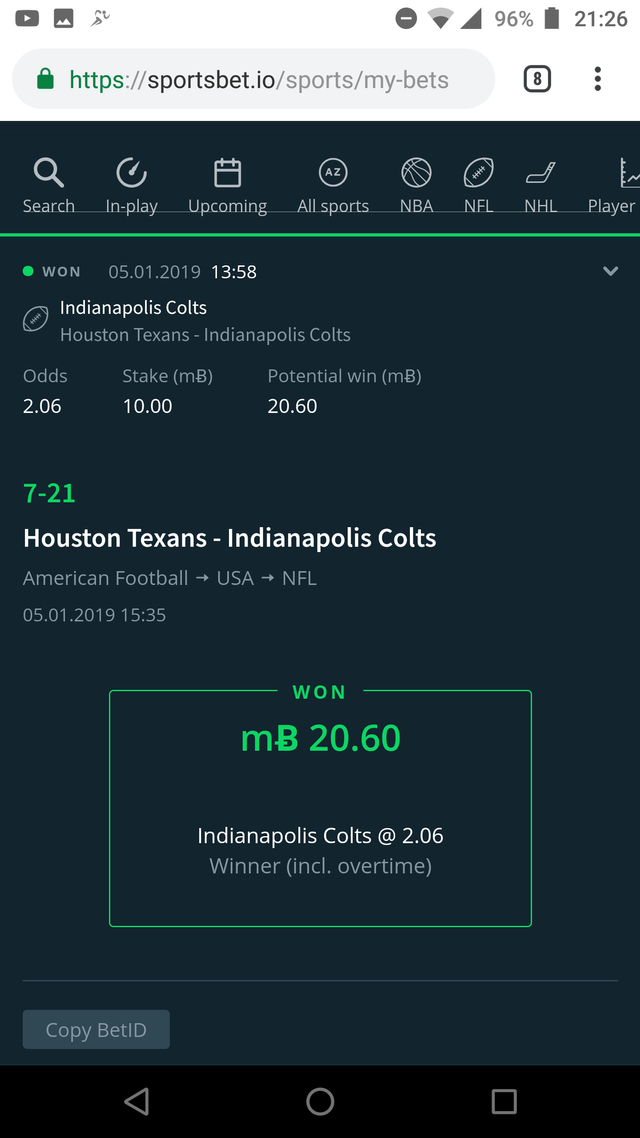 Final score? 21 - 7 for the Colts. That's 20.6 mBTC for me.
Then I decided to bet 20 mBTC in the next game. The Cowboys against Seattle. Now this one was hard for me because my gut was telling me Seattle would win; I mean, we've seen the after 2000 cowboys playoff results and we know they aren't any good. But I hate the Seahawks, not only because they kicked out Green Bay a few years ago with an onside kick even I would be able to catch, but also because I hate Russel Wilson and I despise how Doug Baldwin plays. I also hate Seattle but that's for unrelated football reasons. So I bet against the Seahawks.
Besides, if the cowboys played uncowboyslike, they would definitely win. They have the best defense in terms of turnovers and the Prescott/Zeke duplet is one to fear. So I just had to trust the one star team would do their job.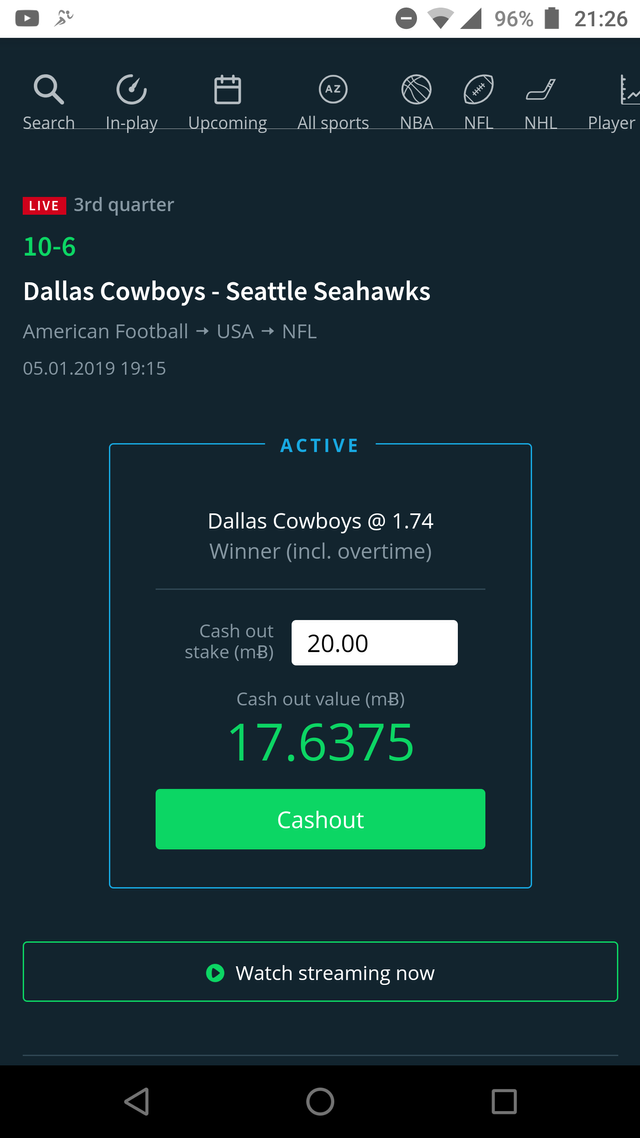 Who would've thought it, they actually did their job and they won -not without making me suffer in the last minutes - with a final score of 24 - 22.
At 4 pm I had 140 Steem and by the end of the day I ended up with a bit less than 500 Steem. I won $100 bucks by sitting on my couch and making good betting decisions.
So yeah, overall it was a good day for me. I even surpassesd my Actifit record of 5,500 steps. That's a milestone I want to break everyday and keep improving my health!
Another shameless shill. If you are new to @actifit, check out this Post and join the challenge #healthier2019. I will be curating that tag every Sunday!
Hey, to the Mexican IRS, every penny I made today I plan on losing it by betting for the LA Chargers in tomorrow's wild card game, so please don't come get me, I'm broke.
Oh yeah, one last shill. I'm using sportsbet.io to bet with crypto in case you are wondering where to lose your money.
Disclaimer: None of the websites/apps mentioned here is paying me to shill them and I get nothing from you using them, I'm that dumb and I shill them without any benefit for myself, I'm just sharing my knowledge with you, fellow steemian and young Padawan.