Play by Play: Breaking Down Scorum's Cryptocurrency Economy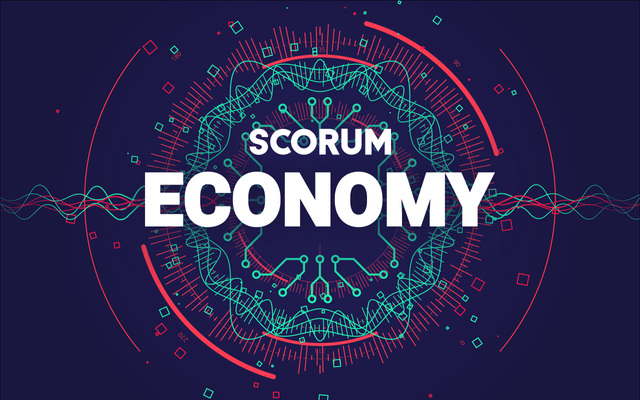 Our team has been hard at work, nose to the grindstone (or blockchain?), collaborating to build the sports media platform that fans deserve. Much like the athletes that inspire us, we know that great performance is not a one-off event. It takes persistence and determination to succeed and deliver the performance that sports fans adore. We're bringing these same traits to building and launching Scorum: the platform where real economy and social curation share the wealth.
Strong Economic Model Driven by Real Value
The Scorum economic model is a comprehensive and transparent system designed to incorporate real economic drivers: internal advertising platform, photo database, and on-site sales of event broadcasts, tickets and other services from our partners.

Two Tokens Empower One Reward System 
To achieve our goal of creating a rewarding cross-platform sports media platform, we are issuing the Scorum Coins (SCR) cryptocurrency and the Scorum Power (SP) internal token. These tokens empower a Steemit-like reward system. 
Scorum Coins (SCR) token is a liquid cryptocurrency which can be bought or sold at cryptocurrency exchanges or transferred to other users. These tokens will be available for purchase during the Token Crowdsale.
Scorum Power (SP) is an internal token that is needed to enable technical interactions between the system's users. It is possible to exchange SP into SCR in equal shares (1:1 ratio) within 12 months (this time frame can later be changed by the delegates). This measure is aimed at protecting token holders' interests. Check out our white paper for all the details.
Scorum Coins Available to the Public in Our Crowdsale
As a means to realize our vision, Scorum issues 20M Socrum Coins and puts 18.6 Million of them at a crowdsale.

The Crowdsale will run in in the following stages:
On a presale 1.6 million SCR are available at a 50% discount from nominal value (1 USD). SOLD OUT!!
The following 2 million SCR will be sold at a 25% discount.
After that, 3 million SCR will be available at a 10% discount.
The 12 million SCR left after these stages will be sold at nominal value.
As for the rest of the issued tokens, 930K will go to the Affiliate Program, and 470K will be distributed among the project team.
What Can I do with My Shiny Scorum Coins?
Beyond the numbers and exchange trading, SCR holders will have the following major benefits within Scorum as it evolves into a fully functional platform:
Partner products including but not limited to live streams, merchandise, and event tickets will be available for purchase within the platform at a discounted rate when bought with SCR.
Scorum members can convert SCR into Scorum Power tokens to increase the influence of their votes and comments within the blogging platform.
SCR will be used to purchase advertising for posts promotion within the system as a way to increase demand and value for our cryptocurrency.
Last but certainly not least; Scorum users can place bets with SCR tokens in our integrated commission free betting exchange. It's important to note that this will not be a source of revenue for Scorum but rather a feature we believe the fans deserve, and it will naturally improve the value of SCR.
Putting Practice into Action
Our approach to Scorum and its economic model in particular is that of a marathon rather than a sprint and as any distance runner knows, the preparation begins long before the main event. So long before we even set a date for the crowdsale, we've put in the hours to build a functional statistical center that will serve as the basis for the features like custom sports editorial tools. Stay tuned and we'll show you more of our work that's already done!
When it comes time to toe the line and launch, we are confident that the drive and determination that has carried us this far will propel Scorum through the journey ahead. What drives us forward is, as always, the energy of the passionate fans lining our path. 
Now it's time for that fuel, that energy and passion to be circulated fairly throughout the crowds. That's why we entered this great race, and that is Scorum's finish line to strive for.

Follow us: Website, White paper, Telegram, Facebook, Twitter and Github!