Splinterlands Mobile App Battle Preview!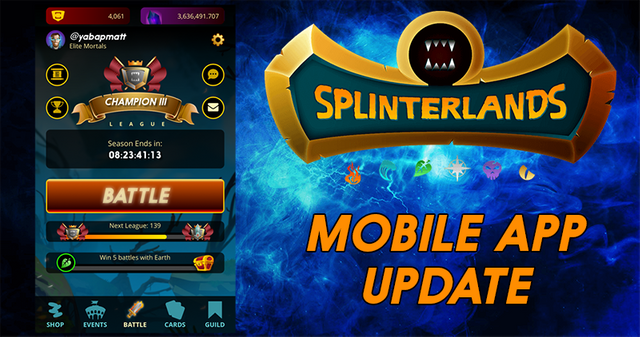 We know that everyone is eagerly awaiting the release of the Splinterlands mobile app, and although we still have a good bit more work left to do before it's release-ready, we're extremely excited to share the progress we're making with this video which shows the end-to-end mobile battle experience:
We have spent a lot of time in particular on the design of the team creation page, since that is where the majority of the game play happens. We reworked this screen a number of times in order to make it as easy as possible for players to find and position the cards in the short amount of time that's available.
We are still pushing hard to get a first version out before the end of the year, however it's likely that certain features may not be available until later such as tournaments and the market. Initially the app will be released as a mobile web app that can be played via any mobile web browser, and in the future we will also submit versions to the Apple and Google app stores, although the crypto features will likely have to be disabled in those.
If you're like us then you're salivating at the potential of the game as it goes from primarily desktop browser to mobile application. Many of the potential markets we're looking to expand into are up to 70% mobile. With this tool in hand we'll be able to spread our game into those highly attractive markets in ways that have been previously out of reach. It also allows partnerships with other mobile apps that weren't available before like other mobile games, mobile wallets, and mobile browsers.
This is but a brief taste of what's to come. And we're hoping you're as excited about the potential as we are!

Stay tuned for more updates from the Splinterlands!
Website | Blog | Discord | Telegram | Shop