Splinterlands Ambassador Program Announcement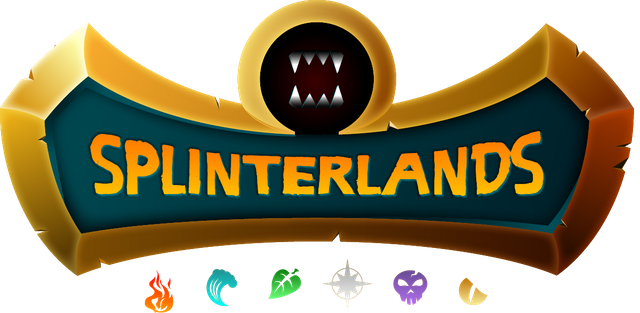 Splinterlands proudly introduces our Brand Ambassador program. The objective is to convert current players into evangelists for the game and help Splinterlands cover more ground, grow the player base, and create relationships with local businesses.
Targets
The goal of the outreach is to work with two general types of companies that have fewer than 5 franchise locations.
Gaming stores that sell trading card games.
Entertainment facilities that have ticket redemption systems (play a game, get tickets, redeem tickets for candy, plastic toys, and drones).
What would a brand Ambassador do?
You'd take promocards and a poster that we send you to these local businesses and ask them to share the cards and hang the poster. If they accept you'll log contact info for the store.
Poster
it's 18x24 inches. It looks like this!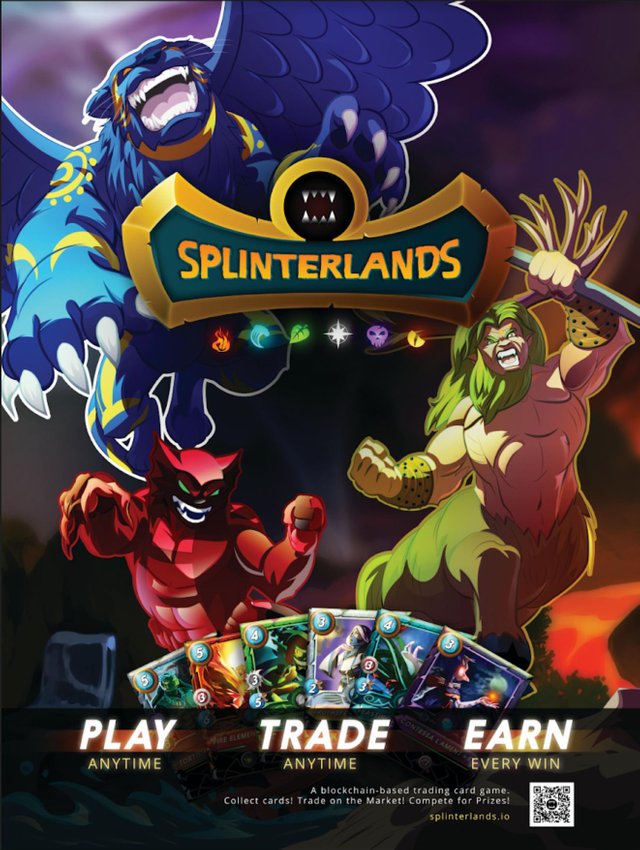 General Pitch
Hi, I'm Jimmy, I'm a Splinterlands Ambassador. I'm working with local businesses to bring the Splinterlands game to players in my hometown.
Splinterlands is a trading card game. The game started in 2018. To date we've played 12 million games, the players have traded more than one million dollars worth of cards between eachother, the cards are worth over 5 million dollars, and the game has hosted tournaments worth almost $100,000 for the players.
Accounts are free on Splinterlands, but if players want to earn prizes they have to unlock an account upgrade. Normally these upgrades are $10 but these promo cards make that upgrade free.
As players rise up higher in the ranks they can earn more and larger prizes. To rise up in the ranks many players buy booster packs.
The code on this card unlocks the account upgrade, and also tracks who brought players into the game. I can log these codes to this store and a portion of any sales of booster packs that come through players from these codes will go to the store.
So, unlike Trading Card Games that went digital and cut out the retail stores, Splinterlands makes you parters in the success of the game.
I also have this poster that if you hang it and players scan the QR code they'll be tied to this store and a portion of revenue from what they spend on packs will go to the store!
So, I'm not asking you to buy anything. I am wondering if you can distribute these cards and hang up this poster?
Who are we trying to get to play?
With this campaign we're looking for people who like physical trading card games and are willing to explore a digital game. Players should be 13 or older before they have their own account. Currently all materials are only available in English.
Revenue Sharing
Store - 10% of USD sales if they want checks (Minimum of $100 before we send a check) // 10% of all sales instantly paid in crypto if they sign up with a Splinterlands account
Ambassador - 5% referral fees for all purchases made by players that signed up via a promo card or QR code from the stores. DEC purchases not included.
Length of time
As long as the store continues to promote us the store and player will be eligible to receive referral rewards.
Management
@aggroed is the main point of contact. If you have questions you should feel free to reach out in discord.
Application
Those who are interested in participating can fill out the following form to apply: https://forms.gle/Nfjev6pcMrmReqHE6.
Anyone accepted into the Ambassador Program must agree to and abide by our code of conduct and community standards (detailed in the application form) and work with us to understand the role and responsibilities.
To be clear this isn't a full time job. It's taking a weekend or two to travel to game stores and entertainment facilities to see if they'll play ball. You and the store get a chance to share in the success of the game, players get a great game, and we collectively grow our ecosystem.
Should be fun.
Reserve the Right
Especially since this is just starting we reserve the right to alter the plan if the need arises.

Stay tuned for more updates from the Splinterlands!
Website | Blog | Discord | Telegram | Shop