Is it worth investing money in Splinterlands? / Lohnt es sich Geld in Splinterlands zu investieren?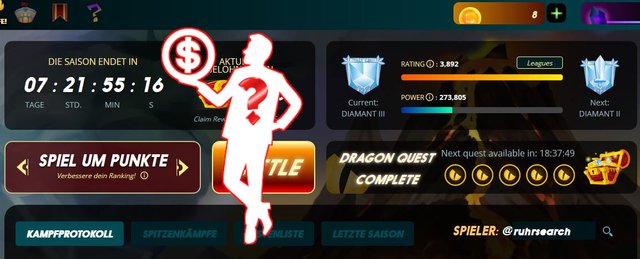 I've been playing Splinterlands relatively regularly for almost a year and I love it. In order to keep up with you I have already invested more than 250€ in cards. So I made it to the Champion League 2.
With the minimum requirements for card power I only make it into the Diamond 3 league with my power of about 270, although my ranking is about 3800 points and that would actually correspond to Champion League 3.
So I would have to invest a quite high amount of money to have enough card power to get back into the Champions League.
Is an investment worthwhile?
The question is whether such an investment is worthwhile? Since it is primarily a game for me, I haven't asked myself this question yet, but now you are forced to invest money in the game to get ahead. Because the rewards you get let the card power increase only very slowly.
What do you think about the new rules?
Will you invest money in Splinterland to get more power?
Is it worth investing money in Splinterlands?
You don't play Splinterlands yet?
Start here: *https://steemmonsters.com
German:
Ich spiele seit fast einem Jahr relativ regelmäßig und gerne Splinterlands. Um einigermaßen mithalten zu können habe ich bereits über 250€ in Karten investiert. So habe ich es bis in die Champion Liga 2 geschafft.
Mit den Mindestanforderungen an Karten Power schaffe ich es mit meine Power von ca. 270 nur noch in die Diamant 3 Liga, obwohl mein Ranking bei ca. 3800 Punkten liegt und das eigentlich der Champion Liga 3 entsprechen würde.
Ich müsste also eine recht hohe Summe an Geld investieren, um genug Karten Power zu besitzen, damit ich auch wider in die Champions Liga kommen kann.
Lohnt sich ein Investment?
Die Frage ist, ob sich ein solches Investment lohnt? Da es für mich in erster Linie ein Spiel ist, habe ich mir diese Frage bis jetzt noch nicht gestellt, aber jetzt ist man ja quasi gezwungen Geld in das Spiel zu investieren, um weiter zu kommen. Denn die Rewards die man bekommt lassen die Kartenpower nur sehr langsam ansteigen.
Was haltet Ihr von der neuen Regelung?
Werdet Ihr Geld in Splinterland investieren um mehr Power zu bekommen?
Lohnt es sich Geld in Splinterlands zu investieren?
Du spielst noch kein Splinterlands?
Starte hier: *https://steemmonsters.com
►Links marked with * are affiliate links . Through some sponsored links I get a small commission, but the purchase price for you is not increased! Thanks for your support.
►Mit * gekennzeichnete Links sind Affilliate-Links. Durch manche gesponserte Links bekomme ich eine kleine Provision, der Kaufpreis für Dich erhört sich dadurch aber nicht! Danke für Deine Unterstützung.