MANTICORE traumas 🦁
Hi there!
Today I have a really nice battle to share with you. Hope you will have fun!
Theme of the week for
Share your battle
challenge is:
THE MANTICORE 🦁
, a powerful dragon card usable in almost every situation as a support of a tank.
Card analysis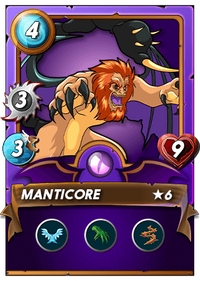 Little league
card here. Costs 4 mana and has good melee damage, average speed, high health: strong stats for a "reach" monster. The health is high enough to absorb at least 2 turns of blasting attacks and it is pretty solid also against retaliate monsters, giving 3 damage + thorns.
Card usage
We are used to see Manticore in action since lower leagues, paired with its other rewards friends in this pretty classic and over-used 5$ lineup: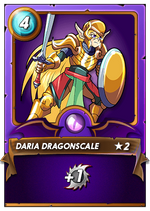 ➕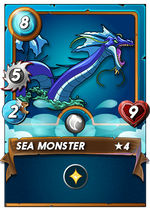 ➕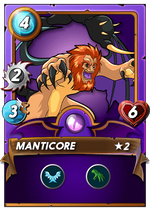 In higher level leagues Manticore remains a versatile card, good in almost every situation, but mostly in the following rule sets:


The Match ⚔️🛡️
In the battle I share today we will not have heartquake and neither little league, but Manticore will have a key role in determining the outcome of the match (spoiler!).
---
League: Diamond I 💎
Healed out + Even Stevens
Mana cap: 26
---
I think this is a pretty generic game. With almost all splinters allowed we would have a lot of possible tactics, but with healed out rule set I usually prefer to use the non-healing splinters: fire or death.
Moreover with no healing and no odd monsters we have not to worry about the annoying shield + heal tactic (often used with LA) and who attacks first has a strong advantage.
So I decided for the tactic:
🔨smash my opponent in the front with a fast & huge attack 🔨
..hoping to kill enemy tank before he can realize the battle is started!
---
---
OK. Totally unexpected lineup from my opponent. I thought to find more mana in his tank. But ok, let's play!
ROUND 1
My ranged attackers done well removing armor from skeletal warrior, then my weakened Magnor smashed him. Yes I would be happier to find a Bone Golem or some other big tank under his foot... But ok.. We have killed the skeleton and now wait for the trample.... Here we...
...
...
Please a minute of silence for my footy tank.😭
⏰
Nothing more to add, the battle goes on and I get defeated quite fast.
In a parallel universe (with 75% of probability) My Magnor is smashing the Manticore, then dies under the last attack of the phantom soldier and is my Manticore to be in the spotlight.
Lesson learned!
Cheers!
---
New to Splinterlands? Sign up and enjoy!