My Favourite (Top 3) Monsters in Untamed Fire Splinter
As mentioned in my previous post I had been playing a Gold Level mostly Untamed cards accounts on my alt account. It's been mostly frustrating playing it especially with the weaker splinters like Death and Earth. But I found Fire splinter to be pretty strong and really fun to play with!
Probably because I have Plado Emberstorm, the Legendary summoner, and that makes my lineup really fast and strong. Pyre is ok, but without the +1 melee, its hard to take down opponents. I think Fire splinter is the most balanced one in Untamed edition.

Favourite card #1 - Spark Pixies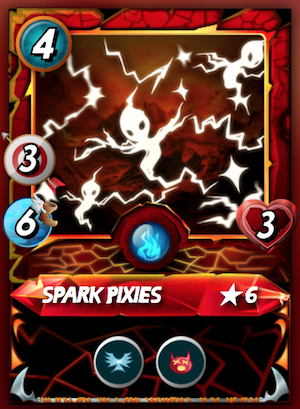 Extremely fast, low mana, high ranged attack, with a sweet stun ability. Spark Pixies is ever present in my Fire deck. It fits perfectly in most ruleset, such as Little league, Earthquake, etc, but not Reverse Speed.
Spark Pixies is almost always the first to strike, taking out the shield of the opponent's tank monster, stunning it, and opening up for my next favourite monster to strike
With flying, this is a great card to put at the back when you expect the opponent might go with some sneak attack.
Favourite card #2 - Magnor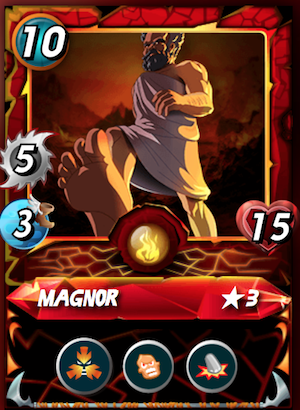 Many players hate this card. Many players hate the other Untamed Legendary cards too. I think it is because of the 10 Mana and people find it too costly.
But I love the Magnor! Even at 10 mana, I still use it in low mana games because he is sooo good!
Its really fun to use the Magnor. Having Taunt means my back monsters are well protected. At 15 Health, he usually can survive for long enough before taking down 2 or 3 enemies with Enraged and Trample. It is important to ensure his first attack is not on an enemy's shield, that is why I like to have Spark Pixies in my team for that purpose.
Favourite card #3 - Serpentine Spy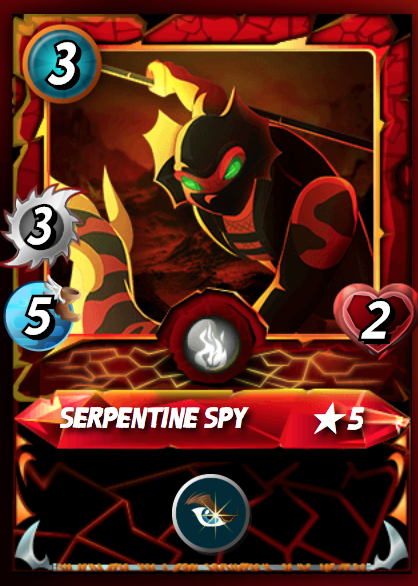 I only have the Serpentine Spy at Level 5 and he is already one of my most used Fire card. Can't imagine having him at maxed level 4 Melee attack and Poison!
Low mana cards are always popular with players and the Serpentine Spy so worth it to have in your team. With buff, it will have 4 Melee attacks and Opportunity strike is so deadly especially with 5 Speed. Using with the Neutral Parasitic Growth monster, you will have a low cost Double Opportunity that is almost guaranteed to take down 1 or 2 opponent monster each round.
The only weakness is the low Health. If the enemy has thorns, it is gg for Serpentine Spy.

So there you go, these are my top 3 favourite cards from the Untamed Fire Splinter. But I got to say they are still not better than their Beta counterpart, and I will only use this splinter with Plado as summoner.
Did you realised? The Untamed Fire splinter is the only one without a Magic attacker.