Splinterlands Giveaway Out of Print Rusty Android
Welcome to another Splinterlands giveaway!
Fighting against high level magic users can be tricky business, especially if you don't have the money to buy one of the discontinued Lord Arianthus. But I have a little secret that may help you. Another discontinued monster card, the often overlooked Rusty Android is also pretty good at dealing with magic users. Back up the Rusty Android with a high level Prismatic Energy and you'll find smoother sailing against those loathsome Water Splinter magic users.
To help get you started building a stong Rusty Android, I'm giving away this card to one lucky winner when this contest closes at post payout time.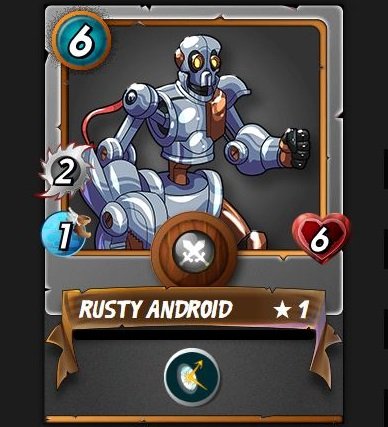 Use this card to level up your own Rusty Android and achieve victory in the arena or melt it down to extract the small amount of Dark Energy Crystals stored within. The choice is yours, if you are selected to receive this card.

How To Enter The Giveaway
For a chance to add this Rusty Android to your Splinterlands deck, just leave a comment with your Splinterlands account name. Only 1 entry per person. The contest will end at the 7 day point of payout for this post, when I will use a random comment selector to choose the winner.
Good Luck!

I'm a proud member of